The space barnacles are spreading! But how, and why? There's a rhyme and reason to what they do, and Nightbeat is going to find it... if he lives long enough. "The Frail Gaze" is written James Roberts with art by Alex Milne. Colors by Joana Lafuente.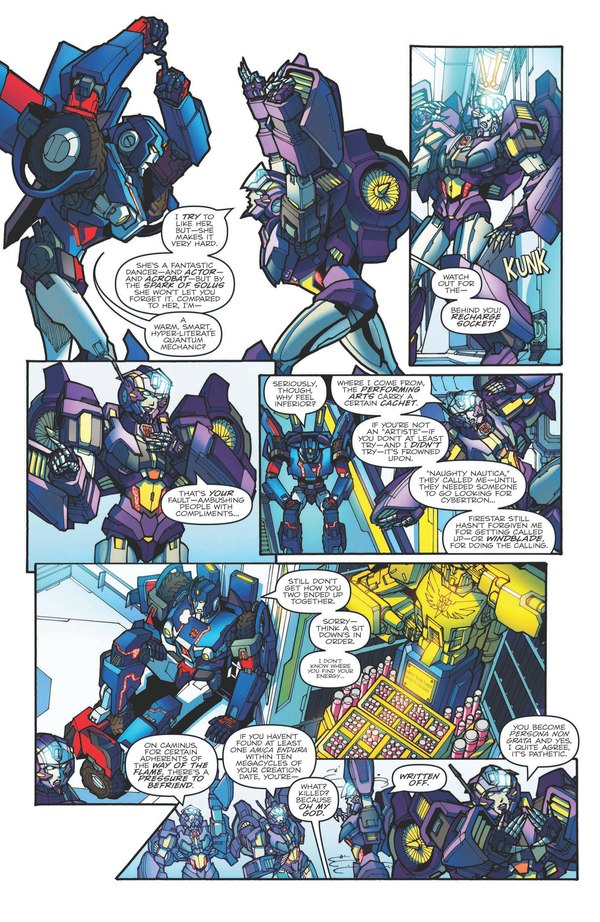 I honestly wasn't expecting to get more background on Caminus here in MTMTE!
After last issue you might think that Nautica can't dance - Skids did. But she definitely can. She explains that in Camien society there's an expectation that everyone take up the arts - and have close friends, which is how she and the equally friendless Firestar became
Amica Endurae.
But flirting and exposition will have to wait, because there are hideous space barnacle monsters attacking the pair. In the morgue, Nightbeat is just beginning to work out what the creatures are and how they work: Countdown was the incubator for the creatures. But why him and why Getaway? Nightbeat and Getaway almost
don't
... but Ravage intervenes. In sickbay, they make another important connection, that one of the creatures stowed away inside Thunderclash's trailer. Velocity, Firestar, and Minimus Ambus escape the room with some help, and all three groups converge and lock themselves in a (relatively) safe space. And then, Nightbeat figures out what they are...
I'm being more intentionally vague than usual this issue, because while nothing I could spoil is probably of earth-shattering import, there's some character moments and even
puns
that are best left unspoiled. While some people were speculating that the "space barnacles" were a
Transformers Animated
reference, James Roberts denied this on Twitter - and this issue we get the answer to what the creatures actually are. And the resolution of this two-issue story is quite a lot of fun. But outside of one or two dark and/or heavy moments, the whole story has a certain lightness to it that feels odd and almost out of place for a story with a bodycount. Then, this is essentially a one-off sidestory, and MTMTE went pretty extensively heavy for "Days of Deception" and the recent DJD issue, so a lighter touch is certainly a nice thing for the series at large. But those are all meta concerns - within the story itself, it provides for some mood whiplash.
The sense of lightness is aided by the artwork, where Alex Milne is clearly having a lot of fun drawing dancing robots and hideous monsters and all. I know I've said this a lot lately, but it's true: there's a lot of energy in the pages. Joana Lafuente's coloring on the monsters reminds me Lynn Varley's work on
The Dark Knight Returns
- they don't look like anything else in the comic, which definitely helps to drive their sense of menace. Together Milne and Lafuente acheive some really impressive things - a panel where Nautica electrocutes some of the monsters is just all-around great in design and color, and also of particular note is how the bright, open dance scene that opens the book descends into darker, more claustrophobic tones as Nautica and Skids come under attack. Great work from everyone in this issue.
We have four covers this time: Milne, along with Josh Perez, shows Ravage defending a fallen Nightbeat and Getaway - a
slight
exaggeration of the occurrence in the book, and good comic covers
should
exaggerate the best qualities of a scene. Nick Roche supplies a cover of Nautica on the dance floor - which makes much more sense this issue than it did after reading the last one. Naoto Tsushima's retailer incentive cover picks up on the party atmosphere of Roche's cover, showing the Season 1 Lost Light crew watching a fireworks display. You can tell it's Season One from A) the presence of Drift and Cyclonus' single horn, and B) Yamaishi's less-saturated, Burcham-inspired colors. (Which means that's also Rewind I. Aw. Also, of
course
Rodimus owns a mug with his picture on it. This is such a great image.) Last up is Sara Pitre-Durocher's convention-exclusive cover, which features Combiner Hunters Chromia with the Lost Light flying by in the background. All great covers on a great issue of a great book.
| | |
| --- | --- |
| Reviewer | RAC |
| Date | June 23rd 2015 |
| Score | (9 out of 10) |
| Reads | 6495 |
Back to Reviews Index