Click any photo to view larger sizes!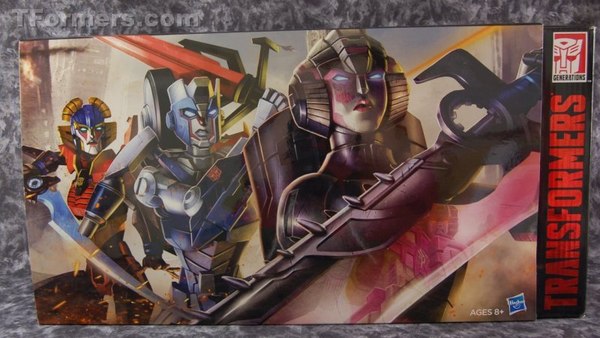 Also courtesy of Hasbro, we've got the SDCC-exclusive Combiner Hunters boxset for review! A companion set to the SDCC-exclusive Devastator that you'll see ExVee review, this set gives us exclusive recolors of last year's trio of female Autobots - Windblade, Chromia, and Arcee - in new color schemes with new weapons. Big weapons.
So let's open the sleeve with its really attractive, reflective art, and see some toys!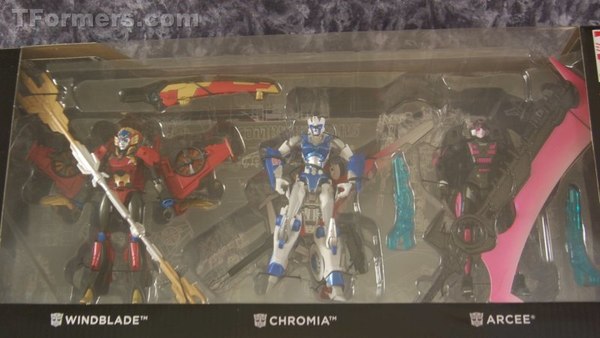 Three recolors with cool giant weapons, just as expected. So let's take a closer look at the packaging.
On the bottom of the package is the story behind the set. The conceit is that female Transformers, as descendants of Solus Prime, have the innate ability to craft weapons of great power, making this team the ideal group to go after the Decepticon combiners. Sure, why not?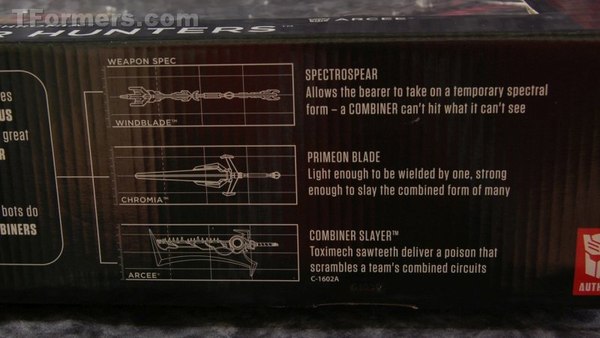 We also get descriptions of each of the new weapons and what they do. Chromia gets the short end of the magic weapon stick here - her sword is just light and strong, possessing no superpowers. But hey, she got to keep her gun. That's something.
The instructions are presented on the back of a big poster I could only fit in frame sideways... and then just barely. The poster side, which I... kinda photographed upside down... reintroduces us to the Combiner Hunters and their weapons. There's also a starmap laying out various Combiner-related occurrences across the Transformers' universe.
One is a hint of things to come, and another... is very interesting. Haven't seen that for a while now. Maybe that's just where Galvatronus hails from, but it's still notable.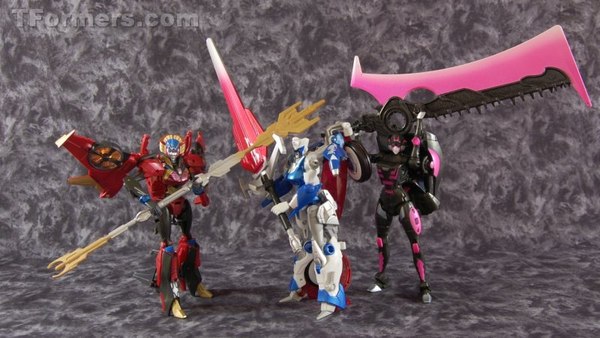 And now for the toys themselves! The rest of this first part of the review will focus on Windblade- we'll get to Chromia and Arcee in parts 2 and 3.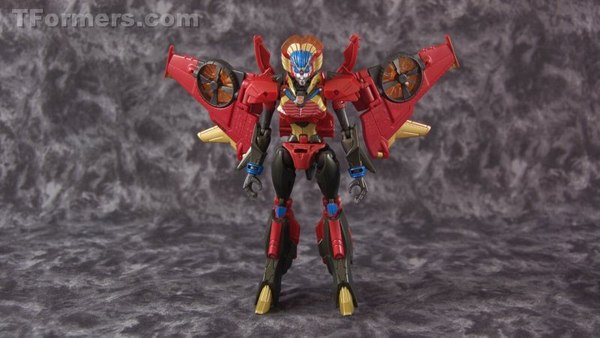 The Fan-Built Bot made her first appearance last year, getting a Generations toy and her own IDW miniseries, which has now been promoted to monthly status. Combiner Hunter Windblade is a recolor of that Generations Deluxe figure.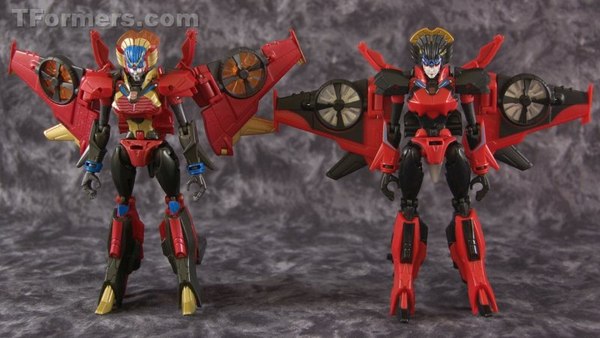 At first she doesn't feel as different as she might... but then I remember I'm looking at the TakaraTomy Legends version which reshuffles some of the colors so as to better match the IDW artwork.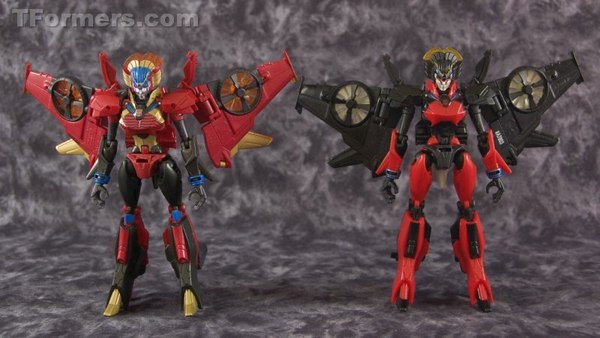 Compared to the US release, the color layout is more dramatically different, and side-by-side you can see slightly more muted shades on the exclusive figure. The gunmetal is especially nice.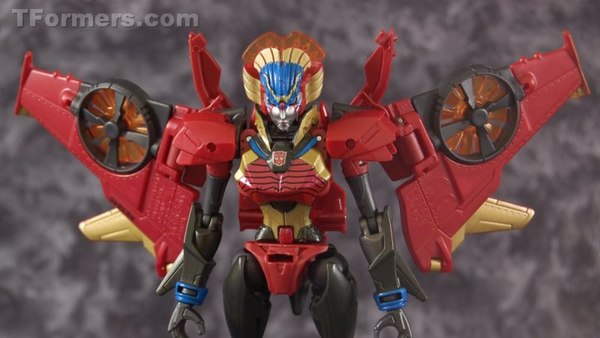 Her chest armor is now tampographed with ridges to look more like traditional samurai armor. And of course her hair... helmet... whatever... looks a little bit more Super Saiyan than the original figure. Which is reinforced by her fanblades and Tessen war fan now being "energy" pieces in clear orange plastic.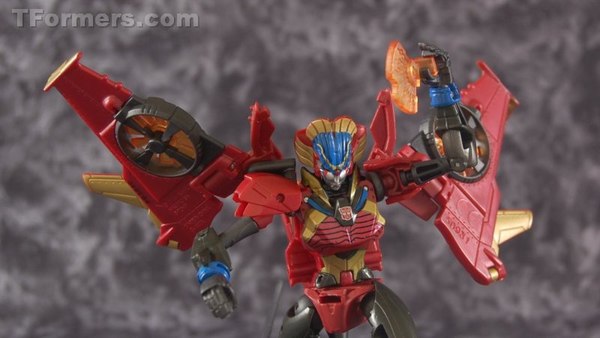 Since the fan is no longer painted, it's properly and safely removable for the very first time!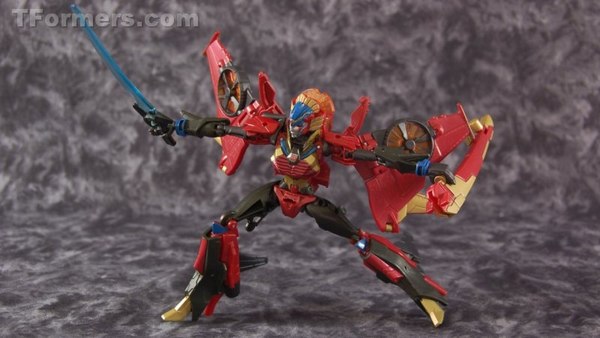 Nothing major has changed in terms of articulation and even the plastic tolerances are very similar. The big changes are that her elbows are stiffer and her wrists are disturbingly stiff.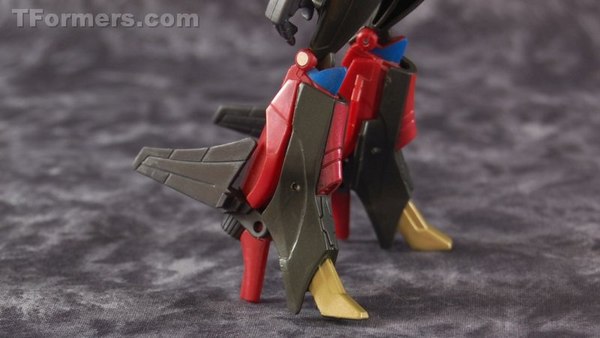 If you were hoping this was the Windblade whose high heels wouldn't fold in without warning, this is sadly a constant across all three releases.
In jet mode, it's only the gold trim that prevents Windblade from being an exact mirror of the Hasbro release. Where that was a mostly black jet with red shins on top, this is a mostly red jet with gunmetal shins on top. The wing has some trouble tabbing into the fuselage on one side, and the rear stabilizers won't peg in unless it's transformed just right.
Accessories! Windblade retains her Stormfall sword, which also gets fancied up with a gold-trimmed scabbard and a nice, contrasting clear blue blade.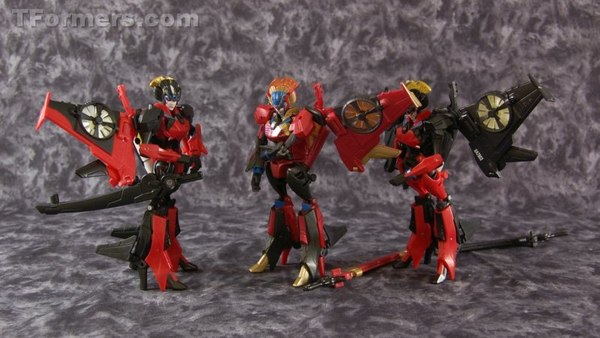 I had hoped my original Hasbro Windblade was a one-off problem with scabbard storage, since the Takara version didn't have those problems. But they're back here. It wants to fall off 90% of the places I try to store it, with the final one forcing the tab back out. Dare I use clear nail polish on an SDCC exclusive? Spoilers: probably not.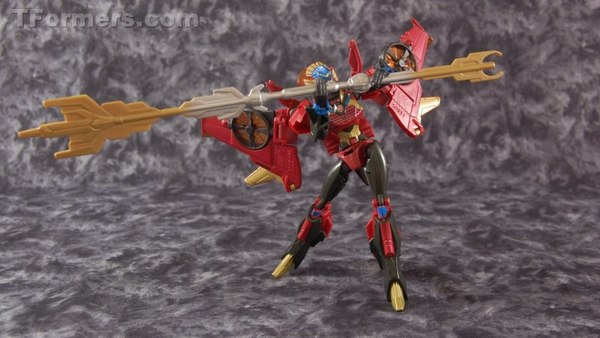 Windblade's new weapon is the Spectrospear, which gives the user a temporary "spectral form" - invisibility and possibly the ability to phase through things, I guess? It's a reuse from a Robots In Disguise Titan Heroes Electronic Bumblebee. There's some thin spots along the body where Windblade can get a decent grip on it. You just have to slide it through her open hands at those points. It's maybe not as cool as the other two weapons, but it complements her deco nicely.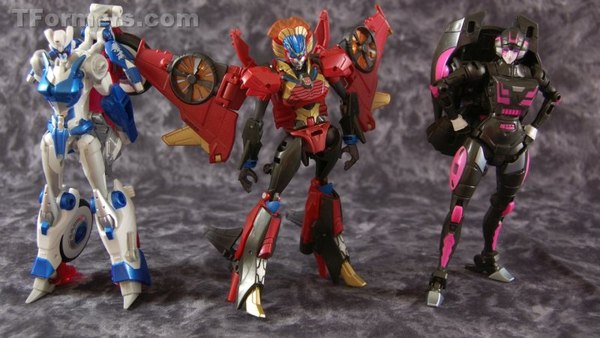 Overall, Windblade retains her previous position as the weakest of these three molds. She also feels like the least-changed, even though the specifics don't quite hold up to that idea. She rates a Good on the Figurereviews.com Non-numeric ratings scale.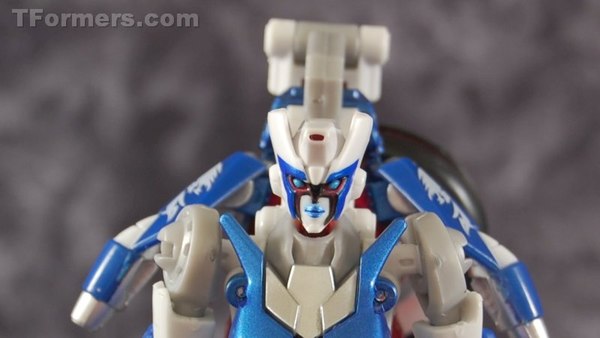 Next time: Chromia!
| | |
| --- | --- |
| Reviewer | RAC |
| Date | July 9th 2015 |
| Score | (6 out of 10) |
| Reads | 7417 |
Back to Reviews Index