Click any photo to view larger sizes!
Chromia was one of my favorite Generations figures from last year. A heavily retooled, heavily repainted female action figure in an all-female wave, Chromia struck me as the ultimate statement that the current Hasbro design team was going to bring a new approach to Transformers. And so far that's panned out!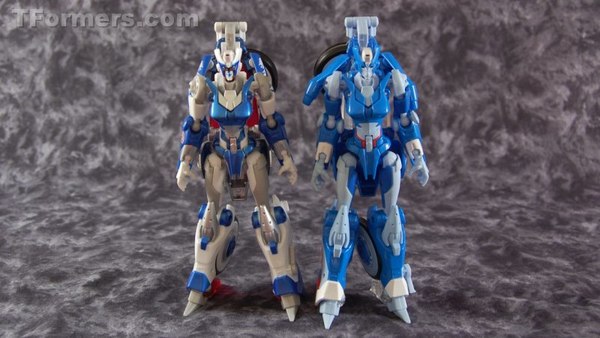 Chromia's deco is far less of a seeming one-for-one switch than Windblade's. Her dominant shades are now white and silver, with a metallic blue and some red highlights comprising the rest of the deco. Very Gundam.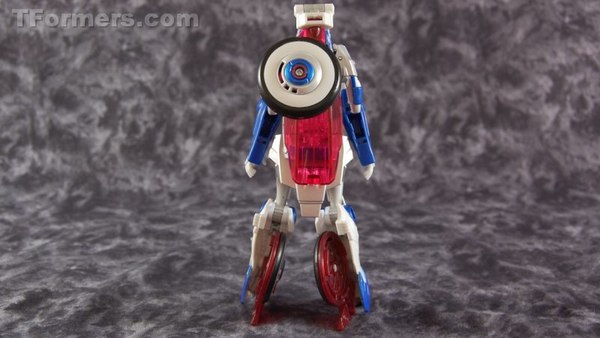 Oh, and she's traded her clear plastic for a more visible red.
It's a good looking deco, and the crowning achievement is the face design. Speaking of Gundam! It takes the neutral expression of the original release and makes it look much tougher - and thus more in line with her IDW characterization.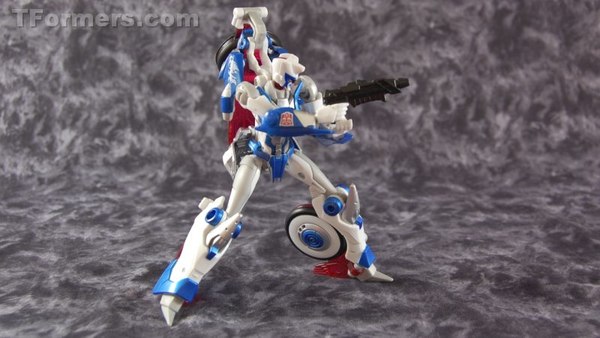 Articulation-wise she is unchanged, and still the best of the trio. The elbows and wrists retain that worrying stiffness - almost like they want to wrench the ball-joint apart - but I can say from experience now that ultimately the ball-joints should wear down to a more normal-feeling experience. But, do be careful just in case. Other than that, the only issue is keeping her skirt plate clear of the hip joints if you want to get the most out of them.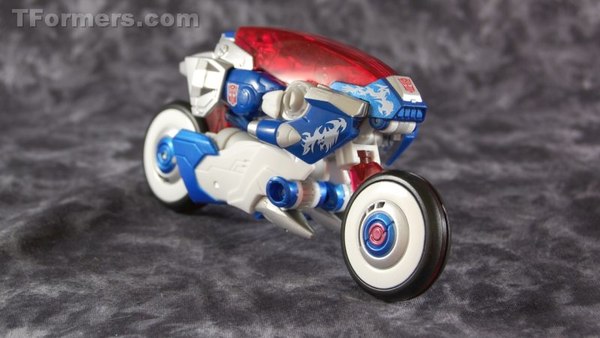 Perhaps best of all, Chromia still becomes a Third-Party Lightcycle. The color scheme isn't quite as cohesive as it felt on the original, but it's still a neat, compact little bike. With built-in kickstand! The red canopy does provide some nice contrast - I wish it came off to become a shield as in the earliest comics appearances, but luckily there's third-party parts for that. Dare I modify an SDCC figure? Spoilers: probably not.
Chromia keeps her handgun, which is a nice looking largeish pistol. Now your regular Generations Chromia can have the two guns her card promised...
while your new Combiner Hunters Chromia uses the wonderfully ridiculous Primeon Blade!
A reuse of a sword for Robots In Disguise Titan Heroes Electronic Optimus Prime, the sword is half again as tall as Chromia but light, as advertised. Despite having somewhat shallow 5mm sockets in her hands, you can get Chromia to hold the sword two-handed and stand without too much effort.
Sometimes even one-handed! Her extra-long feet help with balance greatly. And hey, there's a nice unintended storage option by hanging it off her back.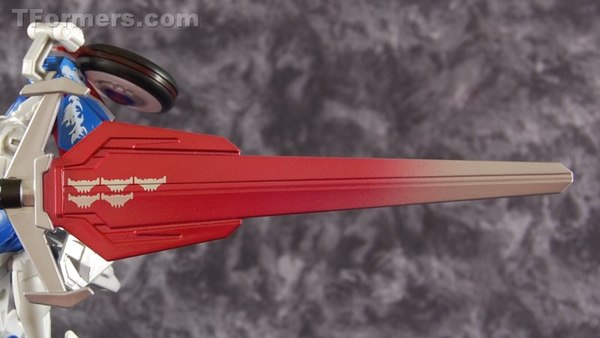 Also, don't miss the marks on the blade of the sword - five Devastator crests for five Combiners defeated. Chromia's been busy.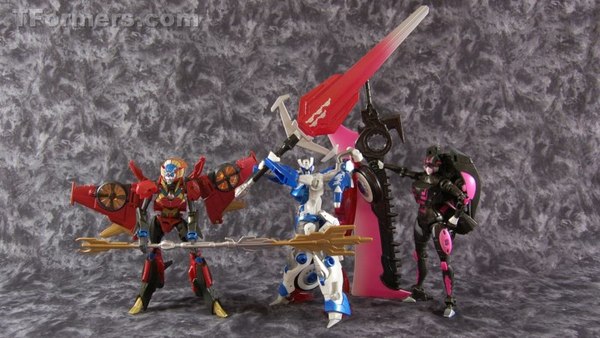 Chromia was a great toy before, and still is, matching the Excellent rating I gave the original on the Figurereviews.com non-numeric ratings scale. The fact that she can hold her new gigantic sword and stand is pretty amazing by itself. And she can pose with it really well, better than either of the other two figures.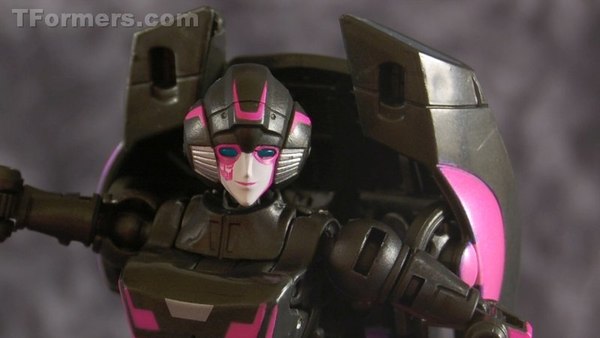 Last, but not least: Arcee, Next Time!
| | |
| --- | --- |
| Reviewer | RAC |
| Date | July 14th 2015 |
| Score | (9 out of 10) |
| Reads | 5554 |
Back to Reviews Index