Click any photo to view larger sizes!
And now to wrap up the SDCC Combiner Hunters boxset with Arcee!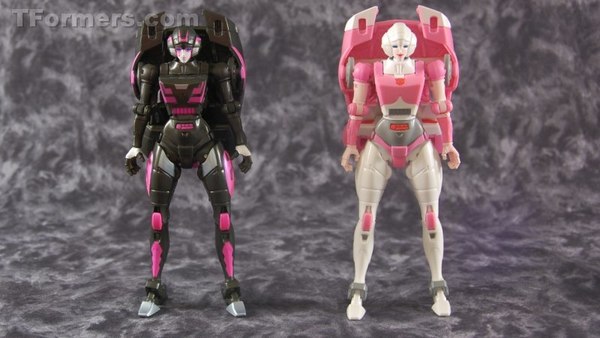 Generations Arcee was both a relief and a tragedy, in small ways. Finally, we get a G1 Arcee that's more or less on model! But the body design... it was worked on by Yuki "Kiss Players" Oshima. Once you know that, it's hard not to see some of the skeevier design choices- choices that in my opinion work against the final figure in a variety of ways.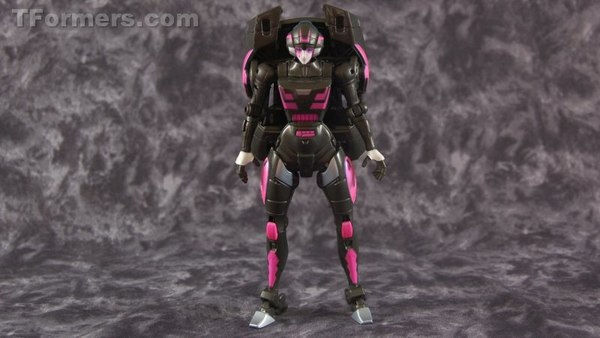 Combiner Hunters Arcee hides that sculpt somewhat under a dark gray "stealth" paintjob.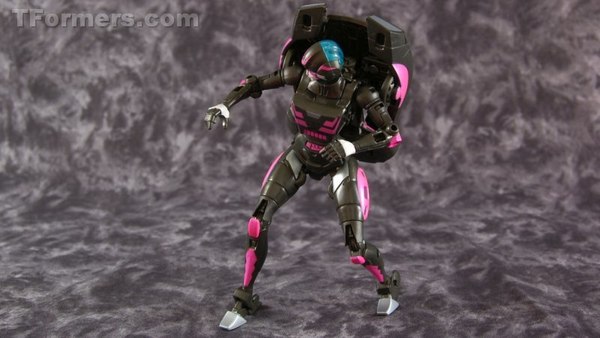 She's molded in exactly two colors: dark gray, and clear blue. She does keep some of her original color, in this case a fair bit of non-stealthy hot pink on her legs and back especially.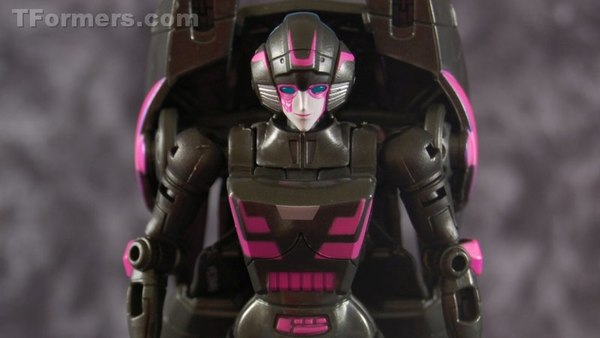 But on the chest the pink is a little "soft" compared to the rest of the deco. The end result isn't bad looking but I feel like the monochrome molding does hurt it - that's just weird for an official toy.
The face features a tiny pink Autobot symbol as a kind of "war paint" - it works great on the packaging art, but since the figure still uses the regular release's entirely placid G1 animation face, it does not give the same aura of toughening-up that Chromia's facepaint does.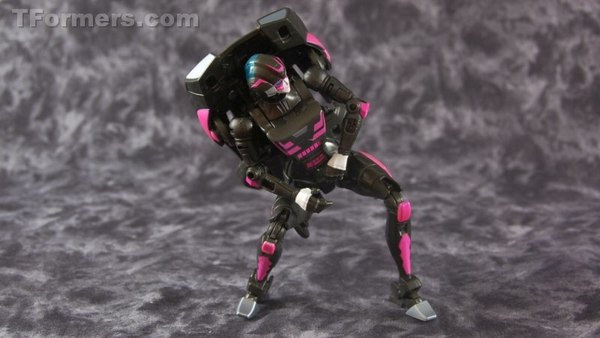 Arcee's articulation remains decent, but not great. The arms do just fine, though the shoulders are a little weak, which for this set may be a problem. No waist, and the legs can't swing very far outward due to the transformation mechanisms and the shape of the thighs. But it has great knees and strong ankles, and those will come in handy.
The transformation is fairly easy to do. The color scheme works really nicely for the car mode, with the pink and silver highlights making the vehicle look extra sleek, maybe a little Tron. It still rolls nicely, and it's still a surprisingly close match for the G1 model.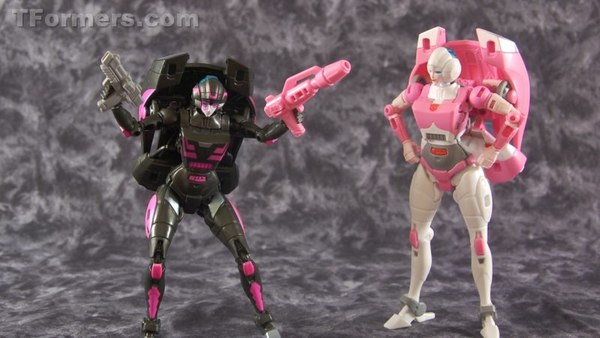 Arcee doesn't get to keep her original release's guns... which is a shame, because she can actually hold them now.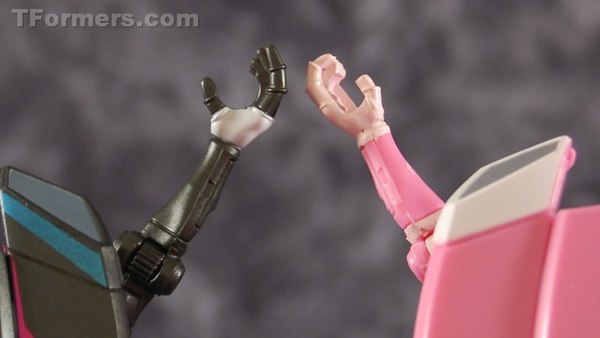 Combiner Hunters Arcee is the recipient of the sole remold of this set, a new pair of hands. She can only hold the guns at angles, but they still look way better in her hands than the original's.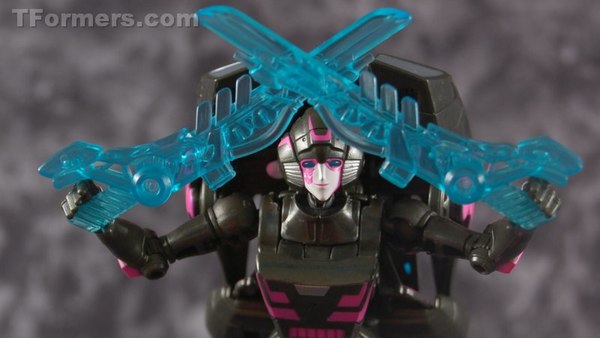 She still doesn't have a great grip on her swords, which are included, but again: better. But the hands work fine for what the remolding was really intended for...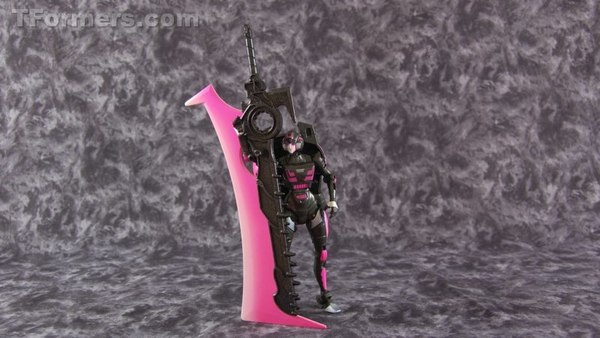 Arcee's Combiner Slayer sword - a reuse from Beast Hunters Ultimate Optimus Prime - is entirely the reason why I fell in love with this set. It's a greatsword taller than the user...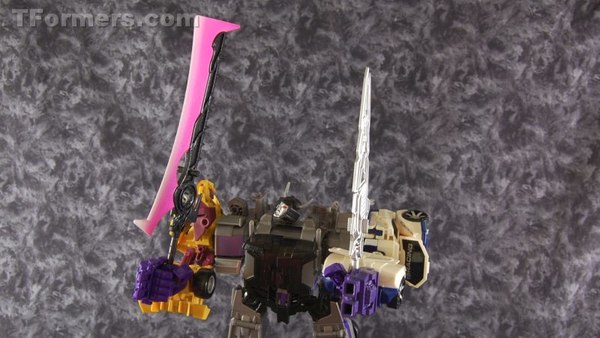 ...and larger by far than Combiner Wars Menasor's sword - it reminds me of nothing so much as the Monster Hunter video game series - which coincidentally also focuses on the idea of using teamwork and big honking weapons with special properties to go after gigantic monsters. Just saying!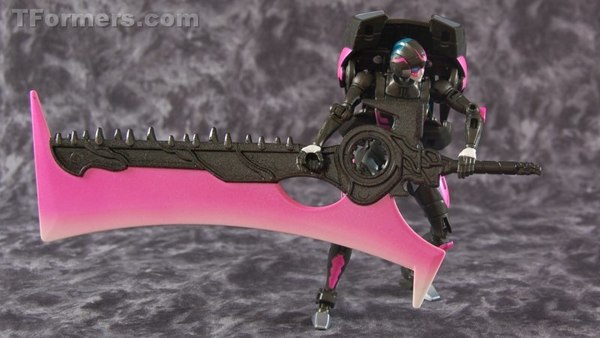 But, conceptually the sword is great, and the paint is great as well.The gradation on the blade to give it an energy weapon kind of look is something we usually only see from Takara. And the metalflake black on the serrated side of the blade and the handgrip makes it look like this gigantic, powerful, wrought-iron weapon. It's spectacular.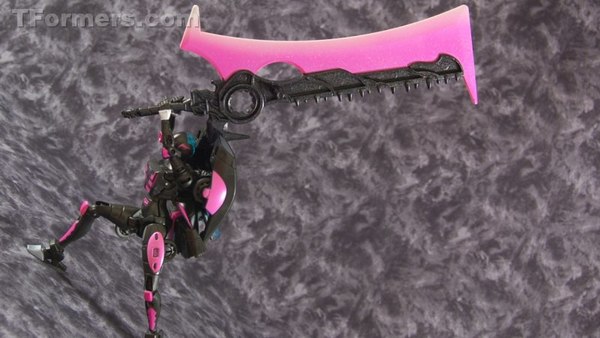 And Arcee can hold it and still stand up! But the short handgrip and lack of wrists on this mold gives her fewer posing options than Chromia has. Those side pegs are helpful, though.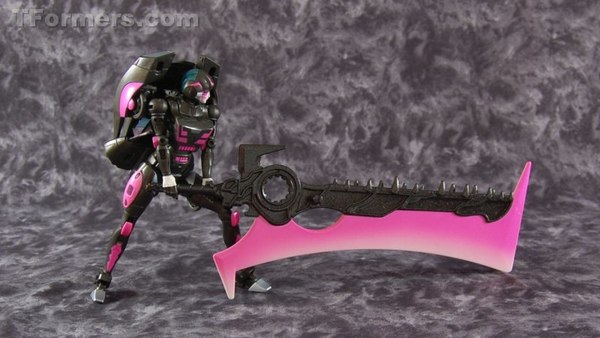 Still, huge sword, usable, by the toy that's famous for not being able to hold anything. That's a win.
I rated the original Arcee Good on the Figurereviews.com non-numeric ratings scale, with a bump to Very Good suggested for the people who got the better hands. These are probably about the equal of those hands without the worries of them stressing themselves apart. And the Combiner Slayer helps justify that bump as well, so: yeah. Very Good all told.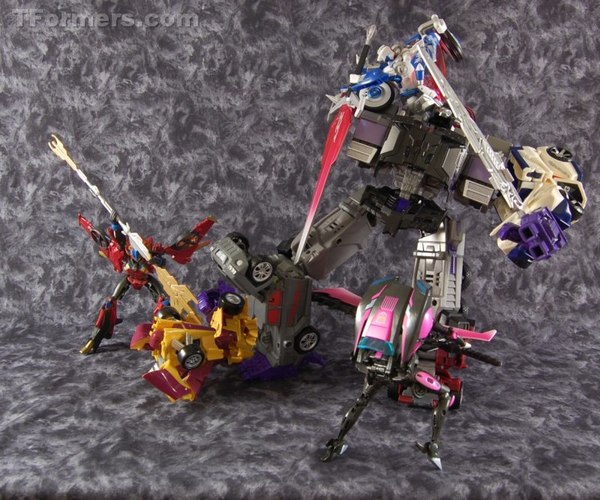 Now, the final verdict. To be honest: I love this. We don't get that many wacky end-of-line recolors anymore, and to get special attention paid to the only three women in Generations to date along with some crazy weapons is just wonderful. Overall I'd say this is an Excellent set on the Figurereviews.com Non-Numeric Ratings Scale, but I do feel like the price is a bit high. Current going rate for three Deluxes is about $45-50. The new deco is great and the weapons and packaging are too, but I'm hesitant to say they add another $25-30 of value to these molds. The good news is that they're slightly more, fiction-wise, than just late-line wacky recolors: Arcee has already used this "stealth mode" paintjob in the pages of IDW's The Transformers, and of course all three characters will appear in these color schemes in the Combiner Hunters one-shot. So if that influences your decision or translates to extra value to you, bear it in mind. As it is, it all depends on how much the set's gimmick appeals to you. It appeals to me a lot, so I'm really happy to have gotten this.
| | |
| --- | --- |
| Reviewer | RAC |
| Date | July 17th 2015 |
| Score | (8 out of 10) |
| Reads | 7291 |
Back to Reviews Index