Poor Cosmos. None of the Autobots he works with actually care about him as a person, just as a tool for recon. But there are those out there who know what it's like to be seen just as a means to an end... and they're not all Autobots."South of Heaven" is written by John Barber with art by Andrew Griffith and colors by Josh Perez.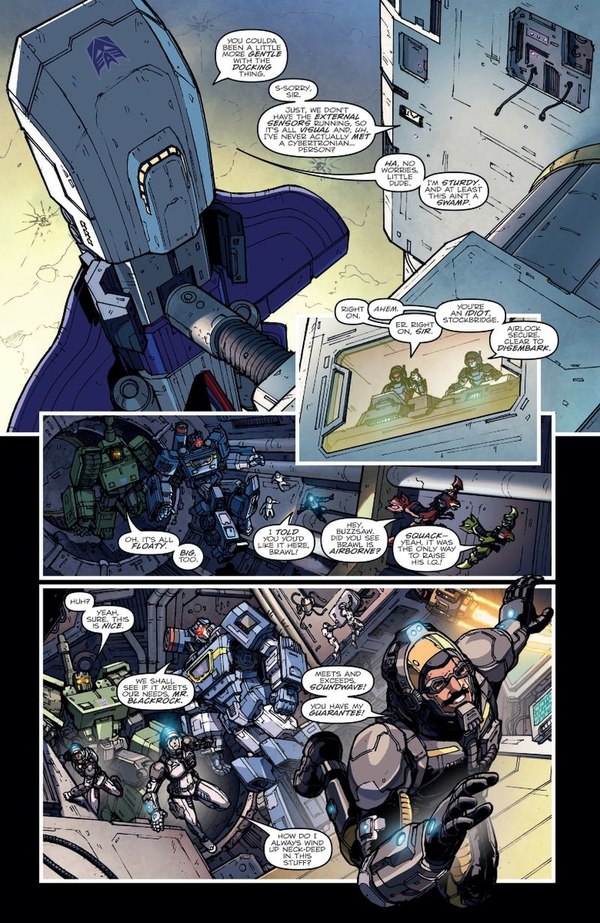 More Statler and Waldorf Birds, please.
As ordered by Arcee last issue, Cosmos heads off to Jupiter to scope out Soundwave's commune, a trip that happens to coincide with Garrison Blackrock touring the facility with Marissa Faireborn and Soundwave. Cosmos' stealth paint is doing its job, but Soundwave... he has
really
good hearing. After a skirmish and an attempted escape, Cosmos is prepared for the worst - but Soundwave just wants to talk. To Cosmos. And nobody
ever
wants that!
It's nice to see ex-RID getting back to what it was doing before Combiner Wars intervened, as I said last month. But with Cybertron not in the picture at all this time, it's that much more satisfying. Especially since we're picking up on the most intriguing thread from that story arc- Soundwave and his commune. The action is perfunctory, which is fine - at this point I'm really more interested in what the characters have to say. The conversation is an interesting one, and the differences between the two play out very naturally. While Soundwave's case is made directly like the ideologue he is, Cosmos' perspective is made fairly subtly, more shown not told - and I like that. The supporting cast flesh out the issue, with GB Blackrock more or less playing Tony Stark. And best of all we have Buzzsaw and Lazerbeak as Statler and Waldorf. I want more of that!
Either Andrew Griffith is getting better with human faces or I'm getting more used to his style, but either way the odd feeling I got from the faces in earlier issues is lessened here. I think I've figured out what it is that I found off-putting: his human faces, especially on Marissa Faireborn, are very smooth. Which with the amount of detail that goes into his robots is kind of odd. But in a comic mainly about robots, Griffith shines. His sense of composition helps convey mood, and Josh Perez's colors pick right up on it. Considering the two stars of this issue don't, technically speaking, have
faces,
that's pretty important. Griffith and Perez let the lighting and angle do what visors and faceplates can't.
Three covers this month. Griffith's depicts the scene where Soundwave finds Cosmos, a key scene from the book and nicely done. Casey Coller's cover is pretty much the next part of that scene, and something about it just screams G1 Marvel in all the best ways. I want to put some kind of big Furmanian caption with an exclamation point in it on there. Lastly we get a vintage travelogue-style poster for Pan-Cybertronian Spaceways by James Biggie, one of a series of such alternate covers planned. It's nicely composed, elegant and simple - the kind of thing that feels like it'd be best included as a flavor piece in one of James Roberts' pre-war flashback stories, but it's certainly not unwelcome here.
| | |
| --- | --- |
| Reviewer | RAC |
| Date | July 20th 2015 |
| Score | (9 out of 10) |
| Reads | 4061 |
Back to Reviews Index