The Cartoon Network animated series comes to IDW! It's a typical day and a typical mission for Team Bee - except that somebody
else
seems to be interested in the Decepticon that Bumblebee and the others are bagging.
Transformers: Robots In Disguise #1
is written by Georgia Ball with art by Priscilla Tramontano.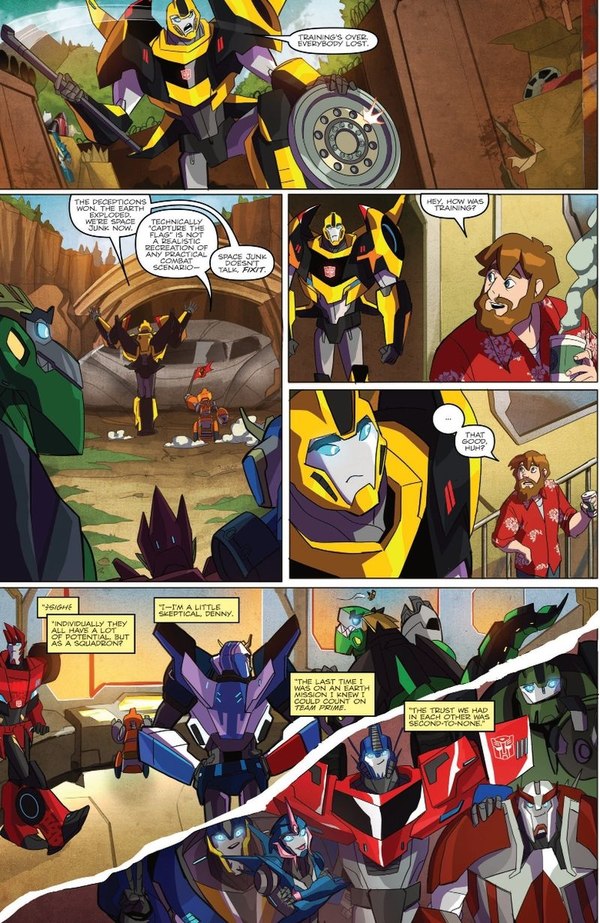 Isn't it kind of weird that everyone looks the same as they did in Transformers Prime, except... Prime?
After Team Bee's latest failed teamwork exercise, Bumblebee laments to Denny that his new team can't hold a candle to his
old
team, Team Prime - and he's not sure they ever will. But before he can finish fully expressing his disappointment, the power goes out. Someone is destroying transformers - lower-case T, not capital T. Not that the deranged Decepticon known as Spinhead knows that...
Except for the story hook at the end, this plays out exactly as an introductory issue should - like a self-contained early episode of the current
Robots In Disguise
series. For older fans and ones who've watched the show, that can't help but feel a little bit repetitive, but it's the right move. Every comic is somebody's first comic, and every story is someone's first exposure to that world. You can hand this to anybody and they'll know what's up in RID - but if you
already
know, probably issue 2 will be where the plot will thicken pleasingly. But looking at what's here, Georgia Ball clearly understands all the characters and their attitudes and motivations, so I'm looking forward to where she's taking this from here.
Usually working on Transformers as a colorist, Priscilla Tramontano has provided some covers for the Windblade comic series of late. Robots In Disguise is her first full TF comic to my knowledge, and she does all the art solo - pencils, inks, colors - and does a great job providing the clear, colorful artwork an all-ages comic needs. There's also some nice nods to Transformers lore in here, from the Kremzeek on the flag from the game at the beginning, to Fixit's My First Blaster, and a really out-of-left-field reference at the end of the book that I won't spoil. She's perfectly aware that there are older TF fans reading the comic too, and there's stuff in there for us!
The main cover is provided by Tramontano, with 3/5ths of Team Bee posing. The subsciption cover is by Travis Sengaus with colors by Josh Burcham, spotlighting the whole team - and Fixit's verbal tic. I like Sengaus' cover a bit better with its more three-dimensional treatment of the characters, but both are fine pieces.
Like I said before: this is an introductory issue for the most part, so there's little here that's new to anyone who's seen RID at least once. But it's spot-on RID, and that's a good starting point. Hopefully from there we'll see some interesting new places next time.
| | |
| --- | --- |
| Reviewer | RAC |
| Date | July 21st 2015 |
| Score | (8 out of 10) |
| Reads | 14340 |
Back to Reviews Index