On a day that coincidentally requires them to be in special ceremonial paint, Windblade and Chromia must pursue a stealth-mode Arcee in to the wilds of Cybertron to recover the stolen Enigma of Combination. But it seems luck is not on anyone's side today... "An Uneventful Night" is written by Mairghread Scott, with art by Sara Pitre-Durocher, colored by Yamaishi with coordination by Phase6.
Chromia's shift to stand watch over the Enigma of Combination comes just after a special function requiring Camien ceremonial deco, and just happens to coincide with the moment Arcee has arrived to remove the Enigma from the custody of the Starscream Administration. No match for the experienced warrior, Chromia fails to stop Arcee from escaping with the relic. Calling Windblade for backup, the two chase Arcee to the Sea of Rust, coincidentally in the direction of a small expedition that has been searching the site where a Titan once laid...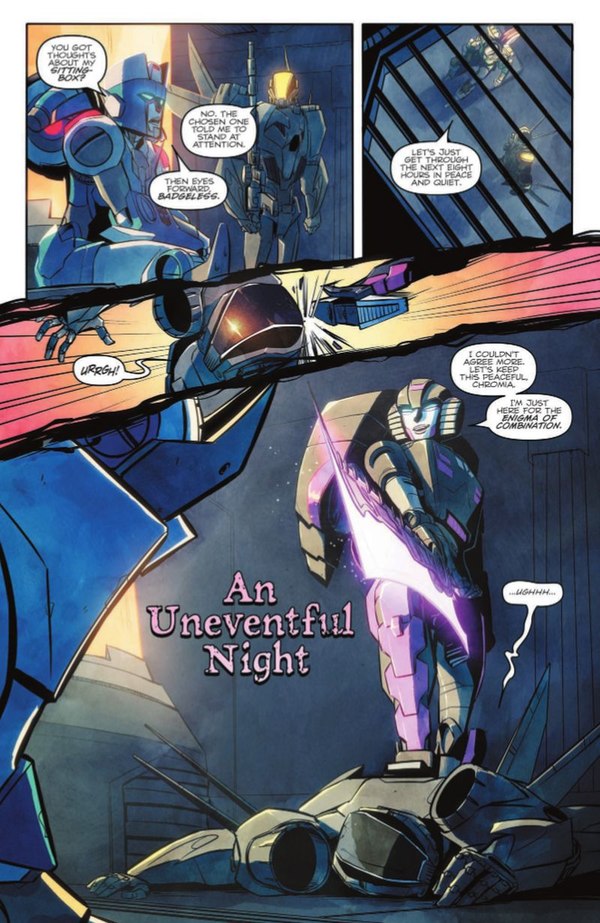 ...wait, uneventful night? But it's bright daylight when it goes outside...
This issue is not very subtle about being a toy ad. While minor effort is made to explain Windblade and Chromia's new look, the story has a pretty distinct lack of substance the whole way through and ends up leaving sort of important story points unexplained. And not in a fashion where it's something clearly being held back for a later point, but more like forgetting that any context might be needed. No one even starts to voice the question, the status is just accepted by the characters and the audience is supposed to likewise accept it because the book says so. There's shades of the Spotlight issues made for the IDW-based Generations toys in how this issue plays out, offering a quick adventure with a specific toy - or toys in this case - but it's also serving as the fictional introduction to Victorion and the team that comprises her. Who and what they are is hinted at in only the most vague way possible, and it's simply not enough. Material feels like it's missing, and it hurts the flow of the story. If it's the result of page space limitation, then incorrect priorities were set on both the writing and editorial sides. Page space probably was a problem, because the entire plot seems very rushed along, with more than a little handwaving to get from one point to the next. There's enough potential story material present to make for something fun and interesting, but it really needed someone to call for a real focus on one direction or another instead of trying to do everything at once.
While I can't really praise the story, the art is a different matter. Sara Pitre-Durocher, a cover artist during the Combiner Wars event goes for full interiors for this issue, and it looks absolutely fantastic. Sara has a style with a lot of consistent precision. The style also hits on one of the traits that I love in Transformers art - really taking toy designs to heart while tweaking them just enough to make them look functional and alive. And in Arcee's case this might be the first time she's been drawn to really resemble the toy since the toy was revealed. Andrew Griffith draws her with attributes of an Earth car, and most other cases seem to just go for a generic Arcee body design without clear influences from the toy. While Arcee, Chromia, and Windblade are drawn pretty accurate to their toys, in this specific case I have to complain that one thing was done wrong. Their weapons aren't nearly as huge as the accessories the Combiner Hunters exclusive set came with. Sure, it might make no sense for them to be carrying around swords and things that big, but it'd sure be entertaining to see! Anyway, the characters are drawn with a lot of dynamic energy. This goes through simple body language and in to fight scenes. I'll admit a couple of places had action shots looking a little flat - it was hard to judge how far apart figures were supposed to be, but in general it feels like a minor problem. Faces turned out really well. Not just for good facial expressions, but everybody had distinct facial features, and from what I've seen that isn't an easy thing to manage when drawing groups of Transformers. I'll definitely be looking forward to seeing more interior art by Sara Pitre-Durocher in the future!
Colors had a nice, subdued quality. Not super saturated or overly shiny. It reminds me some of Josh Burcham, though with a greater range of variation in the color pallette. The colors shift just a bit as characters move from interior spaces, out to sunlight. The Sea of Rust comes off looking like a desert in the way the colors are affected by the environment. Wide shots tend to have a glare effect added as well to drive across the idea of harsh sun beating down. The colors bring so much to this, and the style of line art and coloring suit each other very nicely. Yamaishi being a Japanese artist needing outside services to help facilitate communication, I'm not sure how feasible it'd be to make these two a regular art team, but if there's any way, I'd be incredibly happy to see it.
So, while not a deep story, and honestly needing more depth in a couple places just to feel like it's trying to make internal sense, it's not gonna be the worst read of the month at all. And it's so incredibly pretty to look at, I feel like that by itself almost justifies the cover price. Pity how close this could have been to a really strong overall issue, if it could just have decided on one thing it really wanted to do - Windblade and Chromia's conflict with Arcee, or the intro of Victorion. Because trying to do both was reaching too far.
| | |
| --- | --- |
| Reviewer | ExVee |
| Date | July 27th 2015 |
| Score | (7 out of 10) |
| Reads | 4111 |
Back to Reviews Index