On a very special issue of More Than Meets The Eye, Swerve has gone missing, and Rodimus needs a crack team of highly skilled professionals to go on a special mission to bring him home. Unfortunately, he's stuck with Cyclonus, Tailgate, Skids, Rung, and Bluestreak. "The One Where They Go To Earth", written by James Roberts, pencils by Alex Milne, inks by Alex Milne and Brian Shearer, colored by Joana Lafuente.
The avatar forms of Tailgate and Cyclonus sit in a small apartment - Tailgate reading a very impenetrable and confusing comic book and Cyclonus staring out a window to pass the time until the scouting party of Bluestreak, Rung, and Skids return with a report on the immediate vicinity. They've gone to Earth, drawn by a strange signal that could only have come from Swerve, who has coincidentally mysteriously disappeared from his bar at right about the same time the Earth started chasing the Lost Light.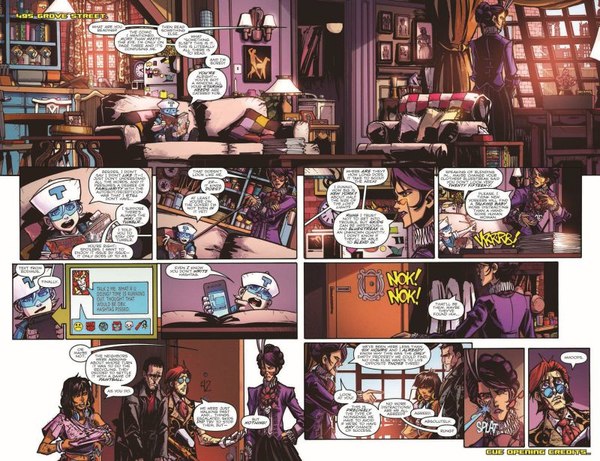 So, no one told you life was gonna be this way...?
Cripes.
Full disclosure, I really didn't like this story. Because while there's components of it that I think are interesting and would otherwise make good starting points for a story, the use of them here ...well, it feels like they're almost buried under the window dressing. In theory, this issue is about Swerve, but in execution this issue is about watching another adventure of human-form crew members awkwardly interacting with a non-Cybertronian environment where they eventually stumble on their goal and everything turns out fine after a valuable lesson has been learned. I guess I have to give some points, as the story itself actually structures out like a sitcom episode to wrap up the package of the not at all subtle show references being tossed around. All else aside, I can appreciate taking the idea that far. But where it goes wrong is trying to connect to more events outside the issue. This looks very much to be set up for things coming in the near future, and while one line of thought would be that it's good to even take an off-beat issue like this and keep it rooted in the ongoing background plots, that distinctly clashes with the sitcom angle. Because while some shows will have recurring story elements between episodes, most typically the sitcom experience is entirely episodic. To pay tribute to sitcoms, I feel like this issue needed to stand more alone, with the status quo re-established at the end and not opening the door to the next stage. That might be why this ended up sitting poorly with me, in fact. It's clashing with itself. The major Swerve elements of this story could have stood alone, and actually having an ending that goes back to business as usual and doesn't have any specific impact on anything afterward would suit the situation perfectly.
This is the first More Than Meets The Eye issue I feel actually disappointed by. Even during Dark Cybertron, MTMTE chapters tended to be highlights of that crossover. I like MTMTE's character focus, as it's gotten us some interesting things. Brainstorm and Whirl will probably always be largely defined by this book for me, for one example. This issue ought to have been a perfect chance for something like that, and again we do get some of that with Swerve, though when we do it's delivered in a ...well, less than great way. Not even a method that fits the context of the situation, more like putting aside the situation in order to add a pile of exposition to solve the problem. A little Swerve focus, and the points this tries to touch on are probably something the character needs, but the way it all shakes out, the "lesson" seems to just be for Swerve to get back to being the same as ever, and the way it's laid out reduces or removes the narrative impact for me. At the same time, we could be looking at the other characters for things, and we get bits and pieces on that line, some of which is even kind of interesting! But once again it winds up being lost in an issue that seems more concerned with playing with its setting than with what's going on with the characters in that setting.
I don't have a lot to say about the art. Between Alex and inking helper Brian Shearer, we get a decent take on the apartment set of "Friends", and a pretty good looking Manhattan street level. The level of background detail seen aboard ship or at any setting is very much present in this, and it looks good as usual. The holo avatars are... certainly humans with vague visual connections to the Transformers that generate them. Alex does better with human designs than Andrew Griffith was early on in the current Earth-based story stretch in The Transformers, but appreciation of that might be hindered a bit if you're not particularly interested in the humanized-Transformers thing. Joana has one instance of coloring that really stands out to me. In the two-page spread, I really like the lighting of the apartment. The windows might be a little bit too glowy for my preference, but the rest of it came out really great.
It's important to understand that this issue is probably going to be pretty polarizing. With what it's going for, you're either going to totally love it and be in to the idea, or it's just not going to work for you. I wound up falling in to the latter, you might not. My advice is to take a look through the preview and decide more based on that. Because if you're not liking where it's going at that point, I'm pretty sure the rest of the issue isn't going to endear you very much.
| | |
| --- | --- |
| Reviewer | ExVee |
| Date | July 27th 2015 |
| Score | (5 out of 10) |
| Reads | 5603 |
Back to Reviews Index