Velocitron's quarterly Benefit 500 is on! Blurr's racing for the future of the Cybertronian Alliance - but in this race, there are no rules. "Race Against The Light" is written by Mairghread Scott with art by Corin Howell. Colors by Thomas Deer.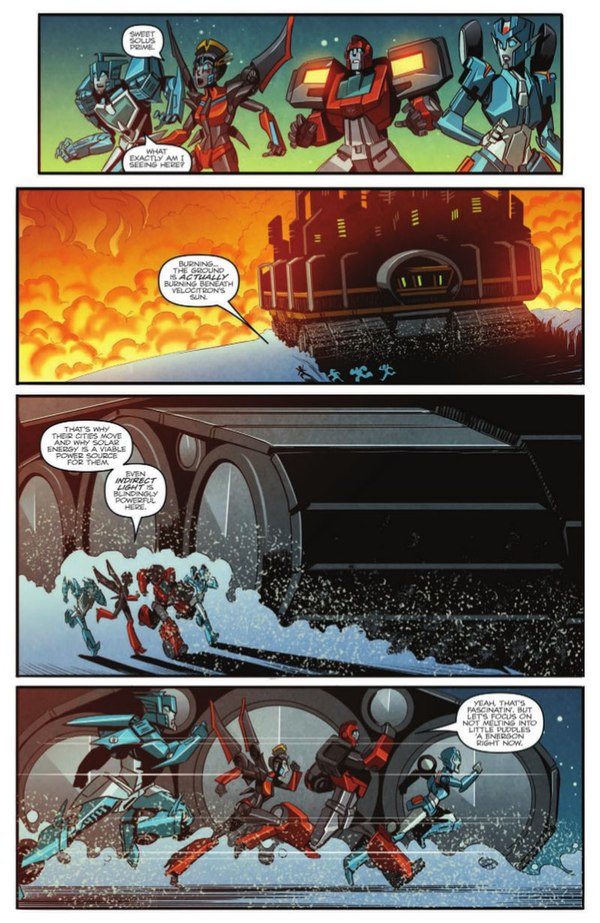 Expressions and dialogue seem a bit askew in terms of intensity. With more time, I expect Scott and Howell would sync up better.
On Velocitron, Windblade, Chromia, Ironhide, and Blurr are ready to race - and that's
good,
because they need to get inside the mobile city of Delta before they're sun-baked. Moonracer meets them within, explaining the rules of the Benefit 500: none whatsoever. And for a request as signifcant as joining the Council, Blurr had better win
big.
She also tells Windblade that Delta City is built from the original Titan that settled the planet, though the Titan itself is in more of an Old Detroit kind of state at the moment. And the Cityspeaker has an idea.
As you may have heard with the SDCC news, Windblade's only got 2 more issues to go after this one until it returns next year as
Transformers: `Til All Are One
. I suspect that this may have to do with why the resolution of this story feels rushed. The big race, the one that everything hinges on, takes roughly 8 pages out of a 2-parter. A lot of information is exposited about Velocitron and its Titan, and there's a larger story being hinted at, but it all comes at the expense of what's going on
now,
and the race that's the crux of this story. Or maybe things
should
happen quickly on Velocitron and this was always the plan. But either way, the ending feels abrupt. I can't help but be reminded of
Beast Hunters
and how its pace kicked into high gear with the last few issues. I'm still enjoying Windblade more, but the feel is similar. Hopefully the end result will be more satisfying.
It's also a shame Corin Howell and Mairghread Scott don't get to work together longer, because it seems like they're still feeling each other out. Howell draws some very broad expressions - sometimes it works for this book and these characters, and sometimes it doesn't in my opinion. And Scott has always preferred a deeper, more low-key approach to her characters' emotions. Her words aren't the best match for the art sometimes - and I feel as though that's something that could've been adjusted at the dialogue level. It's most noticeable at the beginning of the issue, with things gelling more as we get farther in - so we're probably watching the learning curve in action. It's tough to hash out an artistic working relationship with thousands of people watching. But I do like Corin Howell's art and I hope that once her work on Windblade is complete we see her again. Priscilla Tramontano is doing a great job with the new
Robots In Disguise
comic, but I keep thinking Howell could knock that one out of the park too.
Tramontano handles the main cover here in fact, which depicts Windblade, Chromia, and Blurr escaping the harsh light of Velocitronian day just in time. Casey Coller and Joana Lafuente focus on a racing Blurr who's likely in the same situation, running through a silhouette of Windblade. It's a great image and a very strong piece of design. We go even
more
design-y with this comic's James Biggie cover, whose travelogue this time is appropriately enough for the planet of Caminus. I like it, but I'd have liked to see the facepaint design repeated on Caminus, since that is its in-story origin.
It's going to be a challenge to bring things to a satisfying stopping point in just two more issues, but with the promise of more after a six month hiatus, but there's always things that can be deferred until
`Til All Are One
begins in March. Next month's issue points towards a specific set of additions to IDW's Transformers lore, and I'm looking forward to it.
UPDATE:
Thanks to Mairghread Scott's husband, Jason Enright, for clarifying the status of the book and the reasons for the title change!
| | |
| --- | --- |
| Reviewer | RAC |
| Date | July 28th 2015 |
| Score | (7 out of 10) |
| Reads | 4178 |
Back to Reviews Index