As new residents flow in from the colonies, Cybertron's social problems begin to find new life when post-war politics clash with the cultural beliefs of the newcomers. But amid this, a family relationship already damaged by the war may end up as the tipping point to the fragile peace completely giving way. "The Transgressors", written by John Barber, art by Andrew Griffith, colored by Josh Perez.
Camiens create a stir outside Metroplex as they distribute literature about their beliefs in equality. Equality in following the lead of a Prime, a message that doesn't generally go over very well with the predominantly Decepticon denizens of the area. In particular, a small party of Soundwave's forces, led by Needlenose, who carries Soundwave's invitation and message of welcome to the commune that will be opening very soon. A welcome to all, except those who follow a Prime. Meanwhile, Arcee is lurking around the city, observing the developing situations. And, just what bug is buzzing around Starscream these days, anyway?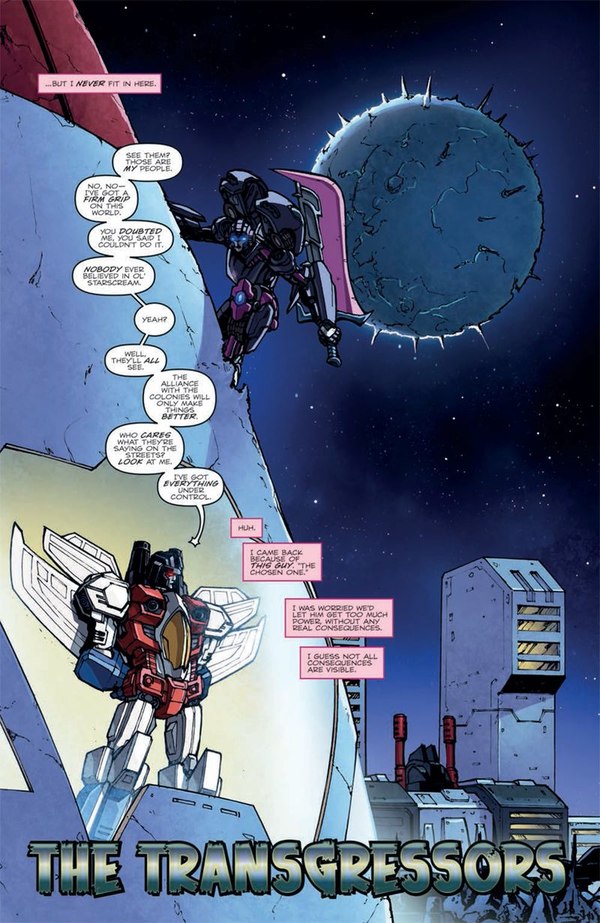 That sword just screams 'stealth'. In big, glowing, pink letters.
I can't say this is quite a return to the robot politics I've wanted since before Dark Cybertron, but the spirit is in it. The Decepticons are a really interesting thing, because there's so much division within them. Soundwave seems to genuinely want the war behind them and to just get away from the Autobots so everyone who comes with him can just know peace. Galvatron wants... well, who even knows what Galvatron wants besides just killing folks? And then you get the third group, who aren't really over the war at all, and that's what we end up looking at this issue. Using a story about Tracks and Needlenose to propel it forward, we get to see a new situation happen where hostilities may boil over in to violence again, and probably pretty soon. This is without even looking at what was recently established over in More Than Meets The Eye, but there's a lot going on in what remains of the Decepticons and it's managed to make the current stretch of story really compelling. While I'm not eager to see a return to a degree of active fighting along the faction lines again, it's something that's been inevitable, and something that's been danced around all along. The way that it looks like the concept would be approached now is shaping up pretty well. It's interesting too since there's a cyclical nature to it. The state of Cybertron now is not like it would have been when the war originally sparked off, but the social climate is probably not far off. With Starscream, a leader nobody believes in to do what's actually right for the people, an upper class living inside the city, and everyone "undesirable" stuck in the slums outside Metroplex's walls, the class division is asking for conflict the heat back up. And it's a message the book has been giving us for a while, even when the Cybertron situation was being mostly ignored. The addition of refugees from Caminus who are viewed as having a superior social standing now only exacerbates the whole thing. Maybe this IS the robot politics I've been missing for the last couple years, just presented in a slower start than the first time around. There's a lot of good material in the immediate story, don't get me wrong, but it looks like it's a lot of situational set up. The characters are moving in place to tell the next leg of story, and we're getting interesting bits and pieces about them as it happens. The relationship between Tracks and Needlenose ends up being kind of entertaining when you realize why these two in particular were probably chosen for this role, and Arcee ends up taking a route that I'll like to see explored further. And Starscream... well, it makes sense when you actually get there and see it.
Art-side, it's mostly situation normal. Griffith offers a look at Arcee's Earth-based car mode, which makes me a want a toy based on the design just that much more. Sadly it does clash with Arcee's appearance in Combiner Hunters which must happen either right before or right after this issue. If Arcee is to end up hanging around Cybertron for a while, I think I'd have liked her design to be shifted to more toy accurate for the duration of her stay. On the other hand, her giant sword is staying in sight all the time, and while scaled smaller than the toy scale of the SDCC set is still quite huge and looks suitably hilarious slung over her back. That's not a bad thing, either. There's places here and there where some of Griffith's particular traits come through a little strongly where it's not so positive. Like, there's a lot of large chins this issue which aren't always correct to the characters. On the other hand, this is mostly me trying to come up with intelligent things to say about the art, whose precision and consistency is fantastic as it always is. Andrew, could you please not be so good at your work so I could come up with more meaningful criticisms than that someone's chin is too big? But seriously, something I really liked was the subtle differences in design between flashback-Needlenose and modern Needlenose. They're very similar, but with just enough tweaked between them to make the passage of time credible. Oh, and I dig some of the designs for the Camiens appearing near the beginning of the issue. Really cool stuff, and more that I'd love to see get adapted as toys. The colors are likewise very nice. There's a very pretty sunrise scene, and a bar gets great colors to convey its lighting. There's also a spot in the issue where Arcee, Optimus and Tracks are backlit as they stand in a shadowed area that came out really great with Josh's coloring. Again, not a ton I can say here because everything just looks so good across the board. Great job to both Andrew Griffith and Josh Perez bringing the art this month!
While I think 43 was probably a stronger issue overall for keeping a tighter focus on its feature characters and telling some good story with them, I love this issue for the things it appears to be setting up. I loved this title before Dark Cybertron changed its course, and while it has taken some time, I can clearly see that it's getting back to what made it so strong originally. It's great to get so quick and successful a bounce back to form following the conclusion of the recent crossover event. I hope only that it can keep carrying the momentum from here.
| | |
| --- | --- |
| Reviewer | ExVee |
| Date | August 4th 2015 |
| Score | (8 out of 10) |
| Reads | 4545 |
Back to Reviews Index