Optimus Prime is back! What will this mean for Autobots, both on Cybertron and Earth? And what will General Flagg do now that he's apparently declared himself President
pro tempore
of the United States? All of these questions and more in
Transformers vs. GI Joe #8
! Written by Tom Scioli and John Barber with art, colors, and lettering by Scioli.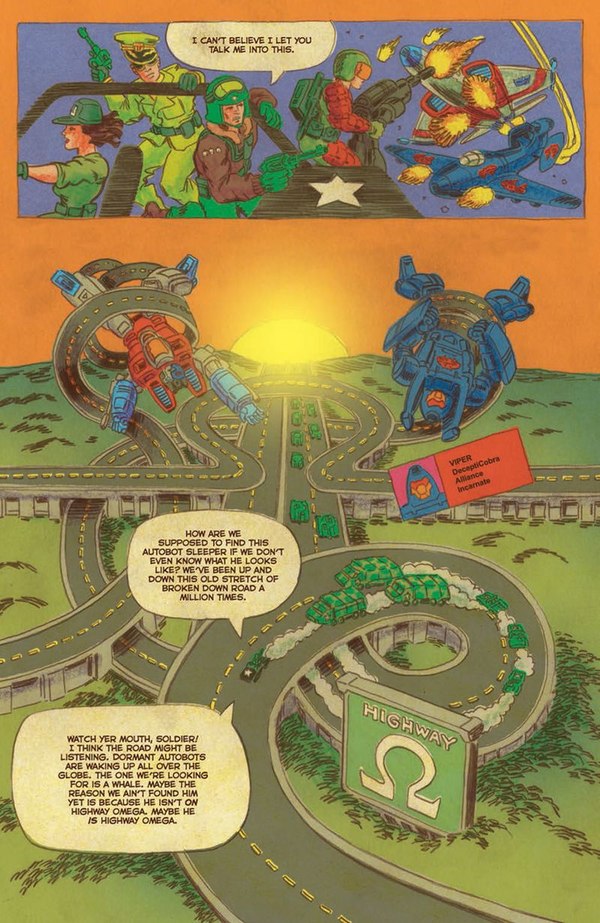 Hey, it's Viper! Hi, Viper!
Billy returns to his father Cobra Commander with Snake Eyes, which is quite the feat! But the ancient evil, Koh-Buru-Lah, is not impressed, tearing Billy apart for using prosthetics created by his Cybertronian enemies of old. Speaking of Cybertronians, Optimus Prime has returned and Bumblebee is whole again! A much more positive note than we see back on Earth, where GI Joe bursts into the White House to find General Flagg sitting in the Oval Office, ready to fight his war against Cybertron. After a brief argument, the Joes set out with Flagg on Highway Omega to find the sleeping Autobot said to be resting there... and instead find themselves on a one-way trip to Cybertron as Highway Omega
Supreme
springs to life to do battle with the Astrotrain!
This feels much more like issues #0-6 than issue #7- which is fine, though that extra focus that the more modest in scale issue #7 had is something I could've gotten used to easily. But this issue spotlights what the return of Optimus Prime does to the Autobots and to Cybertron, and also gets the rest of the GI Joe team (except Snake Eyes) to the planet. More new characters are introduced, including Wreck-Gar, whose current state puts a new spin on the name "Junkion." Also Viper, the Generations Powerglide remold, in his comics debut! The issue builds up to the confrontation between Optimus Prime and Megatron that we've expected since issue one. Naturally such a confrontation can't turn out to be a decisive win for the Autobots seven issues in, but I was not expecting the outcome we get- we're not done yet, but it can't help but feel anticlimactic. Tom Scioli has enjoyed playing with the conventions of Transformers & GI Joe up to now, and it seems like he's about to tackle one of the
big
ones in the issues to come.
Like the narrative, the art is back in its normal groove this month after the Frank Miller-infused stylings last time. There's a lot to like there - I mean, what other comic is going to give you a highway coming alive, strangling a couple of Decepticons, and coiling up into Omega Supreme's rocket? - but I'm having a bit of a tough time getting back into the all-over-the-map feel of the earlier issues. But there's also a couple of great two-page splashes of Prime and Megatron facing off, and just to emphasize the giant robot battle quality of the staging, Scioli renders a Transformers Vs. GI Joe logo using the Japanese versions of the two series' logos. Nice touch! There's also a shot of a reflective Megatron near the end whose face reminds me of nothing so much as Darkseid.
Our three covers this month aren't labeled as to who did what, but luckily the TF Wiki had the scoop. Of course, Scioli's is pretty easy to pick out, showing Arcee and GI Joe laser trooper Flash rocketing from Earth to a
very
nearby Cybertron. The second cover is by
Andy Suriano,
featuring Shipwreck and Seaspray, and puts me in mind of Darwyn Cooke's style. I'm very fond of that style. The last is by
Artyom Trakhanov,
and is a nice take on Destro and Megatron that reminds me of Moebius in terms of its style and shading. As many great artists as IDW has, I'm always happy to see the new artists Barber and Scioli find for the alternate covers for TF vs. Joe. In a perfect world, I'd love to see one-shot backup stories in either the TPBs or even individual issues - but it's not something I think I'd want to give up the enlightening commentary pages for.
Next issue's cover shows a couple of characters whose presence could shake things up pretty well. Of course, the covers to this series don't always mean anything relative to the content - not literally, at any rate. So who knows?
| | |
| --- | --- |
| Reviewer | RAC |
| Date | August 4th 2015 |
| Score | (8 out of 10) |
| Reads | 3749 |
Back to Reviews Index