On the planet Eukaris, the bestial Transformers live in an uneasy peace with each other, split among separate tribes. But when word comes that Cybertron has found them, all the tribes come together out of fear that those who tried to exterminate their ancestors may be back to finish what they started. Written by Mairghread Scott, with art by Corin Howell, colored by Thomas Deer.
With knowledge of the combiners emerging from the space bridge to briefly battle on their world, Tigatron and Airazor seek the knowledge of the Fateweaver to learn if this contact from Cybertron means that war is coming to Eukaris. But when the heads of the tribes are gathered at the space bridge, what first meets them is not war - it's Rattrap. On Cybertron, Windblade returns from Velocitron to find that her efforts to secure a new ally and gain an edge on Starscream has been countered by Starscream having already made contact with another colony on his own.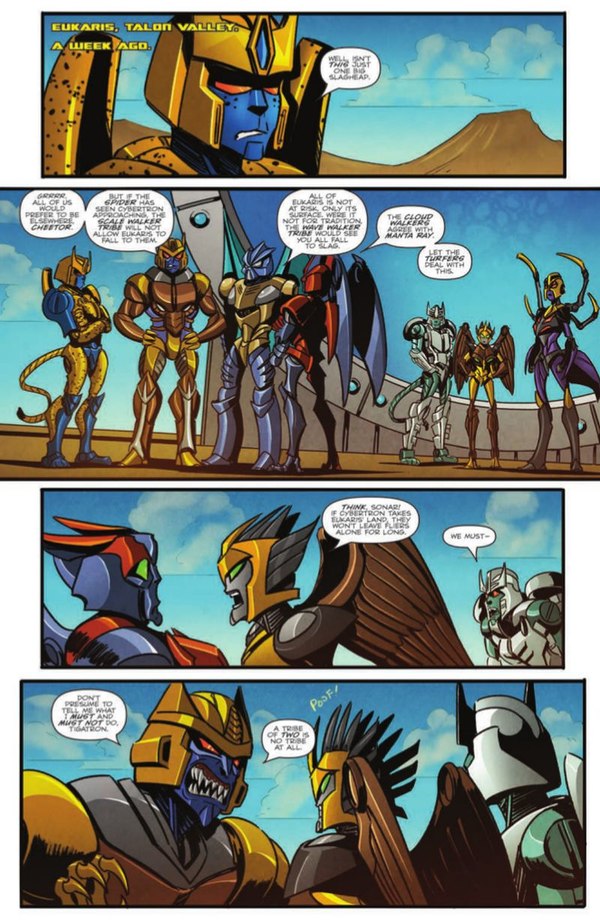 ...and here, a scene from the meeting of the heads of the Five Families, just before they discover a rat in their midst...
I had felt that last issue and this issue, the stories wrapped up very quickly, mostly going through a full story in just one issue's space, and it wasn't something I was enjoying. In both cases, situations have been presented that have a lot of interesting potential which isn't getting explored to any meaningful degree. But at some point after reading this issue, it all kind of clicked for me. The Windblade title ends after the next issue, in order to make way for a new series that's supposed to deal with a lot of the same ideas of finding and reunifying the lost colonies. And it makes sense to me now. These final issues of Windblade are acting as set up. Elements needed to get the next book going are being pulled together here in what I still would call an abbreviated form so it's all ready to go when Till All Are One launches. So my hope is that by getting an introduction to really excellent story ideas like Eukaris, the planet of beasts can be explored in greater depth later on. Because just with the quick glimpse given this issue, I think there's a lot of meat on this one. Mairghread Scott's appreciation for Beast Wars shows through in this, as we're given a crash course in the basics of a pretty complex society, much more than is really needed for the purpose of the story. It's a very interesting setting with more immediate depth to it than Velocitron. I very much hope the future allows for some stories to be set on Eukaris so we can dig deeper in to how the world works.
The ending of the issue is probably pretty predictable, but the requisite action sequence preceding it is kind of cool and ends in a way I didn't expect. Outside of that, it's interesting to see Windblade continue to be influenced by a combination of Starscream and the very much more political nature of her current job. Having to work to keep Starscream in check is forcing her to make choices that she doesn't want to, with only bigger stakes riding on them as things move forward. It's reading like the reality of the whole thing is getting to her more and more, and I just wonder how long before it gets so heavy that she starts to crack under it a little bit. Windblade's appearance of relative innocence has pretty solidly fallen away by now, and it's becoming a question of just how far will she let herself sink in order to try to do what she thinks is the right thing. Once again, I think we're seeing chunks of set up for the next book in everything that's happening in these final issues. If it works out that way and Till All Are One hits the ground running, I don't think I'll have any reason to not look back at these issues positively.
I think more than anything else so far, Corin Howell's art serves the residents of Eukaris pretty well. The style is still not working for me quite as well as it did for the pages it was included in the end of Combiner Wars, but it's closer. I guess I have to admit that it may partly be thanks to involving a lot of characters that haven't appeared before, so there's not a basis to feel like anything looks wrong. But even Windblade and Starscream seem to be settling in to more solid looks. There are still some awkward bits, like the partial appearance of Superion in one panel that just looks... awkward. I like some of the art during the action sequence, but at the same time there's a couple parts where the panels aren't as easy to follow as they need to be and it takes a couple passes to get what's meant to be going on.
One issue is left of the Windblade series, and it's the most intriguing of the encounters foreshadowed in the last issue of Combiner Wars. While I've found a better understanding and acceptance of the quick story format these issues have taken, I still can't help but feel a bit concerned that we may not get as much out of it as it has to offer. Hopefully I'll be proven wrong, so be here next month to find out!
| | |
| --- | --- |
| Reviewer | ExVee |
| Date | August 18th 2015 |
| Score | (6 out of 10) |
| Reads | 6634 |
Back to Reviews Index