Team Bee meets Team Prime! Ultra Magnus, Arcee, and Bulkhead are indeed on Earth looking for a Decepticon fugitive - one that has history with their old friend. Can both teams work together? And what is Team Prime hiding?
Transformers: Robots In Disguise #2
is written by Georgia Ball with art by Priscilla Tramontano and colors by Tramontano, Josh Burcham and Josh Perez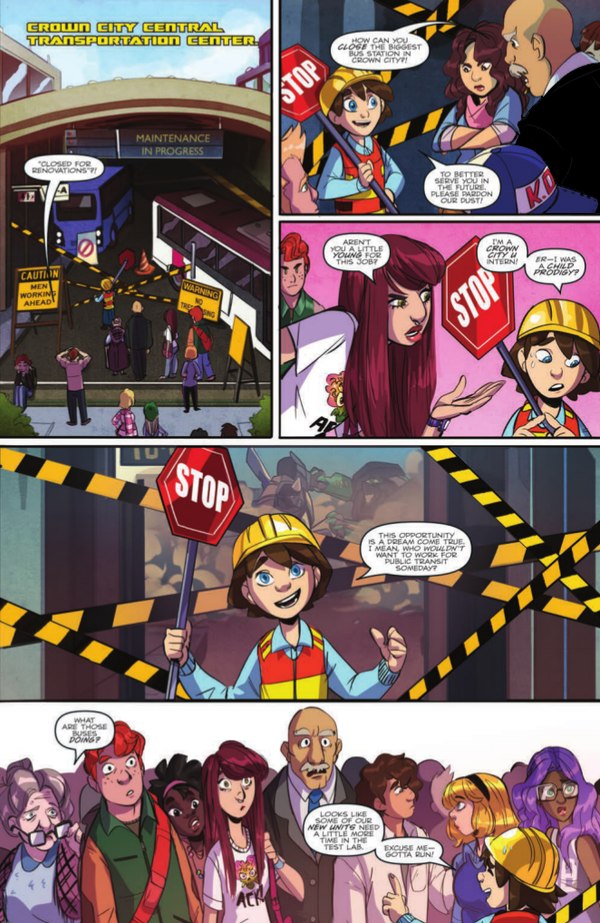 I feel like I should know more of these people but Spike and Carly, but either way, this is a striking group of extras!
Team Bee spends its morning sorting out an escaped Decepticon wreaking havoc in Crown City, and make much shorter work of it than Spinhead last issue. Back at the base, Bumblebee turns his attention to the search for Team Prime. Which is shortened considerably when Ultra Magnus, Arcee, and Bulkhead come knocking at the door! They're on the trail of a dangerous cultist named Clipshade, one that Bumblebee has history with. And they want Team Bee's help, but they're not in a sharing mood when it comes to their former teammate...
We're starting to get clues as to a larger plot, but there's plenty more to learn. Luckily it never feels like we're left waiting.
Robots In Disguise
has got a nice brisk pace going in this issue, moving quickly and with a lot going on, but for the speed with which things happen it doesn't feel abrupt as some recent Transformers comics have to me. The story structure is in the vein of the comics of the 1980s: enough of a self-contained story to make the issue feel satisfying, but also with ties to an overarching plot. Having fulfilled the need for introductions last time, this issue is a much better indication of what Georgia Ball is capable of, and this is looking like a promising book.
On top of which, I'm still enjoying Priscilla Tramontano's art quite a bit, and she seems to enjoy the opportunity to draw some of the
Transformers: Prime
cast. The extras in the Crown City scenes also highlight her skills at drawing a variety of humans, and from G1 Spike and Carly in one scene I'm almost
positive
there's more references and cameos going on here than I can correctly identify. Whether that's true or not, Tramontano doesn't skimp on personality and detail in the story's human extras. Colors are divided between Tramontano, Josh Burcham, and Josh Perez, and their work together on this issue is quite harmonious, as I can't pinpoint the transition from one colorist to another at any point.
Priscilla Tramontano also provides the main cover again, with a torn photo of Team Prime in its glory days (except that Bumblebee and Optimus are in their RID bodies which makes sense for consistency within this book, but again:
weird
). Josh Burcham has the retailer incentive cover, which features all of Team Bee as seen in this comic plus Drift. Burcham's style works well with these characters as well - hopefully he'll do some more alternate covers in the future.
If you've seen at least one episode of RID, you could very easily start with this issue and not feel like you missed too much. There are aspects of the ongoing mystery that began there, but another well-executed comics convention here is that the dialogue tries to get you caught up as casually as possible - and succeeds at it. I'm hoping that as we proceed with the larger story, the qualities of new-reader friendliness that are in abundance this issue will remain.
| | |
| --- | --- |
| Reviewer | RAC |
| Date | August 25th 2015 |
| Score | (8 out of 10) |
| Reads | 9988 |
Back to Reviews Index