Some mysteries should remain unsolved. Some questions are best left unanswered. And even then some answers are not what they seem to be. The crew of the Lost Light is confronted with all of these lessons when they come face to face with a legend. "The Not Knowing", written by James Roberts, art by Hayato Sakamoto, coordinated by Phase6, and colored by Joana Lafuente.
Rodimus fixes everything! The already twice-destroyed map to Cyber-Utopia is back again, because it turns out Rodimus has been drawing it on the surface of his desk since the start of the Lost Light's journey. With Thunderclash still unconscious, this is the best shot at getting the quest back underway. However, with the last report from Agent 113 extracted from Swerve's shoulder including the discovery of the home of the fabled Necrobot, it seems another detour is about to start - one which Megatron is all too happy to authorize...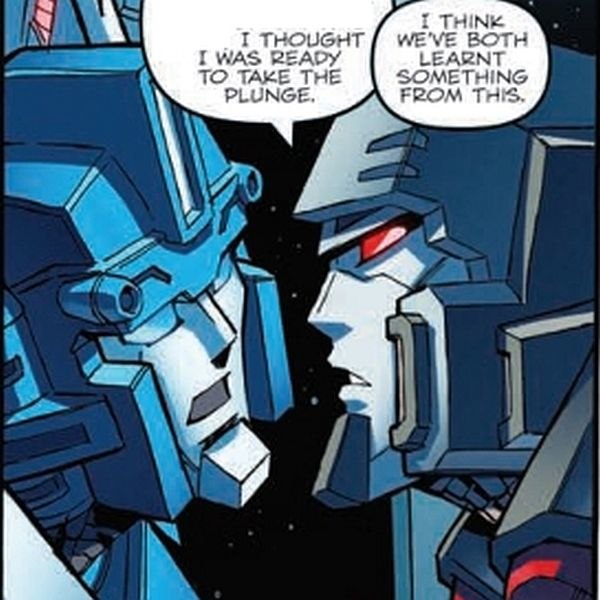 Everybody's getting pretty comfortable with Megatron these days.
Let me tell you what I like about this issue. It's a nice one-and-done. The whole story fits in the space of the issue, and at the end you're allowed a clean stop to reflect on the events. Much as the characters are, in fact. We get focus in a few directions with where the story goes. In two of those it's about specifically getting questions answered. But the other focus angle might actually be about finding the question, which is where the issue really works for me. The structure of the story is kind of neat for how it almost stealths its way to being an issue about Megatron and where he's at right now with the choices he's made. Not just the recent ones, either. What we're given up front is that Megatron is getting comfortable, and he's losing sight of the intended purpose of his presence within the Lost Light's quest. And just for a moment you can see clearly how he could so easily start backsliding and letting the thoughts of the old Megatron begin guiding him again. Megatron has a moment where you see that he's getting past that stage where he has a notion of feeling like he needs to work at being who he is now, or in any way proving his intentions to the others. He's more or less gotten functional acceptance from a number of them, even if he is still Megatron. And if Megatron loses that motivation to keep trying to change himself, how long could it be before he fully settles in to comfortable old patterns? Ever since Megatron decided to call himself an Autobot at the end of Dark Cybertron, I've wondered two main things: How long will it last, and how will the transition back to Decepticon be handled when it inevitably comes? I see no evident answer yet to the first question, though my feeling from this issue does at least reinforce that the change to the character is not permanent. As for the second part, I'm at least satisfied in this moment given that I can see the seeds of the backward conversion and can clearly see ways from here that the process can continue which would be satisfying.
Circling back around, I don't like what the rest of the issue around Megatron does for the most part. It answers questions that I don't even think should be answered at all, because I feel like it removes something from the universe in doing so. It diminishes the richness and wonder with science and reason. I don't think having the questions be asked is in itself wrong, but presenting clear answers to those questions is. The fact of that happening is perhaps important for one character, but I regret what that exercise results in for the greater world this all happens in. Meanwhile on the other story track, it's a great big non-answer that conveniently leaves the journey for the answer still there so things can proceed as normal. In all honesty, I think of the two non-Megatron focuses in this story, the outcomes for them need to be switched. One needs left with an ambiguity that just spurs someone on even more, and the other needs a final resolution in order to turn the page and figure out what comes next. Doing a quick story where you more or less go back to status-quo after is not inherently bad. That's usually how you learn about characters without also possibly changing who they are in the process, and it's a necessary part of long term story telling. But the situation used here I think is one that should be used to affect everyone involved in a way that carries forward with them. It's a combination of two valid story telling mechanics that I think don't work together in this specific context.
Hayato Sakamoto is doing lines this issue, and I think it turned out better than his previous go at the book. For one, there's not any situations of characters looking squashed out of proportion. And while there's a few instances where you look at a face and can see the Sakamoto in it right away, for the larger part it's not super obvious and it's able to fit the overall art style of the book just a bit better. Sakamoto is a really good artist, and I think that's proven well in the backgrounds. You have both scenes on the Lost Light with really well done, detailed backgrounds, and you have a planetary environment whose landscapes are presented with equal skill. The last page is very pretty, which gives a very nice contrast against the mood the scene is meant to convey. A specific thing I liked is getting some time with the Rod Pod at new angles. For one thing, you can actually sort of understand its relative size. I'm pretty sure Rodimus had the Mk.II made even bigger than the first one, by the way. I'm sure Sakamoto is something we can only get as an occasional treat, and I'm quite fine with that. He brings a visual quality that's just different enough to notice and be enjoyable without standing as a glaring difference from how we're used to everything looking. I wouldn't want that to lose its novelty by having Sakamoto be used too frequently. Now, with next month appearing as a new Scavengers story, I might have liked to see Sakamoto take that on to mirror his being used on the DJD focus issue, but I'm far from disappointed. As well, I'm nowhere near disappointed in the colors. Joana Lafuente colors some fantastic planet surface this issue. I'll point again to the last page which just has the best from both sides between the lines and colors. Joana is a star every month, and I wish I could say more about that without just repeating myself again and again!
As a parting thought I'll just flash us back to early-ish MTMTE, when Perceptor explained that the map in the Matrix couldn't be recorded, and was even immune to being memorized. Thunderclash and Rodimus have now both drawn out the same map that's supposed to take them where they're going, but the idea that it's the same as the Matrix map is only based on someone saying Thunderclash believes it to be that, and from that they assume what Rodimus has made is as well. But if you think back to the end of Remain In Light, there's some potentially ominous things appearing on those carvings... Makes you wonder, doesn't it?
| | |
| --- | --- |
| Reviewer | ExVee |
| Date | September 1st 2015 |
| Score | (7 out of 10) |
| Reads | 5707 |
Back to Reviews Index