The questions increase as Jetfire digs deeper to try to solve the enigma of the Onyx code, leading to an ...unannounced visit to a secret facility on Earth. Meanwhile, Blackrock visits Spike to make a very unusual request! "The Nothing Man" written by John Barber, art by Andrew Griffith, colored by Josh Perez.
Jetfire has made troubling findings in his examination of the Onyx Interface code, moreso than the simple fact that part of it is extremely ancient Cybertronian: even completely isolated instances of the program somehow update themselves to reflect changes made in separate instances of the code. A lead on a quantum signal precipitates a mission to Earth to figure out what's going on - and stop it, if necessary. Elsewhere, the imprisoned Spike receives a visit from Blackrock, who simply isn't quite finding the satisfaction he had hoped with Onyx's distribution around the world, and he needs Spike's help to discover the problem.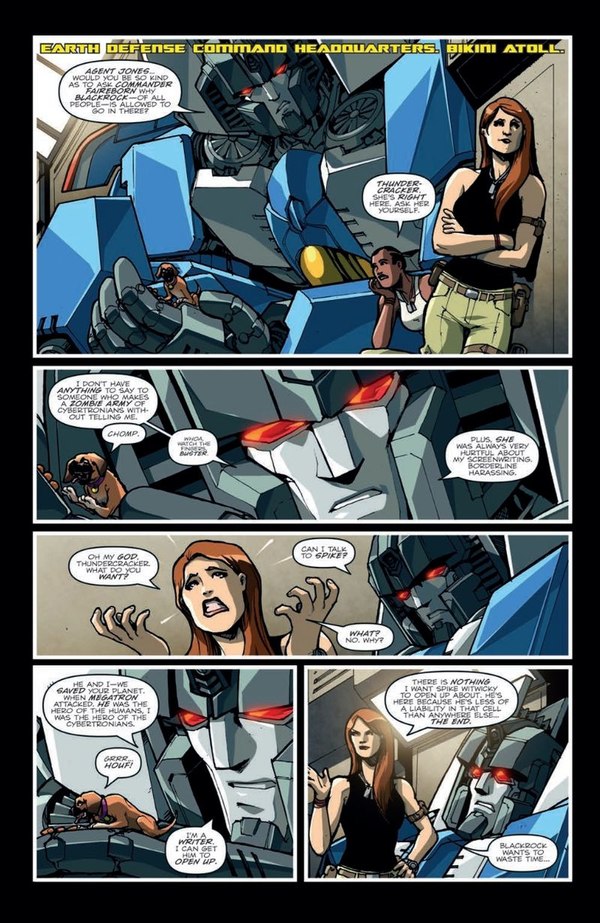 I wish I had the page where he's reading from his screenplay to put here instead.
I really enjoyed what this issue has contributed to the greater story being told with the Earth setting. A lot of actually interesting things are happening, and the developments are really coming together in a way that if not currently satisfying, feel like they will be shortly. The problem is, the majority of this cool stuff I can't even really talk about because it's such heavy spoilers for the issue. What I can say is that one of my older predictions for the use of a plot element was definitely on the right track, and I kind of suspect the discrepancy between how I interpreted it at the time and the way it's presented now is probably in fact an important component of the direction the story is going. Because I think in a sense, the outcome I expected was the one desired in-universe, and that it's happening in a different way is why part of what happens this month is here. As goes the part of the story happening around Earth, this feels like a turning point on all fronts, because the events have either an explicit or strongly implied potential impact on everybody involved. Marching along to issue 50 as we are, it feels about right that this is where in the progression we should start to see things realigning to start to set everything up for the "season-end" milestone event issue. Barber has developed himself a plot line with a lot of details to dive in to and get a really engaging story out of, and I'm really really loving how this has turned out to this point. Some elements come out a little odd. There's a Galvatron/Soundwave conversation that kind of feels like it's only even there to punctuate things going on that they are (or should be) unaware of. But at the same time, Galvatron is much more than he presents himself to everyone. He's probably more in control of things than most or all of the characters currently know, and I almost feel like the audience is only now getting the clear signal that he's got his hands deeper than it ever looked before. If he's playing the role of being just a bit simple and the man out of time in order to manipulate his interactions with others, that feels like a good way to reconcile the seeming inconsistency of portrayal where his intelligence seemed to take a dive at the start of the whole Earth return story. Anyway, the point I was originally moving towards was that in isolation here, the scene of Galvatron and Soundwave feels a bit out of place, but taking a deeper consideration of Galvatron's role helps it to fit where it's placed, and makes some very nice hints for the near future.
Art side, without giving too much away, let's just say that Griffith has had a chance once again to show a really great grasp of portraying scale, much like the really good part of the Metrotitan battle in Dark Cybertron. There's a really great battle scene in this issue that honestly gives me all kinds of regrets for how some stuff in the comics recently ended up playing out in comparison. A few of the panels are focused a bit too tightly, so it's not always easy to put isolated bits in to the right context with the larger scene, but for the most part the battle plays really, really strongly. Some nice bits of design work too just finishes it off to make me really want some toys that don't and probably will never exist. The art for this issue is a better toy commercial for stuff nobody's making than... well, than some outright toy commercial issues managed to be. That is just a bit sad, isn't it? The colors are great too. The battle is lit with color in such a pretty way, and there's a lot of atmosphere change as the issue shifts through a few locations and each one feels perfect thanks to the color choices. Just overall this is a really pretty issue with lots of varied visuals to really keep it extra interesting to look at.
Truthfully, I think this creative team is currently totally knocking it out of the park on what they're bringing right now. I kind of love how fast things jumped back full stream on to this story once Combiner Wars finished up, like Barber just couldn't wait to get back to this, and Griffith and Perez were just as happy to be back here. The enthusiasm I infer from the overall quality if anything just makes me a bit more excited to see how this develops. But alas, there is one final nagging detail that just bugs me a little. Arcee is declared as Autobot leader on Earth in the cast page, and indeed everyone is deferring to her authority. But this very same issue, Jazz threatens to pull rank on Kup. Arcee could kind of be seen as having a high position since Prowl basically treated her as his second when he was in charge after Optimus left, but it seems like all that should have been over when Prowl took off. With a reminder that these Autobots are to some degree observing a functional rank system, it's just so weird that Arcee still managed to succeed her way up to functional leadership of this group. I'd kind of like to see the alternate reality where Prowl takes off but leaves the Constructicons behind and they somehow end up in charge of the Ark crew cause they're Prowl's buddies too.
| | |
| --- | --- |
| Reviewer | ExVee |
| Date | September 29th 2015 |
| Score | (8 out of 10) |
| Reads | 4478 |
Back to Reviews Index