Optimus Prime is given a strange notion by the Mistress of Flame, but his mind is more occupied with misgivings of how the Camiens perceive him versus the reality he lives with. Meanwhile some ways away, Galvatron readies to capitalize on the Earth-based Autobots' misfortunes. "Conquerors, Part 1: Aphelion", written by John Barber, with art by Sara Pitre-Durocher, colored by Josh Perez.
In their latest meeting, the Mistress of Flame presses Optimus for why he cares about Earth, leading to her suggestion that it would probably be very good if Optimus just brought them under the Council of Worlds too. They could enjoy great prosperity and freedom - it would be for their own good, really. Meanwhile, Galvatron addresses some of Needlenose's recruits via video conference, but his message is very much different from the peaceful, independent existence Soundwave advocates...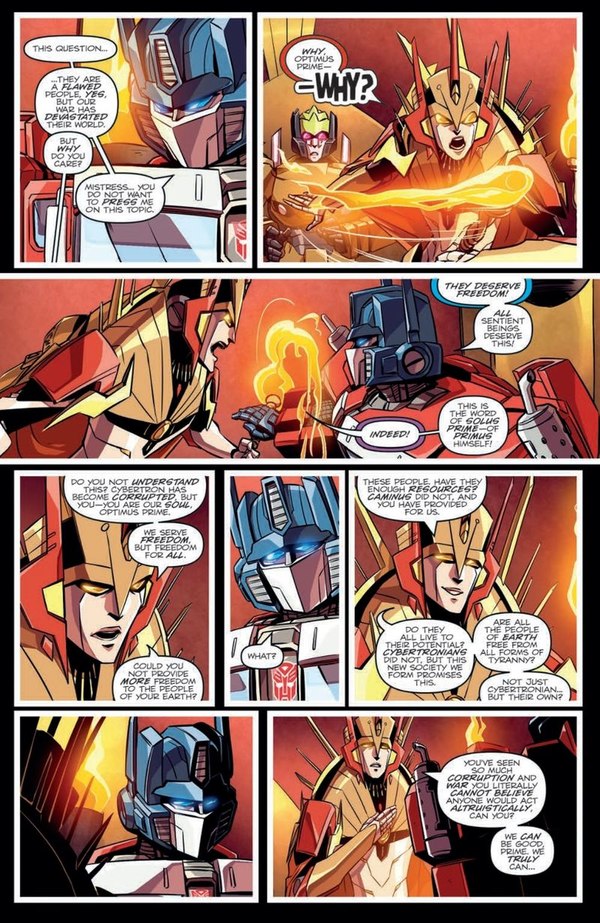 "Freedom is the right of all sentient beings, whether they like it or not."
I can't decide if the early reveal of the All Hail Optimus story takes some of the wind out of this, or actually makes it better. I feel like taken in isolation here, the Mistress of Flame's suggestion that Optimus go and bring Earth in the alliance would appear as the product of her not understanding the state of relations between humans and Transformers these days, and be dismissed from the reader's perspective. But at this point we already know that Optimus already buys it or shortly will, which makes it all a bit more ridiculous. Optimus seems to be totally falling forward still, letting others influence his actions instead of taking control for himself. Now the spiritual leader of Caminus is pushing him along, and it just seems weird. He immediately expresses concerns about her point of view when he gets back to Cybertron, but obviously that's not going to bother him too much. In some way, this foreknowledge we've been granted goes along with this to reinforce an idea that Optimus is taking a slide towards a villainous role, and one of the worst kind: where he doesn't -or can't- even see he's the bad guy. I remember hoping in Dark Cybertron when he reclaimed his name as Optimus Prime that it would trigger the start of an upward path for the character, but things just keep sinking more and more, and I'm sitting here wondering where the bottom will end up being and when the recovery/redemption will actually begin. Apparently not this year!
It looks like the disparity in intent between Soundwave and Galvatron is going to manifest soon. As perceptive as Soundwave is supposed to be, it's hard to accept that he's felt no sign of this, but Galvatron is a strange one and may be hard to read. It's also shown before that Soundwave doesn't always have the easiest time seeing what he doesn't want to see, or at least what he isn't looking for. His drive to bring the Decepticons to a free and peaceful existence seems to have blinded him in many ways, and this is probably just one of those things he can't see over his goal. I said some time back that the situation of the Decepticons was one of the most interesting story elements that had come up since the end of my much-beloved Robot Politics long before, and that holds up. I'm really looking forward to when Galvatron finally stops hiding and Soundwave has to confront what he's allowed to happen. And it doesn't look like it's much longer until we get there.
For me the best thing is that these aspects are just a couple of actually kind of small components of this issue. There's a lot happening, as you might expect of what's the start of the "season-ending" story arc, and these couple paragraphs of analysis basically just deal with what was in the preview. I don't want to give away anything about the remaining content of the issue, because I really got in to what was being presented and put in motion. I'm really excited for the next issue and I'd hate to take that experience away from someone else by giving too much away. It's a packed issue and a great read.
And the art by Sara Pitre-Durocher just makes it that much better. I loved her art style in the Combiner Hunters one shot, and it's just as great here. Her take on the characters is unique, but stays close enough to Griffith's style that it's not going to look out of place when the issues get collected later. I especially like how she draws Windblade, which comes out like a mix of the best aspects of Sarah Stone's interpretation, and Casey Coller's take as seen on various alternate covers. It's a great fusion of the stylized look with a detailed finish so Windblade looks consistent with prior appearances but visually fits with the The Transformers cast. Facial expressions are very strong all through the issue, everyone is really solidly expressive and I like it a lot. Even the small involvement of some of the human cast has them looking really good. I'm really happy to have had another chance to see Sara do interiors again so soon after Combiner Hunters. Her art is especially fun here with Josh Perez giving it color, and so a very different kind of finish than in Combiner Hunters. I don't have a lot specifically to say about the coloring, as Josh is on his normal high standard, but I love how bright and clean all the art looks between Sara's lines and Josh's colors. This issue is just straight up pretty.
I don't often do a breakdown of the covers anymore, and I don't think I'm going to do a full set this time, but I did want to pay attention to the retailer incentive cover, by Casey Coller. It's an "artist edition" cover, presented as uncolored lineart, in the style of old Marvel covers and it looks really excellent and I look forward to seeing people put color to it and present their takes once it's more readily available - at least digitally. I guess I'll also note that the subscription cover is a blank for artist sketches, meaning apart from the retailer exclusive, the main cover is the only one with actual finished art on it this month!
| | |
| --- | --- |
| Reviewer | ExVee |
| Date | October 19th 2015 |
| Score | (9 out of 10) |
| Reads | 5125 |
Back to Reviews Index