When the new Duly Appointed Enforcer of The Tyrest Accord comes after them, what hope do the Scavengers have against Fortress Maximus, who killed 10,000 Decepticons at Simanzi? "Animals" written by James Roberts, pencils by Alex Milne, inks by Brian Shearer, John Livesay, John Wycough, and Alex Milne, colored by Joana Lafuente.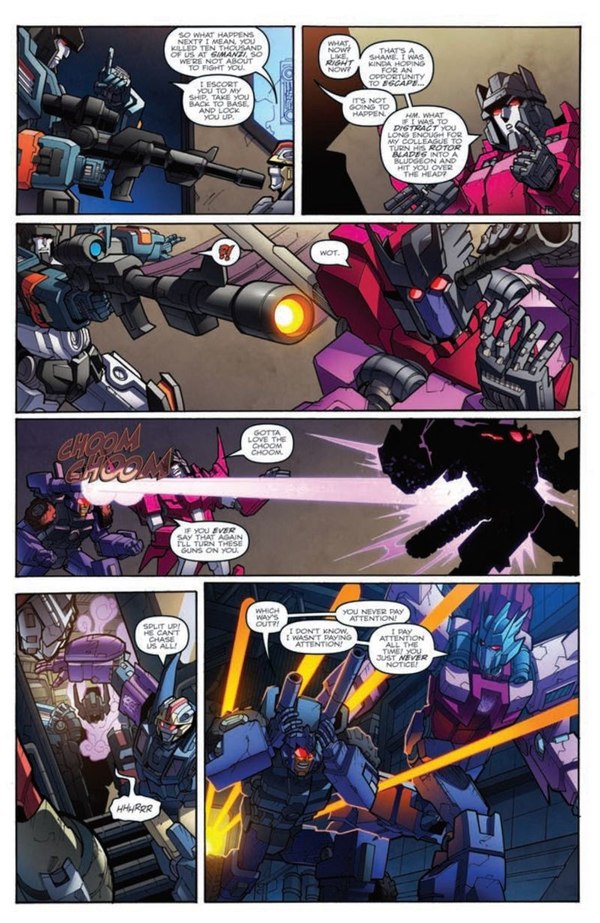 choom choom
Having already executed Krok's business contact, Fortress Maximus moves to arrest the Scavengers for violation of the Tyrest Accord by selling Cybertronian tech to other races. Unable to talk their way out of it, the Scavengers are forced to attack to evade capture. But with Max far outclassing them, they can do no more than hide as they desperately try to figure out a way out of the situation, while Fort Max's description of their late associate's real business reveals what he wanted from Grimlock.
Sensibly, when your story focuses on a team of Decepticons, your antagonist would be an Autobot. Pitting the Scavengers against Fort Max is a pretty fun choice, since as the story makes sure to point out maybe too many times, Max could easily wipe out the group. On the other hand, it's kind of staying within a type. In their first appearance the Scavengers were facing the DJD, another force that they'd never beat in conventional terms. In one way I think there's more to be gained on Max's side, since this also looks at how he's particularly not adapted to post-war life, still seeing any Decepticon as a target waiting to be selected because they have no more value than that. Max getting a first hint here that the new world is changing everyone might be a nice seed of development to come back on down the road. Meanwhile I'm still not exactly feeling our heroes this month. There's a kind of heavy message they deliver about mental health issues that I honestly think felt out of place, or at the least taken just a little too far. As with many such inclusions, it injects humanity and realism in to the characters by acknowledging that the war for so long would have really screwed people up, but the way it's added feels more like a real world social commentary than serving the purposes of building the Transformer world. Now, I'm not going to begrudge James Roberts using the medium at hand to try to convey a message that perhaps he feels is important, I will say only that it took me out of the story a bit by going a little too far. I feel disappointed that in terms of the story itself, that's about all the significant impact the Scavengers ended up having for me. For a lot of the rest it felt to me like they were just "there" and we didn't gain very much out of them for it. Elsewhere, there's some solid psychological horror in the reveal of the actual nature and origins of the Roboids. It's some disturbing stuff, but something that works better for me within the story since it demonstrates just what depths some sink to when left to their own devices. Some Decepticons were bad because of the side they were on in the war, and some are just legitimately evil. And, of course, we get a little bit of followup adding to the picture of the larger plot happening in the far background. There's interesting stuff happening, but little bits and pieces and not so much the whole issue collectively. As it presents to me, the Scavengers feel more like framing to get some of this other stuff out here, and that might be what really disappoints me most with this story.
Art is an interesting one, since there's a decent size team coming together to make sure everything got done. As a result, you can if you look close see some style variances here and there. Alex did all the pencils, but three other artists joined him for the inking, so that leads to the minor differences. How noticeable it is depends on who's working where, though I should note that everything still stays very visually consistent and this is probably not stuff you would pick up on unless you were really looking for it. Overall, it's a nice looking issue. Of course Joana's colors are beautiful as ever, giving such wonderful atmosphere to all the settings. There's not too much that I want to call out specifically in this issue, but one page with a classic heroic charge presented as a full page piece is just completely fantastic. It's the visual highlight of the issue and would not make a bad poster, either.
And I will mention just one cover - the retailer incentive "Artist's Edition" by Nick Roche, once again in a retro comic cover style featuring a great shot of Fortress Maximus. It looks great just as plain linework, and I'm sure would look stunning with the right colors applied to it. Once again, I lament the RI covers so often being the best since I can never get print copies that feature them. Meanwhile the subscription cover is another blank sketch cover, though with a little rough-line dino mode Grimlock hanging out in the bottom corner. And I guess at this point I'll go ahead and comment on the main cover, but just as far as its image of a threatening looking Grimlock reminds of the cover of issue 8 - the second part of the original Scavengers story. That probably isn't helping my feeling like this is running back over some of that ground, to be honest.
Next month in More Than Meets The Eye: relationship drama! Or maybe that's just what they want us to think... I hope that's only what we're supposed to think and it turns in to something entirely different. Come back next time and we'll find out together!
| | |
| --- | --- |
| Reviewer | ExVee |
| Date | November 2nd 2015 |
| Score | (6 out of 10) |
| Reads | 4800 |
Back to Reviews Index