There's a lot of things Ultra Magnus and Bumblebee haven't been telling each other in the course of the Cybercomrade investigation. With time running out and a dangerous Buffaloid on the loose, it's time to clear the air and make this a proper team-up!
Transformers: Robots In Disguise #4
is written by Georgia Ball with art by Priscilla Tramontano and colors by Josh Burcham.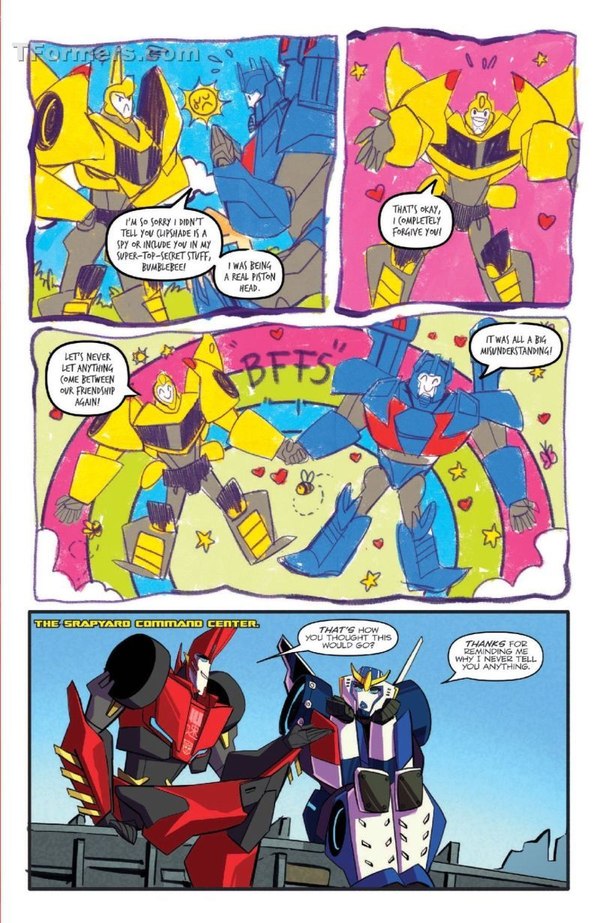 Strongarm should go into cartooning.
Despite Strongarm's fantasies of a happy reconciliation, Bumblebee chews out Ultra Magnus for leaving him and his team in the dark - and it turns out that Magnus has been doing that to Bee for far longer than he realized. Ultimately both leaders admit a certain degree of fault, and agree that it's time to work together. And with no time to spare, since the Buffaloid Overhead and the other Cybercomrades on Earth are still at large. It's time for one more infiltration mission, but who's left that the Cybercomrades haven't seen?
This is probably the least standalone issue so far, but it's still pretty easy to keep up with just from the recap page, and I also don't think that's too serious an issue with part four of a four-part story. Taking the story as a whole definitely adds something, with a steady build to the inevitable teamup of Bumblebee's new and old partners. We've got a pretty big cast on hand for this issue - Team Bee, Team Prime, Clipshade, and the Cybercomrades - and the focus shifts nicely in order to get everyone in the spotlight. Nobody is forgotten. It was also nice to see a relatively uncommon - but timely! - G1 character updated for RID. Also, Strongarm Vision is pretty great.
And hey, Strongarm has some pretty good artistic skills! Priscilla Tramontano does a nice job of making Strongarm's drawings (and/or imagination) look like the work of an energetic and not entirely unskilled amateur. Which of course gives it a solid contrast to her regular style, which is energetic and plenty skilled. I know I've said it all before, but the full range of her artistic abilities is something I hope to see IDW take advantage of as often as possible.
Which is not to diminish her skills as a colorist, as I think the regular cover for the book speaks to those just fine. I still feel as though her work has a certain something when she colors it herself. That said, Josh Burcham does his usual excellent job this issue, adding just enough detail to an art style it'd be easy to go overboard with. He also does a great job with Travis Sengaus' retailer-incentive cover, which is a nice cartoony take on the dispute between Bumblebee and Ultra Magnus. (And Sengaus is another artist I'd be happy to see more often.)
Robots In Disguise
brings its first -
and sadly, only
- major four-issue storyline to a close. It continues to be the only of the current Transformers ongoing books I'd be fully comfortable handing to a small child, and losing that in another couple months is a real pity indeed. It's fun to read, the characters are true to the show, and it looks great. But the good news is, these six issues will (hopefully!) make a good trade paperback to give to kids you want to get into Transformers comics.
There's no reason, from a quality standpoint, that RID should be cancelled. But that said, the worth of a comic isn't in how long it continues, and I'm looking forward to seeing what the two remaining "bonus" issues have in store.
| | |
| --- | --- |
| Reviewer | RAC |
| Date | November 10th 2015 |
| Score | (8 out of 10) |
| Reads | 8680 |
Back to Reviews Index