The Torchbearers as it turns out are far less instantly enamored with Optimus Prime than the average Camien, as Optimus learns the hard way upon meeting with them in the Sea of Rust. Meanwhile, the Decepticons are ready to make their move and Needlenose isn't going to let any Autobot stand in his way. "Conquerors, Part 2: Lagrange" written by John Barber, art by Sara Pitre-Durocher, colors by Josh Perez.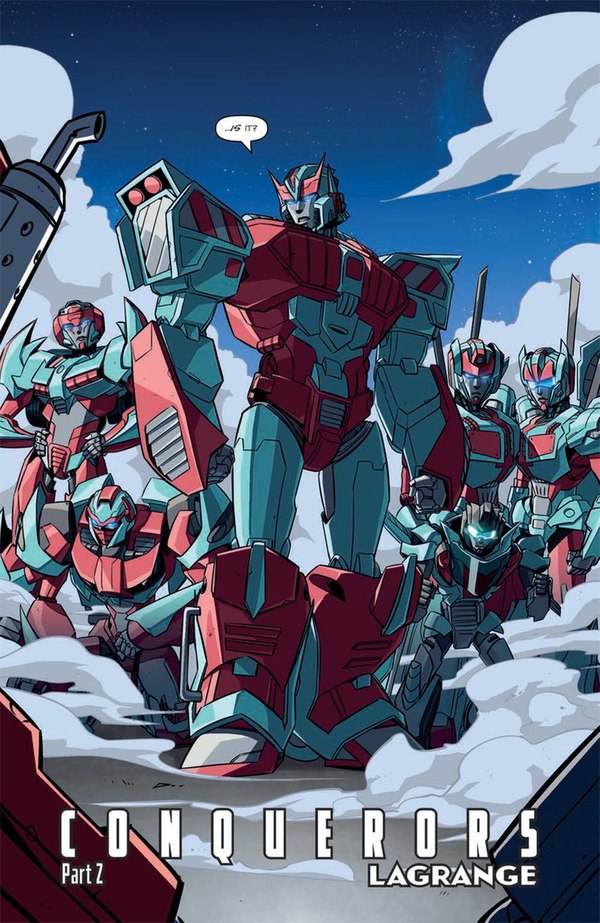 I thought about putting one of the Spike/Blackrock pages here because they're really good too. But it's so hard to top this image.
Blackrock continues to cryptically reveal his past to Spike, as well as his growing understanding of the Cybertronians, all while still pushing Spike to help him uncover the truth of his own existence. Elsewhere, Optimus and Aileron take in the sights of where Crystal City used to be, before Optimus seeks counsel from the Torchbearers that have made the Sea of Rust their home. And, at the commune, Cosmos learns that even when peacefully-intentioned, Decepticons still ultimately think like Decepticons.
Cosmos starts out by accepting sanctuary from Soundwave. Soundwave, for his part, tries to help Cosmos by listening for the other Autobots, but is unable to detect them, which is certainly not a great sign after what we last saw of Jazz. And Soundwave does deliver an important lesson both for Cosmos and the readers by showing that even while aiming for peace, he and the others are still Decepticons. As sympathetic as Soundwave has been for quite a while now, it's been maybe easy to forget that he's not automatically one of the good guys. His intentions are basically good, but as the opportunity presents, he still has little trouble going to Decepticon practices to help meet his goals. It may also be that Galvatron has minimal involvement this issue, and without his contrast, it's maybe not as easy to paint Soundwave in a more favorable light just by virtue of comparison. It's far from a backslide of characterization, indeed it really just grows it deeper, I think. Everything he does holds consistent with how he's been played so far, but we're being given a more clear view of that.
The other interesting component is Blackrock, who lays in more confusing pieces of his own personal puzzle. Blackrock really doesn't even have a ton of time in the issue, but really made a strong impression. The talk of a childhood encounter has had me puzzling over if this is a strange reference to some otherwise known event, or a new bit of plot being built up, and that's a fun place to be. I do hope that Spike somehow comes up with the answer Blackrock is looking for, because I'm at the point of really wanting to hear it too. Blackrock has been a good mystery element for quite a while now and has really helped to make the human side of the cast and story something that stays interesting to read. I would assume at this point that the payoff to that will come by issue 50, since things start taking a big turn from there. And while I wouldn't be surprised if Blackrock still has a role to play, I think the questions of who or what he really is needs to be at least somewhat cleared up before we get to that point.
And finally, Optimus feels mostly like a footnote for the issue. Having reached the Torchbearers in the Sea of Rust, his part in the issue subsequently is to have a pretty one-sided fight with them. They seems kind of like they're living up to the idea of bringing challenge to Optimus to make him understand himself, but more it's just that they're not particularly impressed by him and probably want to beat him down to prove his status as Prime is a false one. The really sad part is that the dialogue is maaaaaaaybe starting to hint that it actually isn't and sounding like it's dragging in one of the worst components from the concept of The Thirteen and boy I really hope it's not. Though as ineffectual as Optimus is at everything, why not just go the rest of the way and undermine the character entirely? Again, hoping I'm wrong and not wanting to go too much in to detail here. It's very speculative and I could be taking the tiny bit of dialogue the wrong way. But if you know the Covenant, you might see the same thing I did when you read the issue. But on the brighter side, it's nice to see the Torchbearers actually doing something, and even having Victorion show off her super powers a little bit, especially given the team's really useless cameo in Redemption a couple weeks ago.
So, Sara Pitre-Durocher is bringing the interiors again, and it looks excellent! The big full-page group shot of the Torchbearers is super nice, and puts so much character in to the whole team just by the way they're posed and arranged on the page. I love the scene with Spike and Blackrock for the range of expressions and just really strong art overall for the human characters. The whole book has great composition of the panels, and when Victorion forms, the scale of the combiner is rendered wonderfully, especially from some of the odder angles that just make it even more fun. It's great art and the more I see Sara's work as fill ins here, the more excited I get for Till All Are One next year so I can have a book every month with this kind of art. And Josh Perez gives it the finish to bring it the rest of the way to life. The night scenes in the Sea of Rust play with the lighting in a really nice way to intensify certain panels, and the dimly lit Ark interior looks so wonderful, especially in one overall great panel of Arcee. This really vibrant coloring is such a perfect fit for the style of Sara's lines. There's nothing to complain about with the visual presentation of this issue. It's just so, so good.
I'll talk covers briefly again this month. RAC noted to me that the Retailer Incentive cover by Livio Ramondelli stood out to him as one of the better examples of his work, and I think he's right on that. It's another of the Wrecker-themed covers, this showing the remnant of Springer's face on Overlord's hand. It stands out because it's just a very simple piece, and it's treated as such. No particular filtering, no attempt at moody lighting in the colors, just a straight forward hand holding a "bloody" torn off face. Now granted, without a familiarity with the events of Last Stand of the Wreckers, it would probably be hard to figure out what this cover is supposed to represent. But even so, it's nicely done. I think the best cover though is the main cover by Andrew Griffith, showing Optimus standing in Victorion's hand. The Casey Coller subscription cover is nice enough, featuring Soundwave and Sky-Byte at a window in the Decepticon commune, but it just lacks a bit compared to that main cover.
So in the end I find myself sitting here, wondering, "is it next month yet?" I again have to hand it to Barber for picking up the story interrupted by Combiner Wars and just running with it again right from the start. This book has gotten so strong compared to the period immediately before and after Dark Cybertron that I'm just amazed looking back. The strength of the story now has managed to topple MTMTE from my most anticipated spot every month. Keep it up, and keep it coming. I'll be here waiting next month.
| | |
| --- | --- |
| Reviewer | ExVee |
| Date | November 16th 2015 |
| Score | (9 out of 10) |
| Reads | 4437 |
Back to Reviews Index