Getaway's emotional manipulation of Tailgate comes to its crushing conclusion. This one is going to hurt, kids. "The Lopsided Triangle", written by James Roberts, art by Brendan Cahill, colors by Joana Lafuente.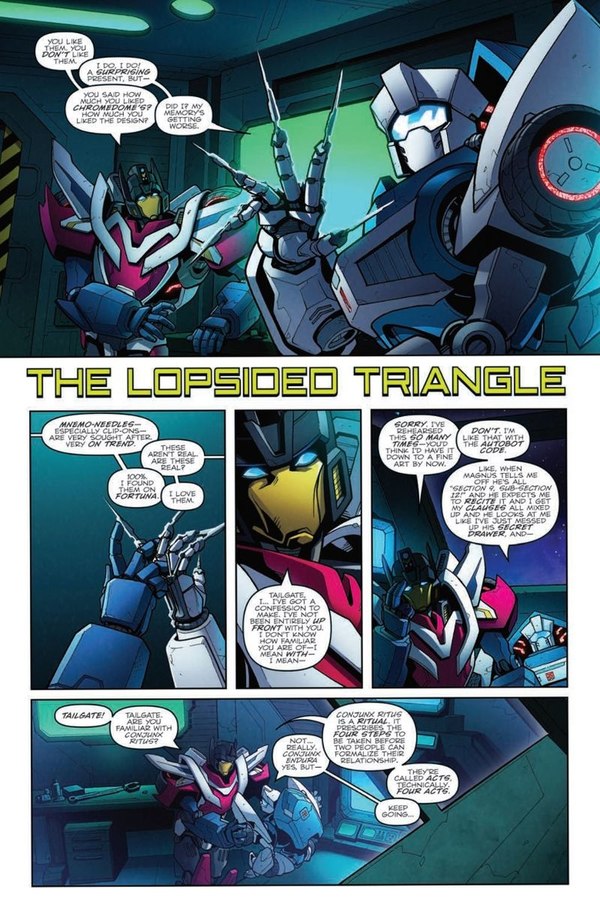 This ought to be a clue how bad things are gonna go.
It turns out that Getaway has managed to become quite close with Tailgate. This evening finds Getaway sharing the story of his first activation, moments before being dropped in to a battle. But, Getaway has more personal, private matters to discuss with Tailgate, leading them to leave "Visages". Not long after, Cyclonus goes to Swerve's, and hears that Tailgate's hoverboard is parked outside Getaway's room.
So RAC suggested to me to approach this review by saying something to the effect of that the issue went in a direction far different from what I expected, and as much as I was displeased with what I thought it would be, the true outcome is so very much worse. And that certainly is a true assessment of my experience with the issue. However, while this is I suppose a factual report on things, it really doesn't account for or convey my feelings. I hate this. I hate it so very much. I've read a lot of things in these past few years in MTMTE but nothing in this book has made me feel as repulsed and disgusted as the turn of plot in this issue. And that's stunning to me since I did believe I'd have such range of feelings just from what I thought the issue was going to do, but it plumbed to an even further depth. This is hard to articulate to my own satisfaction while remaining vague about the plot details themselves. Thankfully some things that the preview - and prior installments of this bit of story - would have us already know still apply. Getaway is a monster. It may not be for the reasons expected, but he's quickly cemented himself among a very small number of characters who have been so ruined that I can never accept them being redeemed. And for comparison, I've been pretty accepting of the developments over the last twenty issues that have to at least some degree been redeeming of Megatron. Getaway is abominable in a very different way. His whole thing with this has been very personal, and that makes it feel far worse. As I gave things some thought, I remembered how at his introduction, Getaway all but said that he (and Skids) worked for Prowl, and that sure made a lot more sense now. If Prowl enlisted Getaway because he saw in Getaway this potential to do any job by whatever means it requires, I really have to wonder what kind of person Skids had been in the more recent era prior to getting mindwiped.
I have to grudgingly give James Roberts credit here. That this issue could provoke the feelings it did shows that this subplot has been written well. It dug in and got under my skin just enough in the bits and pieces through earlier issues so that it had a firmly rooted hold for when the real damage was to be inflicted. But perhaps he did too well. I haven't been super thrilled with the last few issues for a variety of reasons, and 47 has really not done anything to improve that feeling for me. It's not all one factor, but I think the style of the book is becoming too self-concentrated. MTMTE always stood out for being a different kind of story, which was great. But attributes of that have gotten to feeling exaggerated lately, and that's not improving my enjoyment of the series. Once upon a time, the idea of a partial cast turnover was something that I feared greatly because the characters were the book. But something is missing now because I think we've gone too deep in the characters and we're staying there. Maybe a change is called for so that we have to mostly start over from basics again. This issue has none, but most of the time you can see the fun trying to find footing in the issues. But there's little room for it to get hold amid alot of really kind of depressing character developments. I miss feeling like the adventure and comedy was really the point, instead of just an occasional side affair to help get the next personality disorder in the spotlight.
Interior lines this month were by Brendan Cahill, and it's always interesting to see substitute artists take on the familiar settings and designs. Cahill's characters all do well, though Cyclonus looks noticeably a bit off - especially in the face. What I ended up really digging about his work is the panel composition. And that's maybe too much overlooked? Everyone tends to structure a shot a little differently, and Cahill uses some really interesting angles and blocking to build a scene. Despite the content that it depicts, the art in this issue is really interesting and fun to read through. There's a very distinct feel to it all, a certain energy that I really enjoyed a lot. Joana's colors are wonderful too. Lots of darkness and moodiness that goes along with the feel of the story really well. The atmosphere is so well built that the entire issue is setting you up for that final blow just in the colors, and you don't even realize it until the end. Not necessarily connected to that, but there's one close up panel on Tailgate's face where lines and colors come together so beautifully to bring the shot to life.
This month we get a special retailer exclusive cover, for Merrymac Games And Comics, drawn by Craig Rousseau, which simply depicts a boxed Voyager Combiner Wars Optimus in front of an IDW Transformers cover. While certain aspects of the perspective aren't quite right, I so dig the simple idea of this cover, and how unusual this is as a subject for someone's exclusive variant. Credit to all involved with coming up with this idea, you've got a great novelty here!
| | |
| --- | --- |
| Reviewer | ExVee |
| Date | November 24th 2015 |
| Score | (5 out of 10) |
| Reads | 5787 |
Back to Reviews Index