It's the question everybody's asking: Where's Prowl? Arcee doesn't know. Kup doesn't know. The Wreckers don't know... but Verity Carlo
might. Sins of The Wreckers #1
is written and drawn by Nick Roche with colors by Josh Burcham.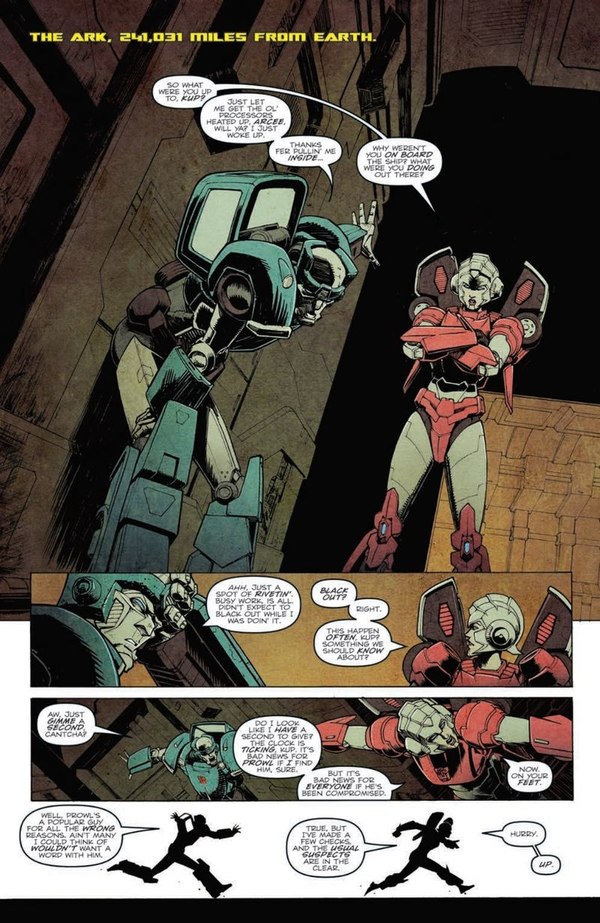 There is some excellent and classic comic-inking technique on display here.
Prowl is a wanted bot, and has just vanished. Arcee, who last detected his signal on Earth, wants to find him
first.
Kup, found floating unconscious in space, doesn't know what happened. On the space station
Debris,
home base of the Wreckers, Impactor babysits an imprisoned Guzzle while Roadbuster reports in on Springer's condition: four years and he is still comatose. But that hasn't stopped Roadbuster from reading to him every day in the hopes of sparking his recovery, though Impactor would be just as happy to see Springer's suffering brought to an end. Back on the Ark, Kup and Arcee somehow get into Prowl's room and find a message from Verity Carlo: she has a backup of the Aequitas Trial Data detailing the war crimes committed by the Autobots. So that's why Prowl was on Earth!
For those who didn't know about the backup, it was revealed in "In Word And Deed," one of the bonuses in the hardcover edition of
Last Stand of the Wreckers.
And there's some interesting and unsettling things going on around the data in this issue. The last time it was discussed in LSOTW, Ultra Magnus believed that releasing the data from the Aequitas trials was something that needed to be done once the war was over. That happened what, three years ago? And now the excuse (from several other characters) is that it can't be done because it would destabilize a fragile peace and re-ignite the war. Uh-
huh
.
But how would this destabilize
anything?
Starscream rules Cybertron's factionless government. The Decepticons left on Cybertron still hate the Autobots, but they're also not fond of Starscream. The Autobots are more or less
at
war with
Soundwave
Galvatron's Decepticons again anyway; Galvatron being Galvatron this would be true even if all the Autobots had ever done was hand out kittens and gummi bears. It's true that Optimus Prime is a political entity still, but this is entirely due to Caminus; his political power comes from his position as a Prime, not from being leader of the Autobots. And Prowl, the one responsible for the coverup, is currently a fugitive. And most of the Autobots' most unsavory operations were ordered carried out by Prowl without Prime's knowledge, as we learned in the epilogue of
Combiner Wars
. It would be incredibly easy to blame him for pretty much everything.
Politically, the Aequitas data would be embarrassing for Prime and the Autobots, sure. But at the moment the Autobot faction is politically important only due to their connections to Optimus Prime, if at all. They're not important enough to Cybertronian civilization (such as it is) for this to risk destroying everything as is said here, nor would this stand any chance of "reigniting the war." Would they be
more
banished from New Iacon? Would the remaining Decepticons bear more of a grudge against them? Would Galvatron want to
double
kill them all? Would the Caminians blame Optimus Prime, a person with a strong connection to their religious heritage, when the guy who wrecked up their planet as part of Devastator was a convenient scapegoat?
What it
might
show is that there are people walking free that probably shouldn't be. But, as has been used as an excuse for quite a few things recently: Megatron. Megatron is alive and free as the captain of an Autobot ship. If you can forgive
Megatron,
you can forgive damn near anything. But almost all of the people who know the score so far - Arcee, Kup, and a handful of others - act like Verity is some kind of fool or monster for wanting to reveal the Autobots' war crimes. Hopefully, the discussion of Verity and the Aequitas data becomes more nuanced in future issues - and with some of the characters who become involved at the end of this issue, this seems likely.
The LSOTW team has been reassembled (less co-writer James Roberts), with Nick Roche again handling writing and art. Writing I discussed above more or less, but Roche has definitely grown as an artist since we last saw him in
Spotlight: Megatron
- and he's always been good. His characters seem a bit leaner here, and so far his idiosyncratic facial expressions have been more restrained. You may or may not like that, but I like the direction he's going. He's also still excellent at shading and solid black areas, and his story plays to his strength grasp of lighting and shadow. There is definitely something to be said for writer-artists who are good at both.
Josh Burcham's always-excellent colors seem a more muted than in Last Stand as well, which again fits where the story is now: dark and wintry. There's one scene that's an exception, where colors are brighter and wilder, and that makes it stand out just as intended. Burcham is also using a good bit of texture, especially in his backgrounds, but it's used more judiciously here than most others I've seen use such things on Transformers comics.
Roche and Burcham's cover is a movie-posterized summary of the issue, nicely composed and again very dark. Artist Declan Shalvey and colorist Jordie Bellaire provide the subscription cover, an image of Impactor, and it's a good match for the book in tone and style. What isn't, but is still a great cover taken on its own, is Alex Milne's retailer incentive cover, a (relatively) bright, happy image of the classic Wreckers leaping into battle.
To be honest, the way the discussion of the Aequitas data was going struck me as incredibly one-sided at first, and that very much put me off on the first read. But I really don't think Nick Roche is going to leave it at that. And the important thing is that I want to see where the discussion and the story go. It's a good-looking book with a story to tell and something to say, and where it goes with that story and that statement from here is still anybody's guess.
| | |
| --- | --- |
| Reviewer | RAC |
| Date | November 24th 2015 |
| Score | (8 out of 10) |
| Reads | 4949 |
Back to Reviews Index