Between the machinations of Blackrock and the opportunism of the Decepticons, the Earth-bound Autobots are out of commission. Who is left to save the day, rescue the Autobots, and foil these evil schemes? Only the most amazing team up Transformers has ever seen. "Conquerors, Part 3: Helden" Written by John Barber, art by Andrew Griffith, colors by Josh Perez.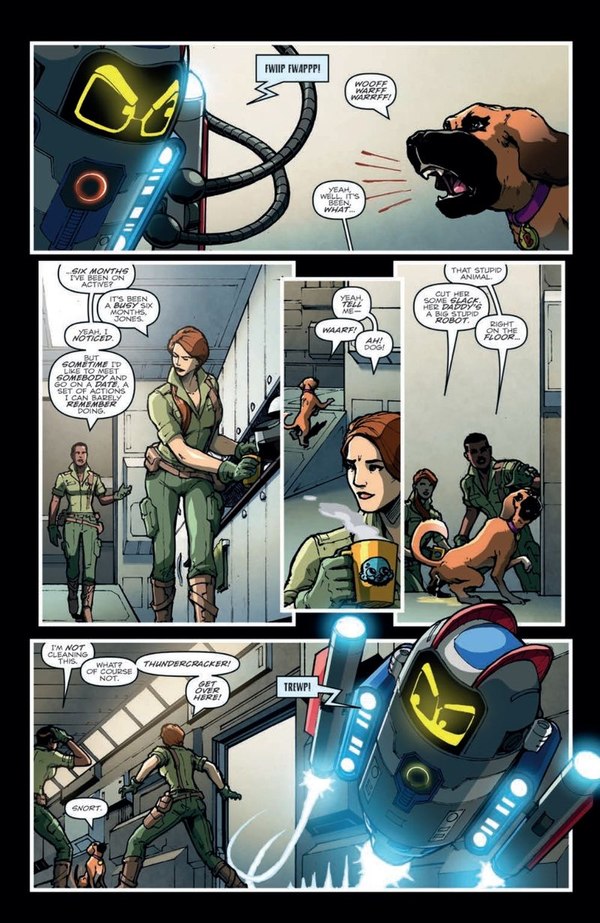 Buster's Secret Weapon
The Ark has been stormed by Decepticons through the space bridge, and the strike team sent to Earth has been incapacitated and captured. Only D0C remains free, but as he attempts to establish basic communication with Thundercracker to enlist help, the seeker completely fails to grasp any deeper meaning from the lower-caste mechanoid. Little hope seems to remain, until Thundercracker's dog attracts D0C's attention and leads him to exactly what he needs to mount a rescue mission.
You know what most stands out to me in this? Since D0C and Buster are our main characters, in order to get useful dialogue out of them we keep switching between their direct perspectives. The panel borders are coded to make that clear, but it's also easy enough to tell based on whose words are actually translated. So, D0C has a basic analytical inner dialogue, pretty regular fare for robots without a great deal of sophistication in fiction. But the show really begins when we get Buster panels and learn that John Barber has a fantastic insight in to the inner workings of a dog's mind. Barber revealed some while back that Buster was based to whatever degree on his own dog, and that's pretty obvious reading this. This issue is probably the best, most real characterization of a dog you'll ever find in Transformers. And that's what keeps me coming back to this comic reviewing thing, the occasional chance to write a sentence like that and be entirely sincere about it. Anyway, it's not just about the Buster-speak, which is itself a very believable expression of a dog in short bursts of ideas but with all the necessary simplicity to keep it from looking like we're crossing over in to wackier fantasy about, like, hidden pet intelligence or something. What cemented Buster's portrayal to me was the parts where we see other characters' dialogue from Buster's POV. And it's so dead on. Buster can be seen recognizing a few select words and names, but the majority is just, effectively, noise. Now, the dialogue for these panels is structured so that we as readers can put together what's actually being said, which is nice. But giving it that first, casual read through, it's a great component of the experience that most of the deeper stuff is made to just kind of wash over. Of course there are parts where credibility is pushed a bit in what Buster does, out of necessity to the story. But largely the interaction is balanced so the "thinkier" parts fall to D0C, so on the whole the arrangement works out. More importantly the team up is incredibly entertaining, and certainly a needed lighter moment in the middle of this kind of heavy storyline. What's best there though, this still works to push things forward, so it's not taking away from the really interesting story that's been taking shape over these last several issues and seems ready to come to a head very soon. There is what I would say is perhaps a minor continuity issue presented, but it's also pretty spoily and nothing critical, so I won't go in to detail. It'd be easily explained away too if there was ever actually call for it, so I can't hold it against the issue much at all.
I don't have a whole lot to say about the art. Buster's appearance can be kind of variable in overall quality depending on the angle and distance depicted. But all the same, there's at least one really good big panel of Buster's face that I think turned out great. We also have a good, but spoilery, full page image near the end which I think looks good, even if there might be some questionable spatial relations if you really stop and look at it too long. But there's nothing that really stands out all that much either way otherwise. The issue affords chances to see various kinds of locations inside the EDC facility, which is nice for some visual variety and Griffith makes good work of that as we have come to expect. When the issue isn't focusing on the dog and the drone, it's mostly humans filling out character space, so we do get to see Griffith design a fair number of individual faces outside the very small handful of series regulars. Josh's colors are also nice as is the norm. There's a control room with operators lit up just by the glow of their terminals which looks quite good. The glow effects around D0C might be a little overpowering since we see so much of him - they have a way of overpowering the rest of the page when they're happening in most every panel. This admittedly may be less of a thing in a print copy, but on digital with a reasonably bright display, well, it's bright. One flaw I feel the need to call out is late in the book there is what seems like it should be a powerful light source, but casts no evident glow against the characters seen near it. It breaks the cohesion of the panel a bit since the absence of radiosity makes the foreground characters look pasted in. But I'll go to this again and say that if that's my main specific complaint with the issue's visuals, that's probably more indicative of how well done the balance of the book comes off.
This is the issue with the Archie crossover cover, but that's not what I want to talk about. The retailer incentive is an Alex Milne piece, featuring Starscream, Rattrap, Wheeljack, Sky Lynx, and Arcee, colored by Josh Perez that is just sharp as hell. Milne is one of the very very few artists who can manage to get anywhere close to the right look for Rattrap's face, and Josh's colors finish it off so fantastically. The two come off as a good fit in their lines and coloring style suiting each other. The credits page calls this the "Countdown To 50" cover, which I'm pretty sure is part of a multi-cover image, so we should get to look forward to more pieces looking like this - even if for the majority of us the digital copies are as close as we'll end up getting to it.
| | |
| --- | --- |
| Reviewer | ExVee |
| Date | November 30th 2015 |
| Score | (8 out of 10) |
| Reads | 4086 |
Back to Reviews Index