Time Skip! The RID comic jumps forward to the end of Season One to tell a story of those left behind from the previous war... and those who would exploit them.
Transformers: Robots In Disguise #5
is written by Georgia Ball with art by Priscilla Tramontano and Travis Sengause with colors by Josh Burcham, John-Paul Bove, Joana Lafuente, and Tramontano.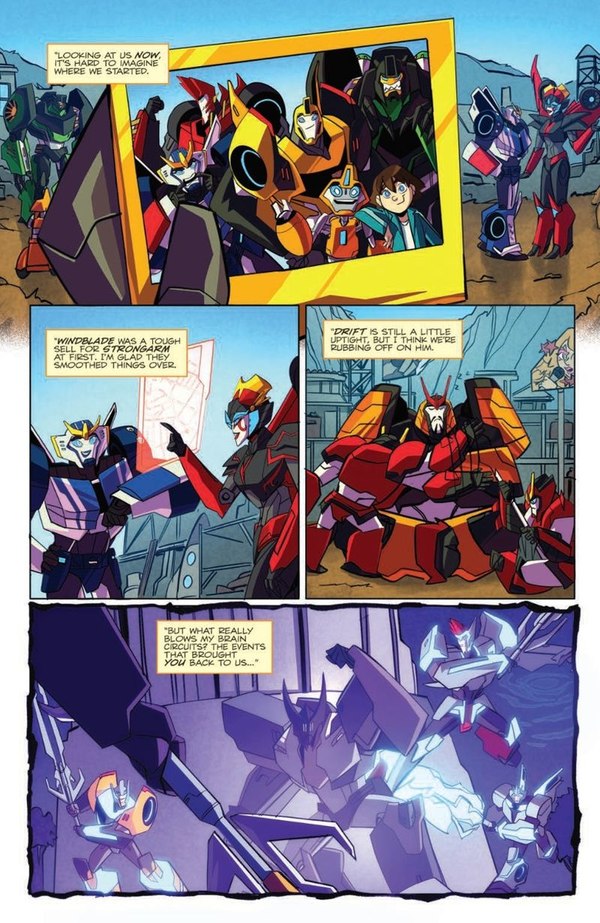 Spoilers for Season One!
Not long after Optimus Prime's return, he and Windblade depart temporarily for a crucial mission to the east of the Sierra Ridge Mountains. Their departure is watched by Steeljaw, hungry for revenge against Team Bee. After failing to take out his frustrations on a squirrel, he stumbles and finds a trail of Energon. The trail leads to a cave, one that's Cybertronian in nature - and occupied.
This is the first of the two "bonus issues" Georgia Ball announced after the book's cancellation, and she's definitely making the most of the time. Maybe it's the addition of new characters, or the shorter time to tell the story, or maybe it's just Ball settling in, but this issue felt really refreshed, and refreshing. In particular, the strait-laced Drift plays very well off of Grimlock in a scene or two. The issue also includes some new cameos from
Transformers: Prime
(with an accompanying nod to the fandom) that are fun to see. It's just a particularly strong issue writing-wise.
Artist Travis Sengaus contributed to the issue after providing a cover last month, and his slightly rougher style - as cartoony as Priscilla Tramontano's but
differently
cartoony, if you understand me - works well for his pages which primarily deal with Steeljaw and our special guests. While I think I have a good grasp of who did what, the issue blends pretty nicely with how the scenes were divvied up. Likewise I don't think I can properly discern which of the four colorists worked on which pages - and that's to their credit, I think. This could have easily been a Too Many Cooks type of issue, but ends up pretty cohesive.
But I will say it's nice to see Tramontano coloring her own work again - and the main cover is a good example of that, with a lovely scene of Fixit, uh, fixing it. Whatever "it" may be. Josh Burcham's alternate cover is essentially a Team Bee vacation slide with Fixit again front and center. Both nice covers, and both good examples of how the two artist approach the RID style.
One issue remains, and I'm looking forward to it. If the mood and the pacing remain as high as they are here, RID will go out on a high note.
| | |
| --- | --- |
| Reviewer | RAC |
| Date | December 15th 2015 |
| Score | (9 out of 10) |
| Reads | 8754 |
Back to Reviews Index