More of the secret past life of Skids comes to light as Rung helps lead him through drawing out his repressed memories. And at the same time, an old acquaintance of Rung's shows up needing a bit of help. "Speak, Memory: Part 1" written by James Roberts, art by Hayato Sakamoto (coordinated by Phase6), colored by Joana Lafuente.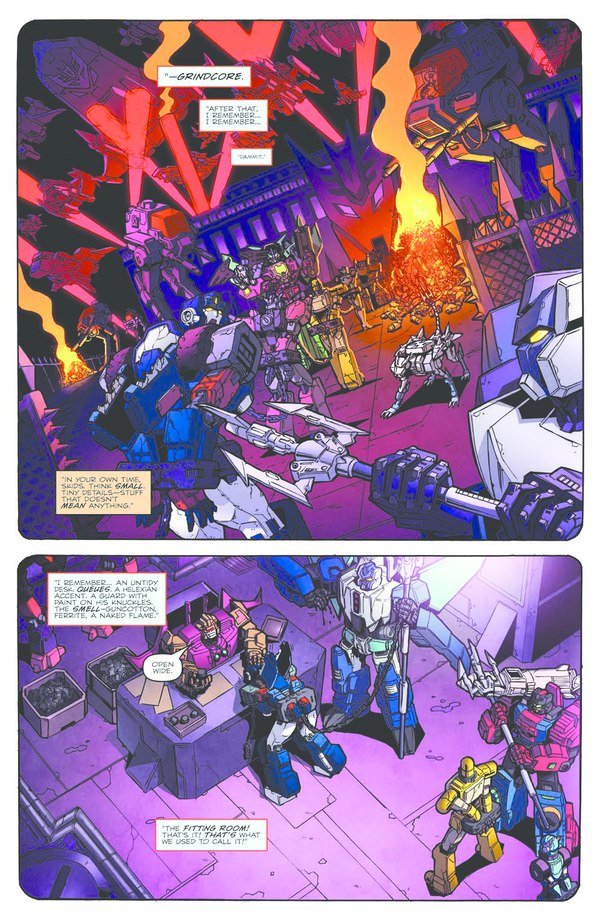 Time for a Sakamoto crowd scene!
I'm going to dispense with the usual slightly longer recap of the non-spoily bits of the issue, since the intro/credits paragraph up there about covers what was revealed by the preview already, if not a bit more. And there are aspects reasonably early through that I don't want to give away. However, I will rant a bit about how there's some serious emotional manipulation going on, and to the point where we're at as of this issue it's not visibly for any purpose. Let me explain a bit. Fiction is all about emotional manipulation, and that's okay. Whether we realize it or not, that what we go in for. But I think that process has to be in service to something. There has to be a consequence that the emotional manipulation builds to. When the outcome of an emotionally charged moment is hand waving back to basically a status quo, I believe validity is lost. It's then become emotional manipulation for its own sake. Just because it can be done, not because it actually serves the story beyond the immediate generation of the feeling the writer desires. It's this empty case that occurs in this issue, and it just seriously annoys me. I felt mad when I got to that point of the issue and realized what had actually been done. It's a total cheat, it feels cheap, and really takes me out of the experience.
The rest of the issue focuses a lot on Rung, with Skids as a secondary presence. I conditionally am interested by finding out what the memories are that Skids buried away that way back in single-digit issue time Chromedome revealed were better off left there. The issue, bundled with hints and a lot of fan interpretation give a good sense of what that knowledge might be, and when you get to that point it makes a lot of sense why Skids would try to repress that. On the other hand, it's like any other long-standing mystery that gets outed after a really long time. It's never going to really be satisfying versus the buildup it develops even just within one's own mind, nevermind whatever importance it may be given by the character or others around him. So if my interpretation is right - and frequently it's not, but that's also not always a positive outcome - it will make sense why this has been what it was, but I'm not going to respond to it the way I might have if it had been revealed in, say, issue 15 and then left for a couple years before we got an explanation for what it meant. I think the ship has kind of sailed. And the only reason I think it's happening now is because it's a stepping stone that's needed to get the issue 50 and beyond storyline running. So, we're at this point, and I've barely even alluded to the actual plot this issue opens up, which I feel is a demonstration of how comparatively unimportant that actually is except to put the pieces in place to tell the next story. This is bridging filler, and not done in a way that I'm feeling particularly captivated or entertained with, I'm sorry to say.
But hey, it's great to see Hayato Sakamoto doing interiors again. I think the work this issue is even better than last time (issue 39, I think?), with everyone being a little more solidly on model, and not seeing the occasional odd proportion issues. Sakamoto seems to have pulled in a little closer to Milne's style. So you can tell in the first page that it's not Milne, but it's not obvious right away who's doing the lines if you didn't read the credits page. And I like that. I also like the range of background characters that appear in the memory recovery scenes. There's some fun appearances in there, with some nice details to go looking for within the crowd shots. Joana's colors are again a great fit to this art, which really comes in to evidence in one panel in particular nearer the end of the issue. It's all kinds of creepy, which is partly the linework, but the colors just accentuate every little bit of that until it's just disturbing to look at. It's a beautiful combination of work.
The retailer incentive cover is the next piece of the linking covers by Alex Milne, which is shaping up to look really cool, and I'm anticipating the next piece to come along to start piecing together the bigger complete image. I'll never own these covers, but at least I can appreciate it as jpgs.
| | |
| --- | --- |
| Reviewer | ExVee |
| Date | December 22nd 2015 |
| Score | (6 out of 10) |
| Reads | 4727 |
Back to Reviews Index