On the Lost Light, on Cybertron, and on Earth, the Transformers are celebrating the holidays! Some of their own, and some of ours...
The Transformers Holiday Special
is written by Mairghread Scott, James Roberts, and John Barber with art by Corin Howell and Thomas Deer, Kotteri and Joana Lafuente, and Josh Burcham.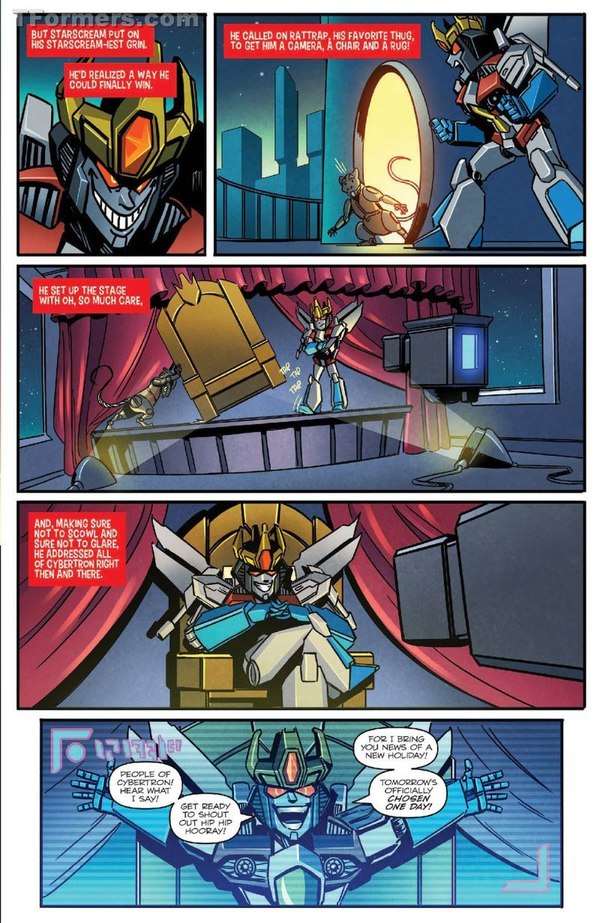 Look at that grin(ch).
In
Choose Me,
Lord Starscream is at his Grinchiest while trying to create a new holiday for Cybertron to honor what really matters: Lord Starscream.
Silent Light
shows us how Whirl, Nautica and Swerve cope with the care and handling of a protoform in need of a place to stay.
The Thirteenth Day of Christmas
features Thundercracker and Buster on the trail of a hardened, jolly killer.
If there's a comic format less used today than the self-contained issue, it's the anthology. And man, is it nice to see one for a change! I feel as though the short format has advantages that most comics aren't structured to take advantage of anymore, and being a holiday special on top of that ensures that we get nice short stories that have to work in their own right. So let's look at them one at a time.
Choose Me
, Mairghread Scott's Starscreamy take on
How The Grinch Stole Christmas
, is my favorite thing in this issue. There are some lines where Scott nails Seussian meter, and there has never been a better showcase for Corin Howell's artwork and Thomas Deer's coloring. I was fine with her work in Windblade, but it's not a book that always gave the
Bat-Mite
artist a chance to stretch her humor muscles. Here though, she's perfect.
Silent Light
opens with a two-page skit that is probably my favorite thing that James Roberts has written in about six months. The rest is almost as good overall, with some great comedy moments. Roberts has likened writing MTMTE to a TV series before, and as a standalone holiday episode, this is great. Formerly seen on retailer incentive covers, artist Kotteri is joined by regular
More Than Meets The Eye
colorist Joana Lafuente, who helps lend a familiar feel to the proceedings. Kotteri is also good at cartoony comedy beats, though not to the same degree as Howell. The more detailed a character's face design the more on-the-mark Kotteri's rendering feels; Rodimus and Nautica's relatively smooth, young faces seem
super-
smooth and
super-
young, especially compared to the on-model Minimus Ambus and Megatron.
I don't think I can quite do
The Thirteenth Day of Christmas
justice by trying to summarize it. It's probably best left as a surprise except to say that it stars Thundercracker and Buster. John Barber is clearly having a lot of fun with two of his best characters. Usually a colorist and alternate cover artist, Burcham's
Transformers Animated
-influenced style works well for this story and like Kotteri, it's great to see him have a chance to do some actual interior work. His heavy, dark lines are great and doubly so for this story, providing just enough of an edge to make the humorously dark style work.
The only thing I think could be better about the issue is price. I feel like $6 for 30 pages is too high, even as good as those pages are... but at the same time, where's this even going to get collected? If you receive your comics digitally you may want to hold out for a Comixology sale, but if you do the hardcopy thing, I could see deciding to just go for it.
Price is the
only
thing preventing me from wholeheartedly recommending this issue, though. None of what's in here is
essential
- though I expect James Roberts to reference his story again because he is James Roberts - but it's all
fun
. And all three stories are fun in different ways, and all three have fun writing and art and moments worth seeing. I've really missed the annuals after the one year that Robots In Disguse and More Than Meets The Eye both did that. While those stories were very different from what we have here a Holiday Special is, quite frankly, a similar relic of the less eventy, more new-reader-friendly place comics were when I was young. If we could get a unified Transformers Annual with standalone stories like these, I'd be perfectly happy. And in that sense, the novelty of a Holiday Special and the anthology format might be the nudge to get you to part with that $6.
| | |
| --- | --- |
| Reviewer | RAC |
| Date | December 22nd 2015 |
| Score | (9 out of 10) |
| Reads | 6149 |
Back to Reviews Index