Optimus Prime is dead. Earth is dead. Megatron reigns over Cybertron with the help of Cobra. But not unopposed! GI Joe and the Autobots live... for now. "Kill The Cook" is written by Tom Scioli and John Barber with art, colors, and lettering by Scioli. Backup text story "Black Cybertron" written by Scioli and Barber.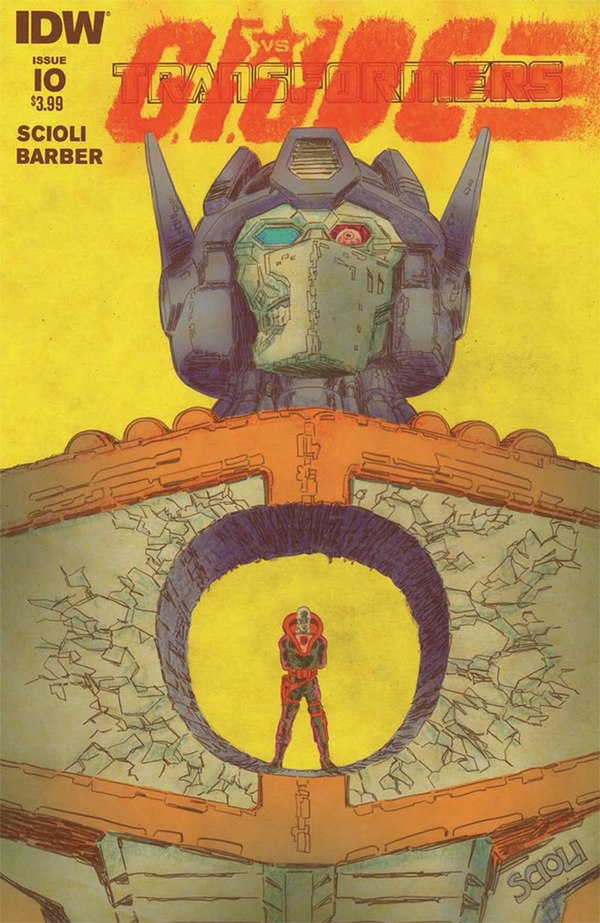 30 years later, Dead Prime can still creep you right out. At least, when it's done right.
The victory celebration over the death of Optimus Prime and the Earth is tarnished by Chef Roadblock's cuisine unsurprisingly turning out to be poisoned. Tunnel Rat gets Roadblock out of there, with the help of double agent Perceptor. Once back at the Pit, Perceptor delivers the bad news: Wild Bill is dead. ...but then, who's that working on the Dragonfly right now?
This issue feels reasonably linear and coherent compared to many of the earlier ones. I don't mean that as a criticism or as praise; the book is getting easier to follow and I don't know if that's beneficial or if it robs the series of one of its most endearing traits. But you can follow the story straight through without any trouble here, even with a few detours to show us how Snake Eyes is doing and what's up with Duke, Rodimus and company down in the Primus chamber. Just as we had a glimpse at Destro and Hawk's origins last issue, this time there's a look at the dawn of the Transformers - possibly even the entire universe! Which features some nice nods to in-universe and real-world Transformers progenitors.
The art is still busy and super-detailed as usual, but again, less scattered in feel. There are a few exceptions, huge crowd scenes and the like that follow Scioli's habit of making sure every inch of the page is used. But overall this is a bit less dense and easier to take in. Still not sure how I feel about it, but it's a perfectly valid approach that should make for a book that's easier for new readers to look at. The detail in Roadblock's knife sticking out of a BAT's visor is a high point for me. That looks really great. The other interesting interior image is one I don't want to spoil, though.
The backup story by Scioli and Barber, "Black Cybertron," is a text story about a distraught Shockwave attempting to return his brother Soundwave to life. It's an interesting story and one that explains that key visual from the last page of the main story. It takes the place of the traditional Barber/Scioli discussion pages from the end of the book, so it's good this issue is more straightforward than most. It's a nice piece of history too: the UK Transformers comics were known to have text pieces from time to time, and in the early days of comic books they were required by law to have a certain number of text pages in order to meet the periodical bulk mailing rate.
Scioli's main cover shows an alternate logo design, and manages to take the time-tested concept of a dead Optimus Prime and make it scary and unsettling again. A nice bright yellow draws your eyes to the hole in Prime's chest. But that face, man. I'll probably have dreams about that. The alternate cover by Ulises Farinas shows a tiny Megatron and Destro gawping at a massive, super-detailed Metroplex. It's a cleaner type of detail-intensive art than Scioli's, but it's similar enough that it look right at home here.
Next issue we continue our history lesson with the Hauser family. See you in 2016!
| | |
| --- | --- |
| Reviewer | RAC |
| Date | December 22nd 2015 |
| Score | (8 out of 10) |
| Reads | 4486 |
Back to Reviews Index