While the Autobots squabble, Prowl is questioned by his jailer. But who is this Mesothulas, and what is his history with the Autobots' chief secret-keeper?
Transformers: Sins of The Wreckers #2
is written and drawn by Nick Roche with colors by Josh Burcham.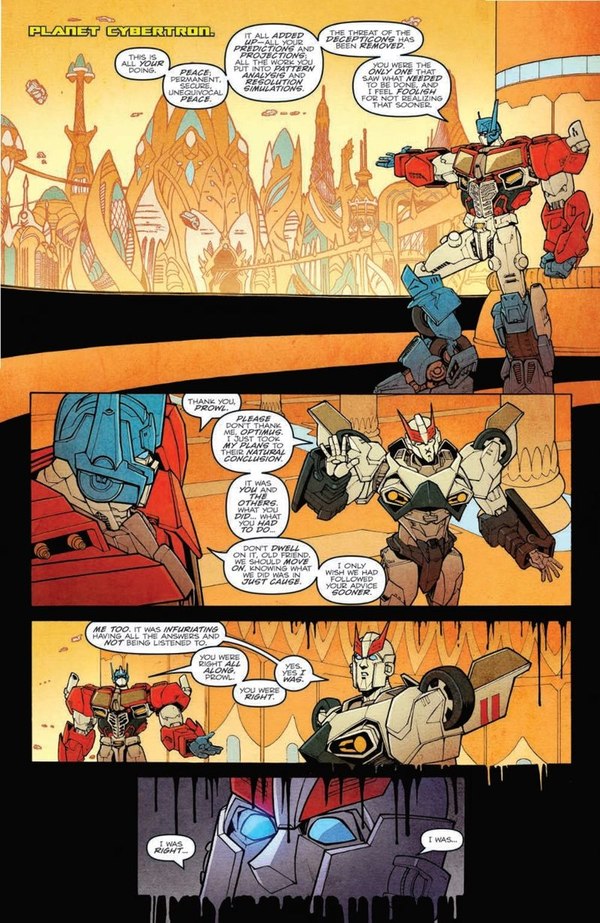 Actually I assume it's like this in Prowl's head pretty much all the time.
Prowl is wakened from a lovely dream by a voice, and it's one which he knows belongs to a bot by the name of Mesothulas. Meanwhile, Springer tries to shake off his five-year coma as Arcee continues to yell at Verity. Verity has another sick spell and has to go outside for air, and Stakeout follows her. As they talk, Verity's bag - the one with the data slug - is stolen. By a rabbit. Then Kup has another one of his attacks.
This issue is starting to shine some light on what's going on, and bring a little more nuance to the discussion of the Aequitas data slug, which as I said was something that I feel was sorely missing from issue number one. It also brings part of Arcee's personality into sharper focus: underneath her currently semi-controlled violent streak, Prowl's former operative shares a great deal of his paranoia. It's an understandable thing, and not out of keeping with her usual self as seen in The Transformers (Formerly Known as Robots In Disguise), but I can't say I like her here as much as I do there. It becomes apparent very early in that whatever's going on is well beyond Verity's ability, so her continued accusations become annoying quickly.
The Wreckers on the other hand are torn between trying to leave their violent wartime natures behind and longing to hold onto that defining aspect of their lives. The question of what happens to warriors in absence of open war is one that's been hanging over all the IDW books since More Than Meets the Eye and RID began, and naturally it's hitting the Wreckers harder than most. No doubt confronting Prowl's past will involve confronting their own - something Kup is already on the road to in this issue.
The true identity of Mesothulas shouldn't be too difficult to figure out, possibly even just from the preview pages. But once you see how his plan proceeds later in the issue it's pretty transparent who he is. I feel confident in saying he's an established character who hasn't yet been seen in the IDW universe. I'm trying to be vague here, but there's some interesting concepts introduced in this issue around Mesothulas and I'm looking forward to seeing them further developed.
The new question to be answered, though: when exactly did this take place and how did Prowl get here? Prowl was last seen in Rattrap's care, spirited away from his pointless circle-talking fight with Optimus Prime. So, did Rattrap send him here, or does he know Prowl left, or what's the deal? Prowl is still missing an eye, so either it can't have been very long since then or finding a doctor to patch him up on the quiet has been a challenge. (Although his head crest is fixed - so who even knows?) But even if Rattrap's role in this, if any, isn't explained, I'm sure either Roche will give us a more concrete explanation of how and when Prowl got here, or continuity wizard John Barber will have a go at it.
All that aside, I just plain liked this issue a lot more than the first. It
feels
longer than its actual page count, and in a good way. There's a lot of discussion, but a lot happens too, and none of it drags. And there's some fun lines, both just because they're smart and funny, and some of Guzzle's just scream UK G1 to me. (
"That cooked meat smell though!"
) The characters are all well-delineated and despite there being well over a dozen in the comic their dialogue is, with a few exceptions among newcomers, fairly distinct.
Nick Roche's art is still just excellent. His consistency is such that it's hard for me to find new things to call out about how good it is. There is a specific visual effect that's just great, but explaining it would be to spoil more than I think I should. But it's a very evocative thing that adds some extra punch to a good segment. There are some fun new designs and riffs on existing ones introduced in this issue, and I'm hoping some of them stick around for a while. And Josh Burcham continues to show us how to add texture to your colors and make them work. I'm thinking his muted, watercoloresque finish here is intended to be evocative of Marvel UK's look, which fits a Wreckers story nicely. He's not afraid to use bright colors when the scene calls for them though, and it's fitting that Verity and Springer's memories of Garrus-9 are the most vivid scenes in the book.
Roche & Burcham's cover shows Stakeout fighting a whale - which kind of happens in the book! Nice, action-packed contrast to last month's somber cover. DC and IDW artist Stephen Mooney provides the moodiness in a collaboration with Burcham on a cover showing Arcee tracking Verity through the snow in a rather unsettling way. The bright, happy action cover slot goes to Andrew Griffith and Burcham this month, and shows the Wreckers slugging it out with Squadron X. Great bunch of covers to show off Josh Burcham's versatility! But beyond that, it's great to see Griffith cut loose a bit in terms of facial expressions; I really enjoy his work on ex-RID but it sometimes strikes me as a bit stiff in that one department. I love that Springer in the foreground!
So a lot of my doubts about the direction of the book have been dispelled with this issue, and I'm enjoying how the story is going so far. I didn't want to judge the book conclusively by the first issue, and I'm very glad I didn't. Looking forward to next month!
| | |
| --- | --- |
| Reviewer | RAC |
| Date | December 29th 2015 |
| Score | (9 out of 10) |
| Reads | 6129 |
Back to Reviews Index