Soundwave's dreams of peaceful existence for the Decepticons die as Galvatron stands ready to execute his true plan and ignite a new war on Earth. "Conquerors: Conclusion" written by John Barber, art by Sara Pitre-Durocher, colored by Josh Perez & Josh Burcham.
Arcee and Sideswipe try to hold the Ark against the Decepticon forces invading through the space bridge, but their battle is already lost. When Marissa Faireborn is able to release the control override Blackrock executed over the ship, Arcee chooses the last available option to stop the Decepticons: ordering the ship crashed on the moon's surface and self-destructed. On Cybertron, the space bridge room is still besieged by the Decepticons, and when Wheeljack forcibly disables the space bridge, he, Windblade, Chromia, and Ironhide are left to face the desperate - and now stranded army.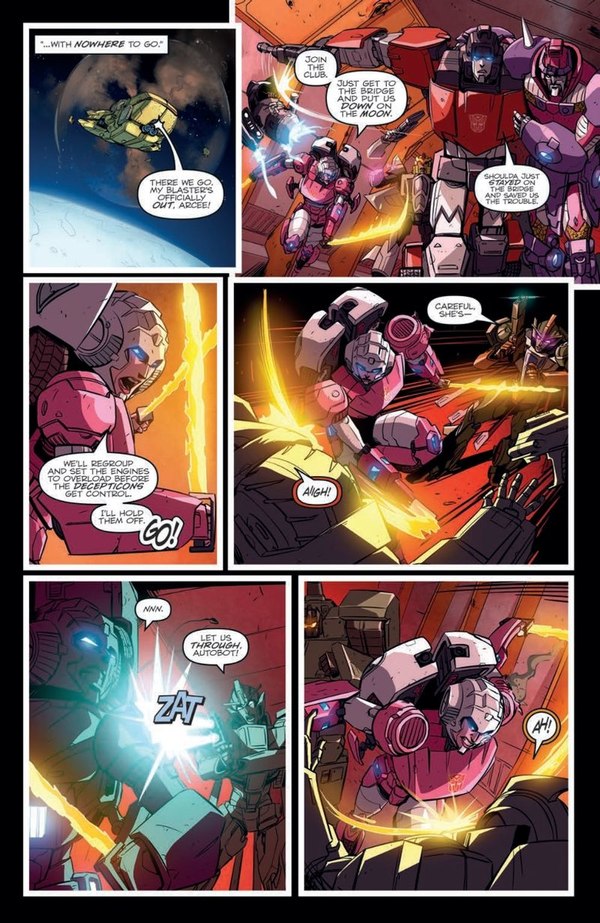 Ah, yep. There's that panel I'll talk about in a minute!
This issue had a lot of things that it needed to get done, and it pretty well made it through the bullet list. That's a double edged sword, though. It's good that it hit all the vital points and facilitated the transition to what issue 50 is going to kick off. It's bad because doing all of that within this limited page count made the process feel rushed and more than a little crammed in. There are elements that strike me as really deserving of more time and attention than they got, leaving their involvement as it is coming off as very abbreviated to a detriment. What was given a decent amount of time to be laid down and built up so we could get to this place ended up being wrapped up in an overly quick way that's really kind of disappointing by comparison. As much as I hate to say it because I thoroughly enjoyed the issue otherwise, we might have been okay doing without the Buster and D.O.C. story and using those pages to let some of this material spread out more and get to breathe a bit. For instance, Soundwave has been a huge part of making the Earth-focused story feel really interesting, but there gets to be so little time seeing his response to what's happening that it makes you think that he's getting sidelined so that the new plot can happen. It may very well not end up playing out that way, but it's how it reads right now.
And the other matter is... there's not really any feeling of surprise in what we get this issue. Whether betrayed by solicitations or other promotional material, or just by way of common sense, you kind of expect the beats this issue hits. Even the little bits that are present for shock vale fall flat because we had the same kind of "suspense" building happen just a few issues ago to no apparent lasting effect. For as bad as something may look, it's just hard to buy in to it when we got basically faked out like this very recently. Truthfully, the All Hail Optimus publicity a little while back really hurt what this issue had the ability to accomplish. The last page reveal would have had a huge impact if there was no warning that it was coming - enough impact, I think, that it would have made the rest of the bullet-list pacing of the rest of the issue work as gearing up to that last page reveal. Getting attention on issue 50 is a notion I understand, but it's a shame that it had to really damage the potential reception of this issue in the process.
But you know, one thing I can't complain about is the art. Sara Pitre-Durocher is back again, for the last time on interiors until Till All Are One starts. She's really bringing it with this issue. In particular character faces stood out strongly to me, most likely led with visored and faceplated characters being made very expressive. A second look through showed a lot of fantastic faces even from those with facial features to utilize. A small spoiler for the comic, two combiners appear. I'm calling this out because as Victorion has already shown, her style is great for these characters. She gives very consistent looking scale without making the combiners seem too ridiculously huge. But her detail level comes in to fantastic play here, giving the combiners really nice visual complexity to cement their greater size. That's also part of keeping scale in order. There are a couple of cool angles too that show the degree of precision in how she draws, where the perspective works so right that you don't even immediately register it's an unusual angle - it's just so natural looking. There are solid crowd action scenes that come out fantastically, and an array of very well done backgrounds over a variety of settings.
I'm also impressed with the Joshes, Perez and Burcham. Both have coloring duties this issue, and I can't tell you where one stops and the other picks up. It's a great job of consistency between the two, and one that will probably be surprising to people who exclusively associate Burcham with the distinct coloring style he used in More Than Meets The Eye (and currently in Sins of The Wreckers). Whatever way the work broke down between the two, the results are really nice. One specific visual element used as a background in a couple of pages looks so very good the way that it's been colored. There's also one panel which I believe made it in to the extended preview that has a fantastic use of high contrast that makes this perfect lighting situation. Really top notch work. Like, between lines and colors I am so completely pleased with the visuals of this issue.
There is one really cool cover for this issue, and amazingly it ends up being the main cover! Andrew Griffith did a painterly cover of Galvatron in the style of Klaus Scherwinski's cover to All Hail Megatron #1. While it is the same composition as the AHM cover, I really like this work for how good Galvatron looks. The visual detail of the design is accentuated really well with the paint-style coloring and fairly thick shading. It has literally nothing to do with the issue's content at all, but it sure does look good! I'll also toss an honorable mention to the subscription cover by Casey Coller and colored by Joana Lafuente. This one depicting Optimus and Victorion in the Rust Sea is one I like mainly for the really very reasonable scale it depicts between Optimus and a combiner. Alex Milne's Countdown To 50 cover is probably the weakest entry in that lineup so far, being that it kind of suffers the most of being a cut out from a larger piece of art. There's more fragments of other characters spilling over than complete characters featured in this cover, I think. Again, I'm sure as part of the whole image it'll look great, it just isn't making a strong showing on its own as a cover.
Next month we get a double length issue, and we get to see if All Hail Optimus ends up being as entertaining as the premise has led me to hope for. Happy 50th, The Transformers, I'll see you here next month!
| | |
| --- | --- |
| Reviewer | ExVee |
| Date | January 19th 2016 |
| Score | (8 out of 10) |
| Reads | 6208 |
Back to Reviews Index