The final showdown! Steeljaw's Decepticons and the Vehicon remnants versus Team Bee! Meanwhile, Optimus Prime and Windblade encounter an unwelcome visitor from the past...
Transformers: Robots In Disguise #6
is written by Georgia Ball with art by Priscilla Tramontano.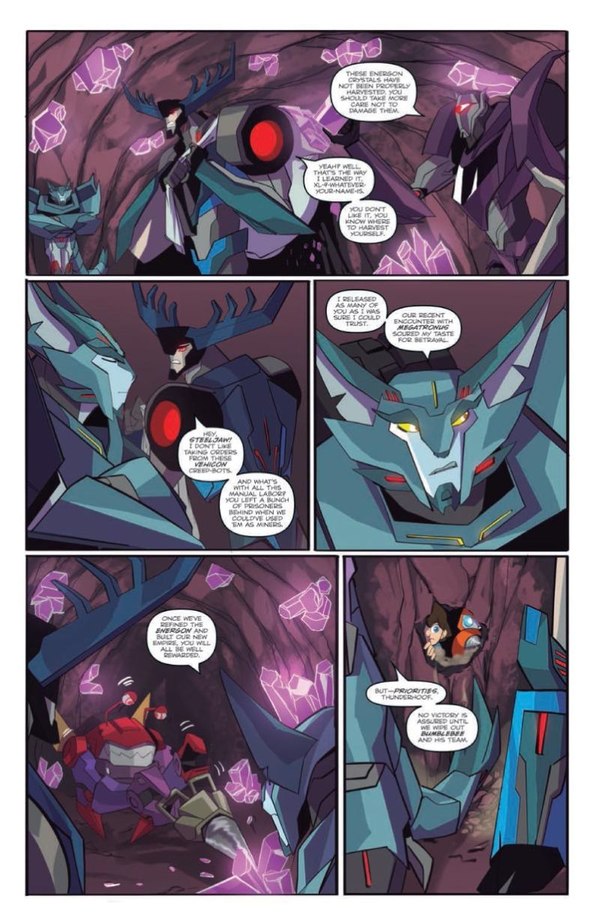 All the TV Decepticons are stopping in to see off this great comic.
Optimus Prime and Windblade find the location the Primes indicated to them... and run face-first into
Predaking.
After a brief scuffle, Predaking escapes, and Prime locates what he was sent to find. Bumblebee and the rest of his team wrack their brains to determine how to find Denny and Fixit while the pair attempt to escape the Vehicon Energon Mine. It's going well until they run up against bounty hunter Fracture - among other familiar Decepticon faces - but by then Team Bee is on the scene.
Robots In Disguise Animated goes out on a high note, bringing together the most interesting Decepticons from Season One of RID and pitting them against Team Bee all at once. Naturally, with Season Two still a mystery to everyone and this being a younger-audience show, such a fight's not going to be resolved
too
conclusively. But it's always nice to save a big battle for the final issue, and the ending is pretty satisfying even so, dealing with the plight of the isolated Vehicons - I try to avoid spoilers in my reviews, but you'll probably be happy to know Steve the Vehicon survives the issue.
And we're treated to going out on an all Priscilla Tramontano issue as well! No disrespect meant to any of the other talented people who've worked on this book, but it's really nice to see her on all the art and colors again, because it does add something. The sleek, glossy foreground characters with the muted and/or textured background colors is something that few others have captured in quite the same way, and I think her deceptively simple shading is the most effective the book has seen. It's really great that IDW finds opportunities for their colorists to handle the main art for comics as well - wish more companies did that!
The difference in coloring is best captured by looking at the two covers: Tramontano's has more pop to the colors, with Bumblebee and the Vehicons standing out. For his subscriber cover, Josh Burcham chooses to have Bumblebee and Steeljaw grappling at night with Strongarm in the background. The night is dark and blue, as are Steeljaw and Strongarm to varying degrees. And the dark is overcoming Bumblebee's yellow - which is a decent metaphorical tack to take and sets a nice mood, but it's not as much of an attention-grabber as the bright yellow and purple are on the main cover. I might like Burcham's more as an art piece, but I think Tramontano's is going to be more successful in getting people to pick the comic up off the rack.
It's still a shame that this only got six issues, but those are the breaks of the comics industry. Until IDW does something else in the all-ages vein, this is your best bet for a good Transformers comic for younger kids. I know I keep hammering that point home, but up until this the best all-ages thing IDW had done in recent memory was
Angry Birds Transformers
, and it's... it's just not the same. (Again, with all respect to the team that did that book - different, but fun.)
RID is very much like the show it's based on in that it's solid, enjoyable, well-done... and not nearly enough people have gotten to
see
it. But writer Georgia Ball has said before that some of her other licensed work has gotten a second life (and further installments) through collected editions, so I'm really hoping IDW has plans to collect this. Whether you see this review the moment it's published or sometime down the line,
Robots In Disguise
(Animated) is fun and worth your time.
| | |
| --- | --- |
| Reviewer | RAC |
| Date | January 19th 2016 |
| Score | (9 out of 10) |
| Reads | 9107 |
Back to Reviews Index