Mesothulas reveals himself to Prowl as the Wreckers try (and fail) to cope with the Noisemaze. The only ones left on the outside are Impactor and Kup... and they've got a Beast War to attend to before they can reach the others.
Transformers: Sins of The Wreckers #3
is written and drawn by Nick Roche with colors by Josh Burcham.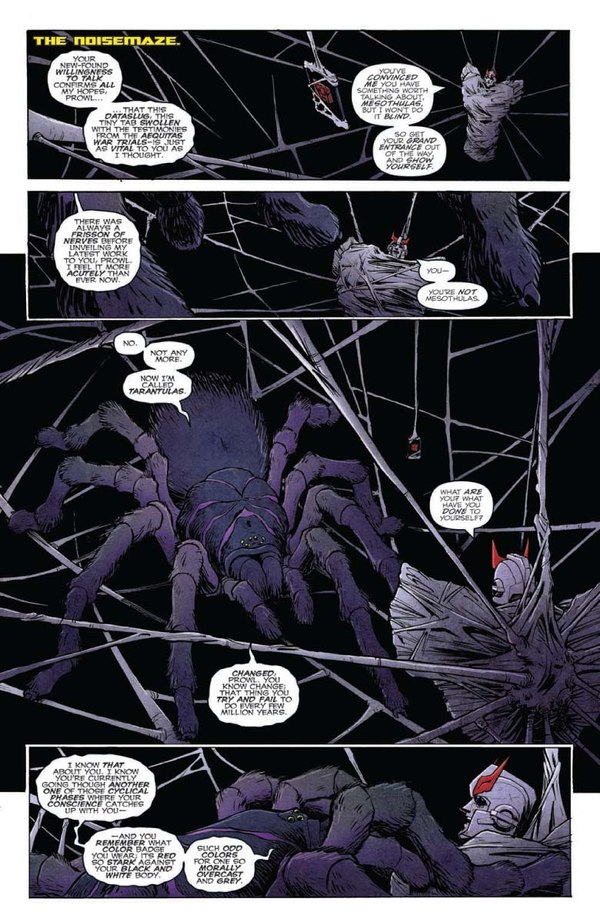 Two of the greatest amoral schemers in Transformers history, together at last.
At some time in the past, a disguised Prowl visits Mesothulas' lab, and discusses their latest projects: a system that will come to be known as Aequitas, and the recent annihilation of neutral Carpessa. Mesothulas accomplished this via a bomb whose components could only be traced to the Decepticons, thus ensuring the surivors would join the Autobot ranks. But Prowl is having second thoughts, and as Mesothulas explains the Noisemaze, he's standing
right
in front of the door... In the present day, inside the Noisemaze, Verity can't understand why everyone is in agony except for Hubcap and Claw Jaw. And Prowl continues his conversation with his captor Mesothulas... now known as
Tarantulas
.
It was reasonably obvious Mesothulas was going to turn out to be who he is, but it's still a pretty good reveal visually. The more interesting reveal is the extent of his past with Prowl... which the two of them interpreted somewhat differently it seems. I think it's a good insight into IDW Prowl to see him do utterly horrible things and then have second thoughts and start blaming the people around him, the ones he sought out to make his plans happen. It stands to reason that if you're going to be the Only Person In The World Who Really Understands Things, you're going to have to justify all your mistakes as being someone else's fault. Even so, annihilating a city full of neutrals may be a new low for IDW Prowl, and I'm happy to see the story, via Tarantulas, pushing back against his framing himself as a victim caught in his cohort's web. Of course, Tarantulas
is
crazy... but even a crazy clock is sane twice a day. Or something like that.
Most of the story is given over to the confrontation and history between Tarantulas and Prowl. But the rest of the Wreckers - the ones who can still think - get some time as well. It's difficult, in a review that attempts not to spoil anything not seen in the previews, to get into what goes on, and the brief nature of the other scenes doesn't help there. Which is not to say those scenes are bad or not worthwhile, or don't drive the story - none of those things are true. But they are just largely too spoiler-laden to get deeply into.
An interesting thing to note without getting into spoilers are the design choices made for Mesothulas and Tarantulas' bodies. Mesothulas looks like the original Tarantulas toy, except with wheels set into the shoulders. Meanwhile, Tarantulas favors the Transmetal figure, which
had
wheels in the shoulders... except this one
doesn't
because it has no third mode. The wheels have just become odd shoulder pads where Mesothulas' wheels used to be. It's a neat idea, if a little bit awkward to describe. Tarantulas is an interesting case as well in that unlike his Mayhem compatriots, his more organic appearance isn't limited to just his outer beast mode parts. He's creepy all over, as Transformers go, without going overboard on detail. He just looks
different
in a slightly off-putting way. It's a good effect.
Nick Roche keeps the conversation between Tarantulas and Prowl moving with a constant change of posing, modes, locations, timeframes, and coloring. Josh Burcham once again shows how it's done, with each location being easily identifiable at a glance - especially the discordant whorls of the Noisemaze. There are a few panels where the stony, watercolor-like texture of the coloring betrays a certain flatness that, ironically, flat colors would not. It's like we're seeing this world through a filter. Mesothulas in the very first panel of the issue is a good example of that. But those situations are very few and far between, and nothing near the bizarre and off-putting texturing of your average Livio panel. This works, and adds to the story and the atmosphere.
The Roche/Burcham main cover for this month shows a shocked Kup watching as Impactor bursts up out of his own grave. Something...
somewhat
similar happens in this story this issue, but not quite as dramatically as shown here. Nice silhouette on Kup, though - missed that on first glance. The subscriber cover is by
Andy Macdonald
with colors by John-Paul Bove, showing patrol car Prowl ironically being shot at by police. It's in a style that reminds me of Kevin Eastman, co-creator of Teenage Mutant Ninja Turtles. And interestingly, it was drawn back in
2007 as a commission, newly used here as a comic cover!
Lastly is a cover by Priscilla Tramontano, showing a reflective Verity sitting atop the corpses of all the
Last Stand
casualties. It's darker and rougher than I'm used to with Tramontano's artwork, both in subject matter and in hues. Definitely well-suited to the book, and I'm happy she gets a chance to show her versatility here.
The next issue of
Sins of the Wreckers
is due in April.
Last Stand
was also delayed, so it's not surprising - and this is a difficult level of work to keep up. Still, it's a pity to have to take a couple months off from this - hopefully our memories won't need too much refreshing when we come back.
| | |
| --- | --- |
| Reviewer | RAC |
| Date | January 26th 2016 |
| Score | (8 out of 10) |
| Reads | 5764 |
Back to Reviews Index