Freedom is the right of all sentient beings. The freedom to be forcefully inducted in to a council of other worlds you've never heard of before. The freedom to have your society judged against the moral values an alien robot. The freedom to live in fear of Transformers occupying your home. This is the story of the day Optimus Prime took over the world. "All Hail Optimus", written by John Barber, art by Andrew Griffith, colored by Josh Burcham (pages 1-15), John-Paul Bove (pages 16-20), and Josh Perez (21-30); "New Worlds Order", written by John Barber, pencils by Casey W Coller, inks by Jamie Snell, colored by Joana Lafuente.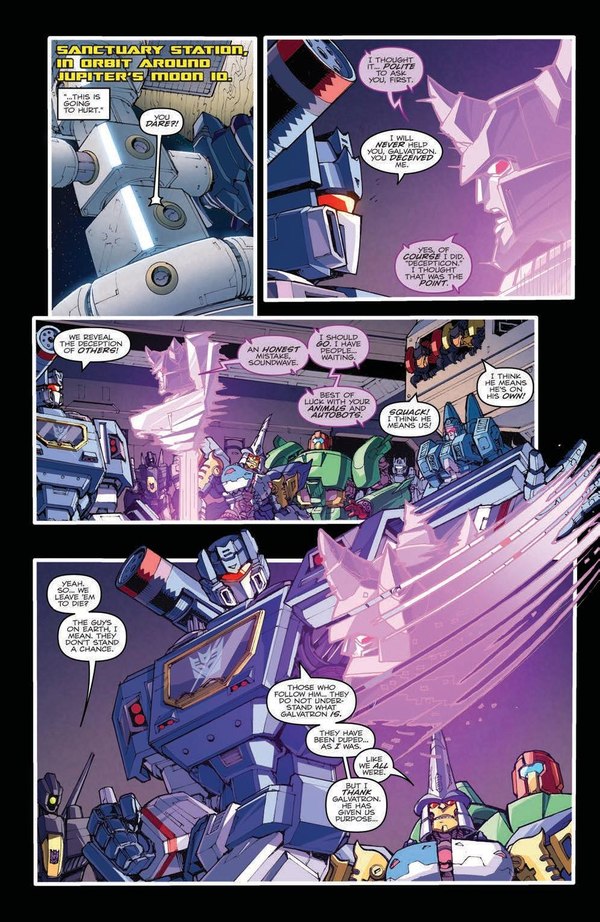 Soundwave, you might want to think about getting a public relations department or something to avoid confusion like this.
Optimus Prime has embarked down a dangerous path. After spending the last four years (real world time. Possibly more than that within the fiction?) basically aimless and unsure what to do with himself or where he fits in a post-war world, he's been stirred to action by the Camiens. Having come to see his title as Prime as a danger to the fledging society the Cybertronians are trying to build now, he's been left hesitant to act at all with the likes of Starscream accusing him of trying to assert the power of that title to sweep away the civil authority that has taken hold on Cybertron. While this has been a two way street and permitted Optimus to use the threat of that to help keep Starscream in check, it has still left him with no direction in his life. Talks with The Mistress of Flame, as well as Victorion and perhaps most meaningfully with Aileron has all had an impact on him. Each in their own way they've challenged him to act on his convictions - the convictions of a Prime. They've all validated him, perhaps leading him to think his self doubt was, if not mistaken, at least misplaced. And so we find ourselves here, where Optimus has essentially declared he's taking over the world. Optimus himself says in his address that his purpose isn't to rule, but he also makes very clear that he has problems with bodies of authority on Earth and he plans to assist the world to righting the mistakes he sees. For the sake of freedom.
This is an act that not very long ago, Optimus would never have even really considered. His own moral sense would have stopped him from going this far, because he would know what it would lead to. So, what are we seeing? The Camiens viewing him as a religious figure, something that made him uncomfortable to start with, seems to have slowly worn away at him. While he may not see himself in that context, the effect of others treating him that way can still take hold. Between that, and repeated expressions of not understanding why he isn't acting as an authority among his people according to his title, it's started shifting his thinking. Aileron and Victorion have become his enablers. He's started acting on his own judgment more and appears to be pushing to the side whatever doubts he may have about going this far. He believes this is in the best interests of Earth's people, so it must be correct, right? He has the Matrix, he has the title, he has the authority they grant. So his choices must be right.
The victory in this story is I think that we the readers are supposed to see and get all of this. We're supposed to understand how wrong this action is and how Optimus is right at the edge of slipping down the slope of making the mistakes all the Primes before him. He's starting with the best of intentions, but if he's not turned away quickly, he'll end up like any of his predecessors where supposedly acting in the interests of the society turns in to subjugation and tyranny. He's about to finally become a Prime, in keeping with the lineage that Nova began. At this point a corner has been turned, and even if Optimus relents quickly and this idea of Earth becoming part of the council of Cybertronain colony worlds goes away, there should still be long lasting and on going consequences just based on the fact that Optimus tried this in the first place. This issue opens the door to a great deal of potential character development and exploration for Optimus. I've seen already someone note based on the preview that this act is out of character for Optimus Prime. And for a "traditional" Optimus Prime, I completely agree. But IDW's Optimus isn't that standard model. Where we are right now is an almost unsettlingly natural development out of what the character has gone through these past few years. All this time Optimus in the modern era has been a terribly ineffective character, making stories involving him not especially interesting.
For the first time in years, I'm legitimately interested in the development of a story built around Optimus Prime. There is a fantastic depth of potential not just for this story, but for any stories after that build off of this. His place in the universe has changed in a way that should be expected to be permanent, no matter how this specific storyline winds up shaking out. All it really required to get compelling and interesting was full acceptance of today's Optimus Prime making bad decisions and running with it to the greatest extreme reasonably possible. We're at the beginning of what very reasonably could end up as The Fall of Optimus Prime, and I think it's the best use of the character in years. Not to mention the great symmetry it provides with Autobot Megatron. Just wait until the next time those two catch up.
So, with that wall-of-text look at the motivations of Optimus Prime out of the way, let's have a rather more brief paragraph about the art. Griffith brings his standard best with this issue, which considering the level of action and complex scenes to depict is surely no small feat! The main 30-page story that Griffith draws is taken up predominantly by an extended battle which is depicted excellently. The framing and layouts make all the action very easy to read, the most important priority for such a situation, of course. And in the course of the battle which gets a little more involved than just Optimus and Galvatron's respective parties fighting each other, Griffith also brings in more original designs that - while perhaps inspired by existing toys - don't and probably will never gets toys made and that's really disappointing. Griffith has a talent for coming up with new, unique stuff and making it work mechanically to the point that I really want it in physical representations. The main story splits the color work three ways. And to the credit of Burcham and Bove, they match style to the series quite effectively where, even having the cheat sheet in the credits, I don't immediately register the change from one to the next while reading the issue. Burcham's pages, which there are the most of are probably the most recognizable since there is still an element of his slightly flatter style and preference for less saturated colors. Despite likely trying to blend with the normal appearance, there are a few places where these elements still stand out. I don't know if it's by coincidence, but the split of the colorists is helped by each changeover coming with a change to the environment. By the time Bove's pages start, night is falling on the battle site. Thus, differences in style fade away to reasonable shifts in lighting conditions. When Perez starts finishing out the final stretch of pages, it's again a different time of day and different setting so it still doesn't make for a jarring shift and so the edges between the three get smoothed out very nicely.
The back up story, which is more an epilogue, combines Casey Coller's lines with Joana Lafuente's colors. Between those two it stands out visually from the rest of the book considerably. It's not in any way that's bad, it's simply very distinct from Griffith's style, and the overall look of the first 30 pages. This only really becomes a problem when the human characters are involved and, for instance, Marissa comes out looking like she's about 15. But then you contrast that with panels here and there that look simply amazing between the precision and detail of the lines and the way the colors accentuate it all. If anything, the failing I'd point to in this is just that it doesn't feel internally consistent with itself.
This issue has a glut of covers, which I don't think is inappropriate for a milestone issue. But there's just two I want to talk about specifically. The main cover by Andrew Griffith and Thomas Deer is a good representation of actual imagery within the issue, though of course not precisely a lift of any single scene. It's good art and coloring, and is probably adequately eye catching. But it's just not the best representation of the ideas of this issue. For that, we go to Subscription cover C, by Casey Coller and John-Paul Bove. This is the image that I have always felt sums up the concept most fully, showing Optimus Prime holding the Earth in his hand... as the southern hemisphere crumbles away under his grip because he's holding on to Earth a bit too tightly. No single image could better sum up how I look at this story, and when All Hail Optimus is collected together, it'll be a crime if this is not used as the cover for the trade.
We've still got a bit to wait for the other half of IDW's Transformers 50th issue celebration with the last minute delay of More Than Meets The Eye, but we'll be back soon to wrap this up and start on the way to the next milestone. Congratulations for keeping a steady numbering long enough on these series to make it to 50, IDW!
| | |
| --- | --- |
| Reviewer | ExVee |
| Date | February 23rd 2016 |
| Score | (10 out of 10) |
| Reads | 6001 |
Back to Reviews Index