Across the galaxy, a broadcast is heard. In it are the last words and instructions of a portion of the Lost Light crew, evidently awaiting a death to come within a short few hours. But even as Optimus Prime himself makes ready to mobilize and go to their aid, it's revealed to be a hopeless pursuit: The signal was transmitted three weeks earlier, and all the 'bots have surely long since perished. "The Dying of The Light" written by James Roberts, art by Alex Milne with additional inks by Brian Shearer, colored by Joana Lafuente (pages 1-10), Priscilla Tramontano (pages 11-15, 22, 23, 27-31), and John-Paul Bove (pages 17-21, 24-26); "No Guns, No Swords, No Briefcases" written by James Roberts, art by Brendan Cahill, colored by Joana Lafuente.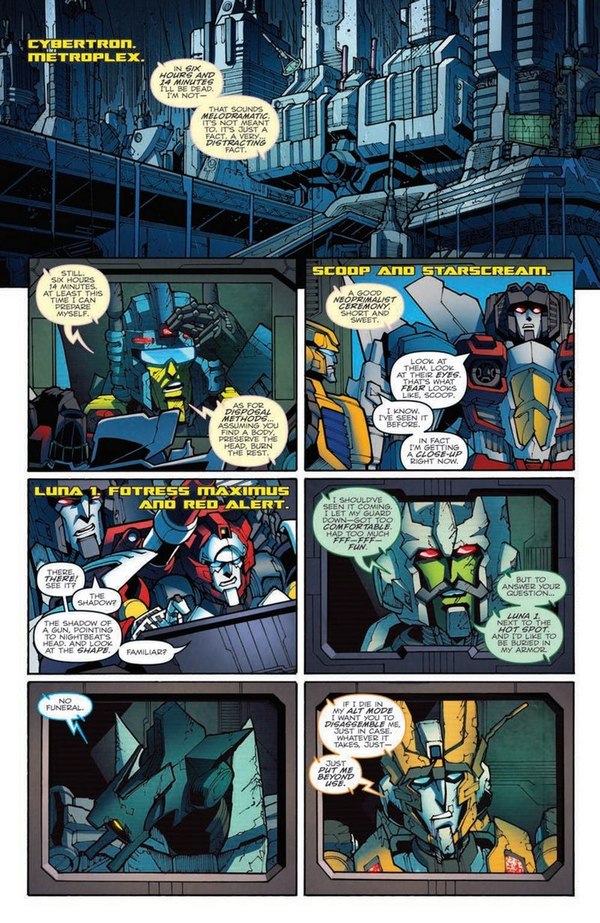 Yeah, I'm so worried...
This is a situation of extremes in writing, visiting both ends of the spectrum between good things and bad things. The bad things include that for all the doom that is said to be hanging over the characters focused upon within the issue, no small number of escapes can easily be picked out over the course of these pages. That just by itself takes so much potential tension away when those avenues to withdraw from certain death can be so plainly sen. Now, let it not seem as though I'm expressing a preference for a save coming out of nowhere. Indeed not, that's just as bad, if in a different way. The point of happy balance lies more in having the elements present, but constructed in a subtle way so that you have the ability to look back and identify it, but where it isn't basically jumping off the page. I honestly don't think that James Roberts is underestimating his audience's intelligence - certainly he shouldn't be, especially after the collective forces of the online fandom worked out the trick to the Slaughterhouse story well in advance of the actual reveal - but some of the foreshadowed elements seem really heavily pointed out as though the expectation is for us not to catch any clues. One factor is some necessary exposition, of course. An important aspect of the most outstanding example relates to a fact not mentioned in a fair number of issues. But bringing that exposition in to play at the same time you build in what seems to be a way out for use later is maybe not the best structuring this could have gone for.
Of course this began as a thought on the elimination of tension in the story, and it comes down to a far more basic premise than putting Chekov's Exit Sign up on the wall: No matter what, you're never going to kill off the entire main cast of the book. Even if one had the nerve to actually go through with it, there's major name characters involved there that I have to think would be vetoed as permanent casualties. And let's even set that aside. Put away all practical notions and go for an even more simple reasoning here: death fakeouts are standard procedure at this point. Nobody dies, everyone just makes a really good show of seeming to die. I think the last actual cast death now was Trailbreaker something like a year ago. And even at that point the damage was done and despite the severity of his physical state I was sure he'd be amazingly back in one piece and on his feet before very long. It all comes down to that the threat of death in this book means nothing anymore. It's fine to be unwilling to regularly permanently off your major characters. Stories frequently are easier to carry on longer of everybody in the story isn't dead. Unless it's a series about ghosts, I guess. But in conventional terms, there's nothing wrong with keeping characters alive. Just stop pretending like they're in actual danger of dying. It doesn't work anymore. MTMTE isn't exclusively guilty of this in the modern era of IDW, but it's the greater offender easily.
Now, I said we had extremes, that last wall of text was the worse things, but there is still better to be found. I talked about heavy-handed hint dropping, but this issue ends up proving out a good portion of the better kind of foreshadowing. Vague, subtle things built up over time that, once the target event comes to pass, all immediately come in to focus and make sense and you can trace in your memory the path that led to this point. This issue has a great instance of this that goes ...heck, maybe as far back as about two years? Maybe farther than that even, but the things made most clear start in from about that point and go forward. I liked that a lot, and it really reminded me of when More Than Meets The Eye was at its high point with really carefully structured, interesting plotting that pulled strings for a long time and made a satisfying end game when you reached the conclusion of one or two of them every so often. I feel like most or all of the trek through the 40s has been really rough, and a steady downward slide in the quality of the book's writing. 50 serving to remind me of some of the really good points I used to admire has the dual effect of giving me some hope that maybe this style of writing will again become prevalent and start to find us a way back to the book being really good again. But it also gives me pause because of the worry that it's a false hope. Not an intentional mislead, but just that faint glimmer of what used to be that I still won't get back. Only time can tell on that front, but I dislike that I feel the need to proceed with very guarded and tempered expectations in order to avoid a disappointment that I worry is coming sooner rather than later.
The issue features a short backup story. The intent is obviously to look back at the history of the crew's adventures from an interesting perspective, and you get to see some neat bits from different points of view than before. Of course you also get pieces of this that seem completely needless except to serve as very basic pandering, something that strikes me as distasteful. The other problem I have with it, the exercise feels completely out of place in connection to the part of the "real" story we've just seen. There's one move to kind of try to tie it to the chronology of where we are, except that it doesn't really make sense as it's done. I do like the concept and most of the execution of this, and of course I get why it's attached to issue 50. But it really would have been better someplace else. You know, even using these pages as the opening of the issue would have served it better. Get this great moment of remembrance out there before starting in on the regular "certain death" plot. I hope when this story goes to TPB, this can be shifted in position to someplace where it won't feel as inappropriate.
I find the situation with the art here very much along the same line as The Transformers 50, where despite the added work of two colorists besides our usual Joana Lafuente, they all do a great job of keeping a close match with each other's style so there's no jarring transition points. It's a strong show by all involved, keeping the book's normal high visual quality fully up to spec. Seeing linework by Alex Milne again after a couple of Sakamoto issues is also a nice settle back to expected normalcy. It's even a little extra fun since those first few pages give us looks at characters who we would not normally see in his style. Alex himself has expressed that it was fun getting a chance at those characters even if just briefly, and from a reader's perspective it's fun to see them taken on by someone other than their regular artists. Another strong point especially in those early pages is seeing Alex's strong background work in different ways, such as representing one of the best Metroplex city shots since Metroplex returned. We had a great city shot way back in issue 28, but being how that was almost two years ago now, the chances for this clearly do not come about often enough for my liking. Basically, you can tell that Alex was putting his issues off to good use, and while I can't at all tell you where Brian Shearer pitched in with the "additional inks" I'm sure they helped to enrich the already strong base that was put down. Top form on all the tiny detail bits everywhere, be it cityscape or scraped-up robot face.
The backup story features Brendan Cahill's art, so it is reasonably distinct from the standard art style, but not in a way that's especially distracting - certainly not any moreso than the tone and content of it already was versus the main chunk of book. Plus with Joana doing all the coloring, it smooths the edges, so to speak, so it stays pretty well blended in. Besides, I'm all for more chances to see Brendan doing interiors on the Transformers books, so it's really hard to actually complain about the visuals of these several pages.
This issue also has a small pile of extra covers. In a rare moment, I actually think the primary retail cover is the best of the lot. Being eye-catching, and also paying service all at once to the full run of the book while keeping an elegantly simple composition, it's just a really excellent piece of work. The other covers - three of which focus heavily on Megatron - are also all nicely done, but with perhaps the exception of Nick Roche's subscription cover "C" I don't feel like they really do justice to the idea of being a 50th issue and encapsulating the book at all as well as just the regular old main cover. Thumbs up to Alex and Joana for knocking this one right out of the park!
Congratulations on reaching issue 50, MTMTE. We've had good times and bad together so far, and for better or worse this series has changed my thoughts and perceptions of Transformers in a number of ways. It hasn't been the best ride to me for much of the last year, but I'm hopeful that it will find its way back and return to the strong path it was on not all that long ago. Let's have issue 50 be the turning point where we head back upward, okay?
| | |
| --- | --- |
| Reviewer | ExVee |
| Date | March 8th 2016 |
| Score | (6 out of 10) |
| Reads | 4339 |
Back to Reviews Index