Optimus Prime orders a West African town bombed ...with kindness. Around the world Optimus Prime's allies and supporters carry out missions designed to safeguard people's freedoms and provide humanitarian relief. But the humans aren't ready to trust the intentions of the individual who just annexed Earth, and the EDC plans a counterstrike. All the while, Optimus Prime suffers from more visions of approaching doom. "All Hail Optimus, Part 2: Edge of The Earth" written by John Barber, art by Andrew Griffith, colors by Josh Perez (pages 1-15 & 20), Josh Burcham (16 & 17), and John-Paul Bove (18 & 19).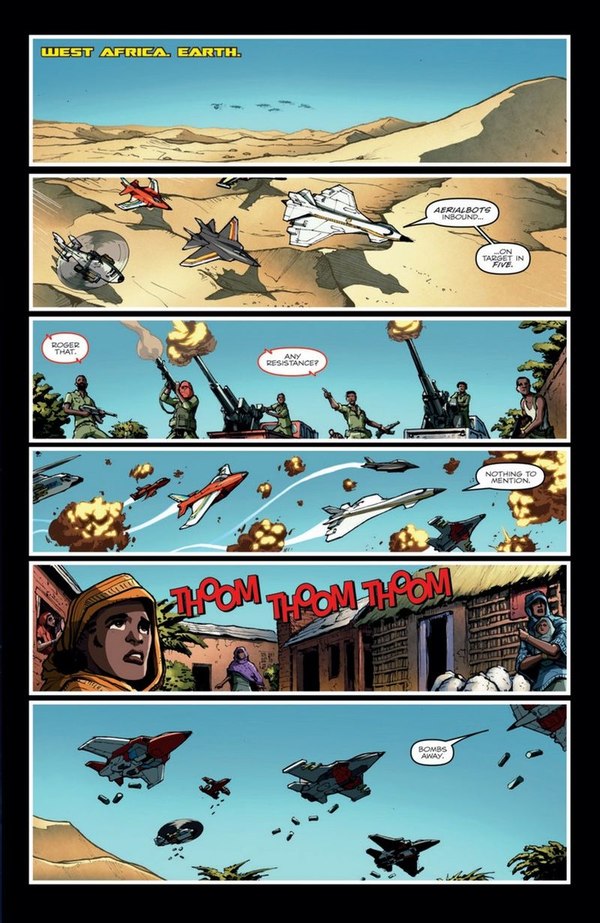 Nothing says benevolent, peaceful intentions like carpet bombing, right?
Issue 50 led us in to the new reality, setting up the situation of Optimus Prime choosing to aggressively protect the Earth from the Decepticons ...and itself... That extra large issue threw a lot our way in suggesting a lot of things that could happen right away in the story. And yet here we are with part 2, and it already feels like a bridging issue. Essentially we spend this issue just checking in on the current status of everyone without bringing much advancement of the plot. It's the kind of thing I'd more expect to be utilized nearer the end of the story arc, to regroup everyone narratively and make ready for the big finish. Right here it makes it feel like we're spinning wheels and just waiting for traction to spontaneously happen. Now, as noted in the summary at the top, Optimus is sending out missions around the world to carry out his goals. So we are seeing some signs of an attempted proactive approach, which I guess is good. It would be all too easy for Optimus, especially the way he's been seen for the last few years, to end up sitting around and waiting for humanity to accept his help before actually trying to do anything, so I can appreciate he's using his actions to plead his case for him. But given how many of the shown attempts are also shown getting an armed response from the side of the humans, well, I figure it's only a matter of time before something gets a bit out of hand and things flip on their head. Something that very nearly happens later in this issue.
I usually leave this to the end, but I want to talk about a cover now. Because the main cover for this issue shows Prowl on or in Optimus Prime's head. And this is pretty much entirely a lie in terms of having any relation to the issue's contents. Look at the preview, and see Prowl appear in one frame of the doom vision. Unless I've managed an incredible job of missing something major here, that's the only appearance Prowl has. While I am very happy if we can go through this whole thing without a credible suggestion that this is somehow all due to Prowl's influence, I'm still annoyed by the mislead of the cover. A confrontation between Prowl and Optimus could wind up very interesting since I very much think they'll still be starkly at odds over what's going on. But on the plus side, going in this I was worried it might end up spoiling Sins of The Wreckers, since had it not been unavoidably delayed, that title should have wrapped up already, so an appearance now by Prowl wouldn't be any problem normally. While we can be reasonably sure Prowl won't end up dead in SOTW at least, his actual disposition by the time that's over may still be something to be protected. But what bugs me more is the implication of this cover that's not followed through in any apparent manner. Optimus and Prowl were a combiner. They shared minds, even if only up to a point. My main interpretation of the cover image was that it was a lingering echo of Prowl, rather than the real Prowl himself. Something that could have acted like an antagonistic conscience to Optimus. I suppose a counterpart to Starscream's Dead Bumblebee, and that would be okay with me as long as it was used in moderation. But no, as far as this issue, there's nothing to even begin to suggest that Prowl's presence is due to anything more than lingering feelings of betrayal and perhaps failure on the part of Optimus, or of course that the two will have a confrontation in the future if all these images are truly prophetic. And the more time goes on, the more that seems to be so!
My other problem is with Aileron. She's written super inconsistently this issue. She's at odds not just with earlier portrayals, but contradicts herself within this issue. While I do not dismiss that this is supposed to represent her being in a bad mental state after the death of her closest friend, it's to such extremes without any showing of a flip in attitude before you're right in the middle of it that it comes off badly. What she does this month is an important thing to show, basically making the point of what someone devoutly following Optimus Prime's new ideals without really understanding the why of it might do because it seems right. This feels like it's an in-universe warning sign, something that Optimus needs to be very careful of because there are potential legions of Cybertronians that might choose to follow his example, and if he isn't careful to instill the fundamental meaning of what he does first, he's going to end up building a fanatical army that even he won't be able to control. It's a popular summation of things in IDW right now that Optimus and Megatron have swapped roles. And it starts getting easy to see: Optimus might be on the edge of creating his own faction that will end up destroying in his name because the meaning of his words got lost along the way. That's the quick and rough background of the Decepticons in IDW, except they were driven originally for freedom and equality. Optimus Prime's hypothetical army will be one of religious devotion, making them incredibly more dangerous. But then, that's all my speculation of an extreme worst-case outcome that would probably be farther down the line. But the first hints of that possibility are very much present in this issue.
Over on the art side, well, the robots look good as usual. I was kind of having some problems with the human characters though. Spike's face is very inconsistent even within a single page. And this kind of keeps happening with the human cast. Their appearances vary pretty noticeably from point to point. It's been quite a while since I thought the art for the human cast was this disappointing, and hopefully it's just an isolated fluke this month. Griffith's gotten so much better with the humans since that initial return to Earth almost two years ago, so I'm looking forward to getting that grade of art back. The coloring though, that's some pretty nice stuff. Josh Burcham and John-Paul Bove come in to do a few pages backing up Josh Perez. Burcham does really well matching Perez's style, making it harder to see where they hand off unless you're specifically looking for it. Bove is a little more apparent, but in large part because the color of an environment element changes color on his pages versus the remainder of its appearance. Not a huge problem to me since by and large it still meshes nicely. But I love the way Perez colors the environments. Optimus Prime's vision has a great example of this. So too does a later instance of Thundercracker's shelter. There's some beautifully colored cityscapes, and one panel with a sunset that's just simply wonderful looking. It's coloring that truly finishes Griffith's lines and brings the resulting art to life.
So since I already talked about a cover, how about a blast from the past and we end on a Toywatch!? While it's not really in the spirit of the original Toywatch!, there is some good advertising happening. For starters I'm glad Victorion is actually getting stuff to do and is not just sitting out in the Rust Sea. But I love the utility being put on her powers. We've seen her gravity control before, used to help disable combatants non-violently. In this issue not only does it get used as a tractor beam to evacuate a group of Autobots and probably assist in flying, but we see a major extent of its capabilities. Victorion can use the ability with such intensity that it causes localized gravitational lensing - bending light around herself to become invisible. There are a few problems with the specific application of this ability that I want to complain about, but rule of cool really applies here and overrides that. I really dig that she has an honest superpower, and that Barber is not afraid to make use of it at any point that it makes sense to have it come out. It's tapping in to that super robot side of combiners to just the right extent, and it's a hell of a job of making that upcoming Fan Built Combiner set look more appealing! Very nice, let's see more along this line!
| | |
| --- | --- |
| Reviewer | ExVee |
| Date | March 14th 2016 |
| Score | (8 out of 10) |
| Reads | 3583 |
Back to Reviews Index