We all know the scene:
"Megatron must be stopped, no matter the cost," The Touch
, etc. ...but what if Kup managed to put a foot on Hot Rod and let Optimus Prime fight his own battles? The history of G1 branches off in
Transformers: Deviations
, written by Brandon M. Easton with art by Priscilla Tramontano and colors by Tramontano and John-Paul Bove!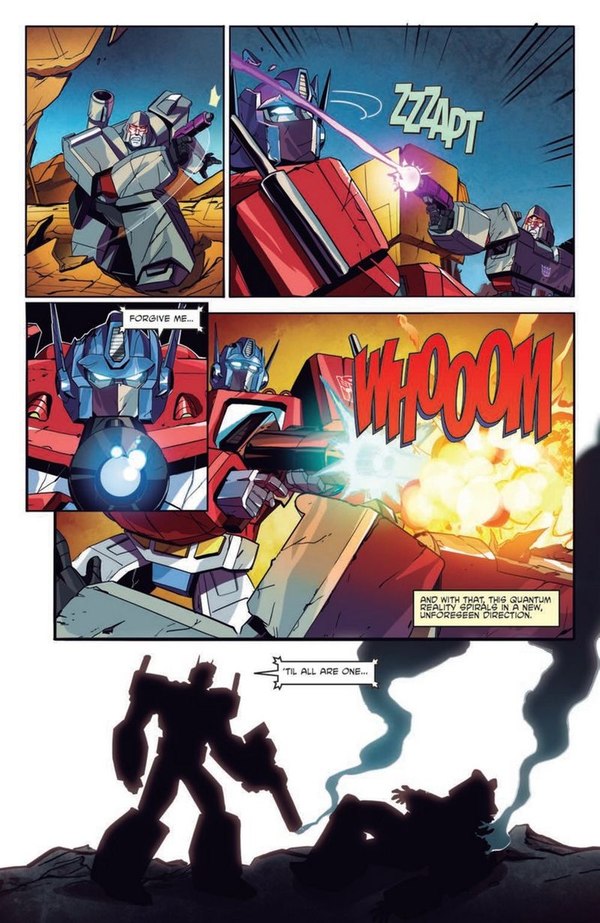 On this page: myyour childhood daydreams brought to life!
Optimus Prime bests Megatron in single combat to the implied strains of Stan Bush, and as Megatron plays a desperate feint for a pistol on the ground, Hot Rod... does
not
intervene thanks to a fast-thinking Kup. Megatron is easily killed by Optimus Prime. Starscream orders the Decepticons to retreat and breaks the news. Without a leader to parley with Unicron, the wounded Decepticons jettisoned from Astrotrain are devoured by the monster planet. As the Autobots get ready to retreat to their Moonbase, Unicron makes a detour to Cybertron, still in need of a powerful servant to deal with the Autobot Matrix of Leadership for him.
What If?
is Marvel Comics' oft-resurrected series based around the concept of making one change to an established storyline and following it along its new divergent path. It's pretty clearly the model for the IDW
Deviations
imprint, which in the case of Transformers takes the one change I think we all wondered about in our childhoods: what happens if Hot Rod doesn't interfere during
Transformers: The Movie
and Prime defeats Megatron? Does Prime's survival make things better or worse? Do things come out somewhat similarly or very differently? Obviously that's not an answer I'm going to give here, but I think the ultimate outcome is very much in keeping with the spirit of
What If?
, with definite similarities, some parallels and shifted plot points, and a few entertaining twists.
Brandon M. Easton isn't new to Transformers comics, but it's been a while; his last TF comics work was on Dreamwave's Free Comic Book Day issue of
Transformers: Armada.
Outside of the world of robots Easton is an accomplished writer in both comics and television, having been nominated for an Eisner Award for his work on
Watson and Holmes,
a modern take on the Sherlock Holmes stories. He's also written for the most recent season of
Agent Carter
as well as an episode of
Transformers Rescue Bots
. Easton's got a good feel for the dialogue of TF:TM, though his version is maybe just a hair wordier than the original. But that's just about perfect for a one-shot comic based on a `70s-80s format (and property!). You'll see some familiar lines redistributed, and some meant to parallel the movie. The most interesting changes are to Hot Rod and Ultra Magnus. Without making his one big mistake (and thus never coming into contact with the Matrix), Hot Rod makes some others during his journey that have perhaps equally lasting consequences. With Prime alive Hot Rod is assigned to Magnus' shuttle, and Magnus is a much more harsh instructor than Kup ever was. It's interesting to see Magnus in this light, in a role he's more comfortable with than he ever was during his brief tenure as Autobot leader in the movie. He's not a very forgiving person in this capacity.
Priscilla Tramontano takes the art duties for this issue, and does a great job working in the G1 style. She keeps the characters within that framework but with a more modern style and increased - but not excessive - level of detail. It's a totally different look from her recent RID Animated book, which was itself a shift from her work on Windblade. With versatility like this, she's a few degrees of precision in her linework away from being another Guido Guidi. Considering she manages to keep her characters looser and more expressive than Guido sometimes does, it's a worthy tradeoff. There are times when nailing the action and emotion beat being on-model down to the micrometer, and an `80s animated action movie is definitely one of them. There are a few twists and new designs introduced within the story, and they're quite nicely done as well. I almost wish the new designs smacked more of Floro Dery, but they're more grounded in design, more in keeping with the Season 1 & 2 look of G1. But there's also an escape pod that might just skew a little bit Rod...
Tramontano is joined on colors by John-Paul Bove, and while the pair work well together you can make out minor differences between pages done by different colorists if you know what you're looking for. While I can't be absolutely certain of who did exactly what page, I can see patterns based on the artists' previous work. Tramontano's pages are colored in a style very reminiscent of her RID work, with her foreground characters and props using solid colors with simple, glossy highlights and shadows. The backgrounds get a slightly more muted, nuanced palette and approach, which is a pretty good mirror of how the cel-animated movie itself looks. The pages I believe to be Bove's keep up with that idea fairly well, but just as with his work in
ReGeneration One
he veers towards a more complex approach that isn't
quite
as much in keeping with the source material as Tramontano's. The effect is far more understated here than on ReGen One, however, and the two styles flow pretty well unless you're looking very closely with a mind towards telling the two apart.
Besides the story itself, we get a short essay from Easton to introduce us to him and detail how he got the job, plus a brief look at the comic at every stage of the process from script to lineart to colors to lettering. That's always fun! Lastly - and this is a super-smart move by IDW - there's a few pages giving an overview of the current IDW universe to those who may not be familiar with anything but Transformers: The Movie. Here's hoping some of those people make the jump.
I loved
What If?
, I still enjoy TF:TM, and I love one-shot comics with self-contained stories. And this is
more or less
self-contained - it provides context of course, but you're obviously going to get the most from it if you've seen the movie. But obviously, this is right up my alley. Every once in a while it's nice to shake off the shackles of complex ongoing continuity and just wing it and have fun - and this is a Transformers comic that does that. Definitely a fun read for people of the G1 generation.
| | |
| --- | --- |
| Reviewer | RAC |
| Date | March 15th 2016 |
| Score | (9 out of 10) |
| Reads | 6990 |
Back to Reviews Index