Click any image to view larger versions!
Find the rest of the G2 Menasor Set Reviews
Motormaster | Dead End | Drag Strip | Brake-Neck (Wildrider) | Breakdown | Blackjack
It struck me as I began working on this series of reviews. The G2 Stunticons as a concept are older than a fair number of people in the Transformers fandom or even the broader category of toy collecting who will be buying this set. For those people, this could literally be something they've waited their entire lives for. So without further delay...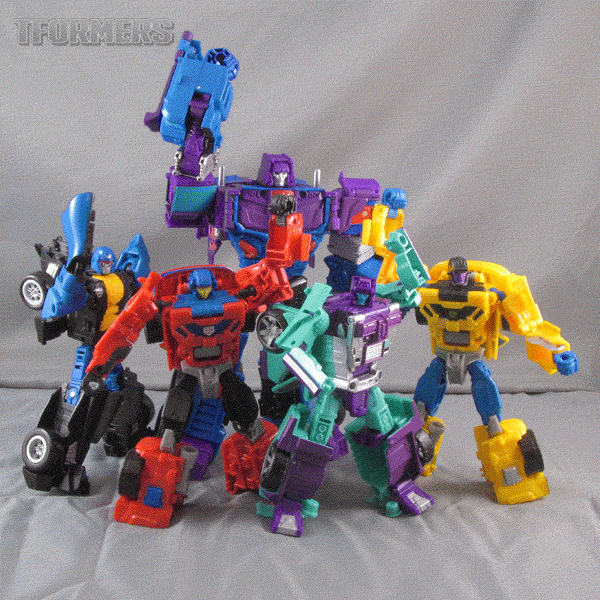 FLUORESCENT FUSION!!!!!!!
Let's not forget one important thing: Menasor is the worst of the combiners as goes the build. Beautiful colors do not change this.
Motormaster's arms still don't hold in the body well, and will try to unravel with Menasor arm movement, and the legs remain a borderline disaster. I've been told the revised ratchets make a notable difference, but the difference I see is entirely negative. The revised ratchets that helped the robot mode have wrecked the combined form, leaving it unerringly prone to toppling backwards. The original wasn't a picture of stability, but I could make it stand reasonably. G2 Menasor will not stand up without the arms being held out at least somewhat.
Neutral poses are impossible, since it will soon be laying on its back. Or as near as it can get. And this is especially bad since the awkward leg design already made posing difficult. There's not enough flexibility in the legs to try to offset the weight and keep it standing. And here I thought Motormaster's knees were gonna be the problem...
While the specifics may have changed, I'm probably not telling you anything you don't know already: Motormaster makes a bad torso, and outside of $50 or $60 worth of after market add on parts nothing is going to actually change that. 14
Happily, all our other players perform well. ...mostly.
Going with the default layout, Drag Strip works very nicely in the role of arm. The important joints are more than adequate to support the weight of the limb and the sword without a second thought.
And in the manner you're meant to transform Drag Strip, it gives probably the most clearance around the shoulder joint for a free range of motion.
I have to adjust the formation of Dead End on the arm to make sure there's the most room possible for the shoulders, otherwise the door panels get in the way badly. But in terms of joint strength, there's no issues there either.
And anybody makes a good leg!
The good news basically is that all the limbs have solid tolerances and are well able to withstand the rigors of any reasonable limb task required of them. You might not carry around an extra Deluxe or anything like that, but for accessory swinging and holding poses, all is well.
All is not well with Blackjack. This mold has never been a good fit in its prescribed role as body armor, but in general it would hang on in a neutral stance. G2 Blackjack will barely even do that. It is exceedingly rare that I can get it to stay put.
Now, I'm not actually bothered by that. I don't care for this Legend figure integration, and I don't mind keeping Blackjack separate since I like the figure a lot. But if having all six of them put together is important to you, it's a thing to be aware of that this might be the worst at doing that yet.
Now, let's talk about happier things: Colors. So many colors. The way I see it, there's only one strike against this G2 Menasor: Drag Strip. Solo, Drag Strip makes good use of blue to avoid being just a mass of black. But in at least the arm mode that blue gets downplayed a lot. So you have torso and three limbs of vibrant color... and then the black arm. Yeah, it's accurate to the original, but it's such a mismatch visually it takes me out of it a little.
For color balance, Drag Strip makes a better leg. The blue is more visible, and matching the blue on Motormaster makes it feel tied in.
So I tend to go with Brake-Neck and Dead End as arms since it makes the best visual result, even if you lose the best arm.
But just look at this beautiful chaos. My eyes burn every time, but yet I cannot make myself not gaze upon the saturated beauty of this combined form. I think color layout is also a good reason to just leave Blackjack off. Blackjack is the same violet as Motormaster, and so mostly blends in.
It would contribute some cyan in the chest, which wouldn't be terrible. But the upper body already has cyan, and to use Blackjack's cyan bits means covering the existing areas. There's not a net gain out of it, so might as well just skip it.
There's not much more to say about Menasor. In general, the set has really good parts fit in important places that benefit the combined form. But the torso is still the same old torso. There's not really a functional motivation to pick up this set, it isn't that significantly better than the first release. This is going to come down entirely to if these colors either mean something to you because of what they represent, or because you like the kind of crazy coloring just for its own merits.
I'm personally very very pleased with this package, for both of those reasons. I think the best way to say what this has done for me is to put it like this. I've been very much at the point of mold fatigue with Combiner Wars. It's hard to get me excited about additional releases because it's all stuff I have in sometimes great numbers. The only thing that can push me is to utilize deco choices to make them really interesting in some way or another. And this did that.
Getting a modernized version of a long ago cancelled product is pretty cool. But coming away with a bunch of figures in colors that make them interesting and even exciting in their own right? That's what made this a truly enjoyable set.
| | |
| --- | --- |
| Reviewer | ExVee |
| Date | March 26th 2016 |
| Score | (7 out of 10) |
| Reads | 7643 |
Back to Reviews Index