The DJD's theatrics allow the stranded crew a brief reprieve inside the Necrobot's fortress - an opportunity that will not be wasted as everyone begins searching for some means to survive the coming storm among all of the advanced technology held within. But an unexpected discovery may reduce their options from few, to none. "The Dying of The Light, part 2: The Sun in Flight" written by James Roberts, art by Alex Milne, colors by Joana Lafuente.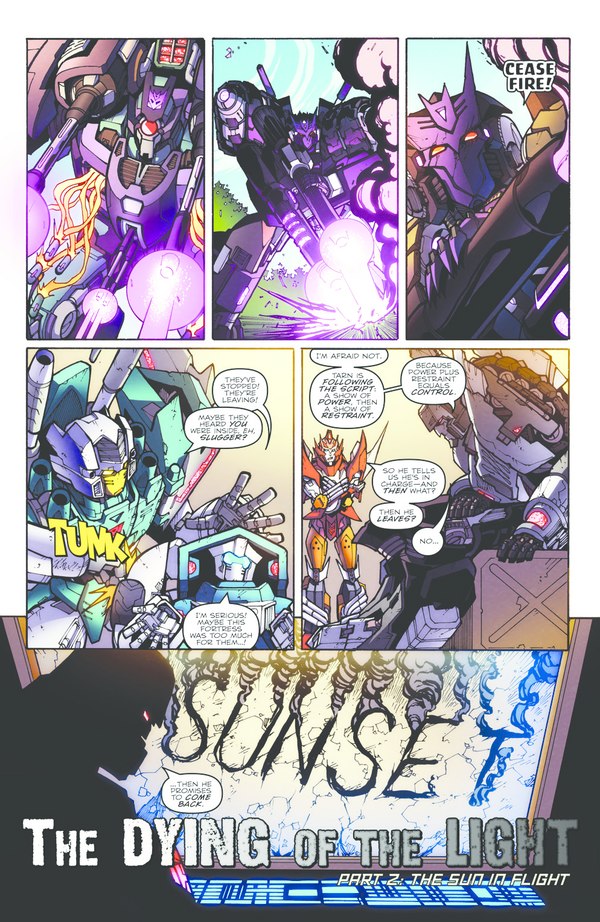 Get it? The Dying of The Light? The sun vanishing below the horizon? It's a symbology thing, and...
This issue reminds how much protracted stories in this title structure out like a movie or TV show. This is very much an "act 2", as the cast begins seeking the magic exit door that will spare them from the doom just outside. Of course we know to begin with that they won't find an escape. Besides that it would generally undermine the remainder of the multipart story, we've also seen the future already to know they're unsuccessful at finding an escape. But that's fine, since the act of the search is only a method to uncover other important plot details. Both for right now, and for farther down the road. The long form plot that's been brewing since the end of "season 1" seemingly gets another box marked off this issue, although it doesn't lead us to learn anything - it simply deepens the mystery to be explored at another time.
I've felt more most of the last year that More Than Meets The Eye has been at its weakest state out of the whole run. With this issue I feel some of the strength coming back. I'm not ready to say a turnaround has happened - I'm not sure at all that it has or that once this story is done with, that it won't slide back to what it's been through its 40's. But right now we're seeing a focus on what gave this book a part of its strength: focusing on an end goal and having everything contribute toward that. The very episodic nature of the preceding issues is surely conceptually nice in order to build the characters and lay down small, subtle hints and foreshadowing for stuff to be done way later. But spending most of a year doing that it's not hard to understand why it looks like you've lost your way. I am very pleased to see that this story seems to be finding its traction and will hopefully carry that through the whole way. It's been a while since we had this kind of MTMTE story and I've honestly feared that even this would find itself slipping down in the rut that's been worn over the last little while. Having looked back on things, between issue 15 or 16 and then issue 39, there had barely been any chance to just take a detour and pretty much not do anything. Then suddenly we get ten-ish months of just screwing around with little or no story progress. Looking back on it like that, I can start to see exactly why I have problems with the book since Elegant Chaos wrapped up. With any luck, after Dying of The Light is done, we'll get a better balance of "plot" and "non-plot" storytelling to help keep things from feeling like they're getting mired down again.
I'm afraid I have little to say about the art. The colors are excellent, but that's to be expected since Joana Lafuente is pretty fantastic at what she does. There didn't seem to be a lot of chance for creative coloring choices or one of those really standout pretty panels made so by her coloring choices. About the closest we get in Intense Purple when looking inside a Decepticon ship - as one would expect of such a place. The final page splash is quite nicely rendered on both the line and color sides, and will probably be a welcome sight to longtime readers even regardless of the specifics of the art.
I unfortunately found that the lines didn't seem quite to top of game. I think some of the problems which come down to pages being too crowded with panels and so everything gets compressed a lot to fit has as much to do with having to follow scripting instructions and is not a specific shortfall of the artist. The result is places where characters get a little indistinct and even muddy. At least one group shot is hard to pin down everyone who's present just because it's so squeezed in to place and some of the characters become downright tiny. There are other similar situations where it might not be a compressed crowd of characters, but possibly important visuals for the plot end up very small and even hard to make out on the page. The technical level of the lines in the issue stays quite high, so this isn't something I'm faulting Alex over. I think maybe the issue was written too crowded and Milne was just stuck with making it work. On the greater whole, it's a fine looking issue, just those spots here and there that make you have to stop and squint.
Finally, let's talk about the subscriber cover. This is a lovely piece of art by Andrew Griffith, just showing Tarn - or rather, Tarn's upper body filling the frame, splattered with energon. If you've seen the solicits for issue 52, this may be a preview of sorts to what we could see there. But on its own, with the back lighting and surrounding darkness, this is a very powerful image, and a great alternate cover for the issue!
The solicit for next issue is one of the shortest I've seen: "Megatron vs Tarn" ...or was it "Tarn vs Megatron"? Either way, I wonder what happens in that issue...?
| | |
| --- | --- |
| Reviewer | ExVee |
| Date | March 28th 2016 |
| Score | (7 out of 10) |
| Reads | 4365 |
Back to Reviews Index