Optimus Prime must address the Council and attempt to justify his actions, but Starscream will let the colony delegates see nothing except the beginning of a history of conquest by Primes starting to repeat itself - a point of view Optimus does little to refute. Meanwhile, Arcee and Galvatron take a moment to catch up and talk about the current political climate. All Hail Optimus, Part 3: The Medium And The Message, written by John Barber, illustrated by Livio Ramondelli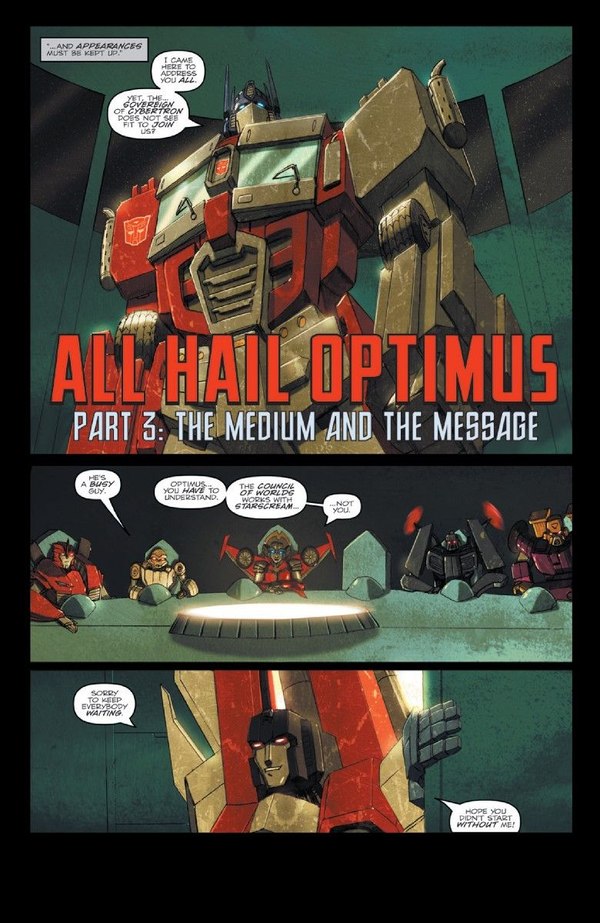 Oh wait, that's not an art error, it's continuity with the last issue!
One of the better aspects of this storyline is the general lack of support Optimus is getting for what he's doing. While it's not particularly an element of this issue specifically, even the followers he's keeping right now are really with him more out of personal loyalty than a belief that what he's doing is actually the right choice. This is carrying through the strength of this premise, where it's essentially the lowest low point yet for the character that has no personal direction and hasn't for a long time. While something needs to happen by story's end to kick Optimus off in some new direction, else this all ends up more or less pointless, it's still working well in terms of carrying on the long game story of Optimus Prime, Ineffectual Autobot Leader. The problem is that it looks like this is also trying to lay groundwork to change who Optimus is on a fundamental level. I forget offhand which previous issue it was where they initially began going down this track, though I know I've talked about my concerns toward that specific end before. And this issue seems to be reinforcing that direction. I'm really hoping that by the endgame of that, there will be some kind of subversion and it won't turn out literally like it seems is being called for right now. But it's pushing harder than I'd like, and that's making me worry.
We have a decent helping of Robot Politics this issue, with Starscream playing both the council and Optimus pretty well in order to undermine any possible support Optimus might have found. I like getting the reminders that Starscream is in the position he's in because he knows very well how to play this game. For better or worse he has earned his way in to his office, and he continues proving that as often as is necessary. And it's another aspect of this story being fun that while Starscream is opposed to Optimus, in this context he's pretty solidly in the right. The development Starscream has received over the last few years has been one of the best long term things in this title, and it's these moments that help remind of that fact.
I think this issue plays a little more strongly than last in general. This is a bridging issue between the front and back half of the story, clearly. But this one is actually in the place to do so rather than feeling like it's mishandling its time, and it gives enough development to feel worth being here. The proof now will be in whether part 4 will carry through and give us the right momentum to move in to the conclusion. But part 3 really did its job well and pulled me back in to the story from the weaker point we left off from last month.
This might be one of Livio's better efforts with the interiors. There are still structural oddities that typify Livio's style, but they only hit extremes occasionally. And for some characters like Aileron they actually remain pretty close to their standard appearances. Other instances like Blackrock's face go off the other end, and Soundwave never looks right... but I feel like overall there's a net gain in terms of how the characters are being represented in this issue. Action is also generally more readable than I am used to, for the short time that it takes place during the issue. Even some moves with comparatively subtle set up present clearly enough that you can understand the situation and know what's going on - something I have not always been able to say about Livio's work.
What's probably helping this more is that the filtering and texturing in the coloring stage are way, way lighter than normal, so it's possible to actually start to see what's going on under it all. The interiors have a far cleaner look than anything else I've seen Livio do, even including the recent Redemption one shot. The colors get to be brighter, the structure of the lineart survives more distinctly, and it greatly improves the visual readability of the issue. Some things still don't exactly work out. Skywarp's half-phased existence ends up represented just as a glowing pink outline that doesn't really convey the idea well at all compared to how the art in all prior issues handles it. But that's a small nitpick, and that's kind of the thing I'm having to come down to with this because the presentation honestly is a lot better than what I had expected based on past experience.
Livio has gone through up and down phases in terms of art progression, but this is to my eye the best he's ever been for a full issue's worth of interiors. I hope that this will signal a new trend in his work, because if he keeps along this path and some of the new artistic choices I'm seeing here, I'd feel a lot more comfortable seeing him come up as a fill-in from time to time. There's still more than a few things I'd like to see different - a generally brighter coloring style for one thing - but I'm really seeing a track here right now that I think can work for me if it comes down to it.
| | |
| --- | --- |
| Reviewer | ExVee |
| Date | April 19th 2016 |
| Score | (7 out of 10) |
| Reads | 3476 |
Back to Reviews Index