Ravage bails out the unlikely reinforcements that have arrived before the assembled Decepticon forces can overwhelm them, but their shuttle is shot down, forcing them to crash near the Necrobot's fortress. Elsewhere, Megatron negotiates his surrender to Tarn, in exchange for sparing everyone else on the planet, but this is not the endgame Tarn desires. The Dying of The Light, Part 3: Your Fierce Tears, written by James Roberts, art by Alex Milne, colors by Joana Lafuente.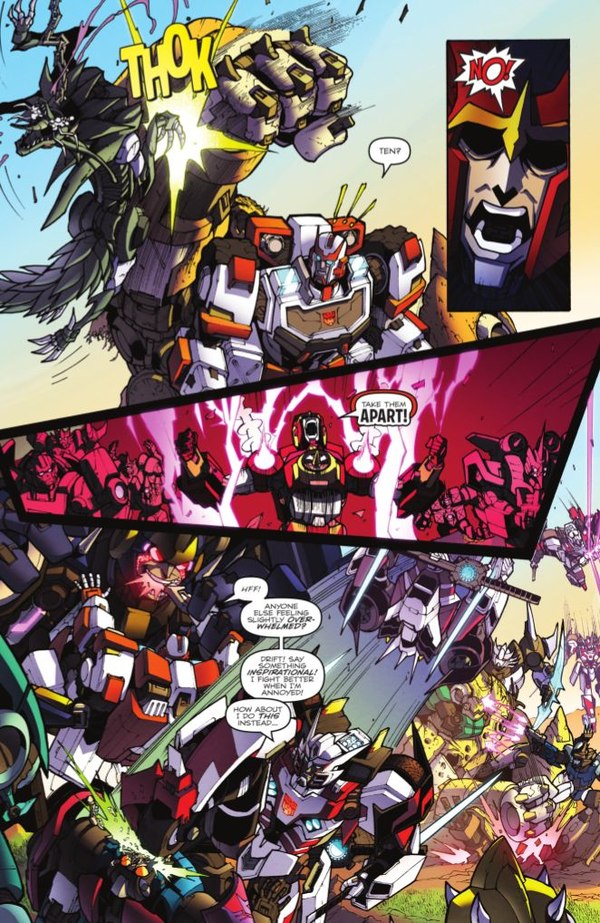 This is... this is really just kind of a bit too crowded to be entirely clear.
This issue was going okay for a bit. It kind of establishes how Ratchet and Drift showed up on the Necrobot planet, and even their somewhat convenient escape from being overrun by the DJD and Deathsaurus's Decepticons is covered in things that were clearly set up beforehand, as well as laying out a way to make the assembled Decepticons momentarily pause their advance. Like, all this is fine and makes sense and I can work with it. Nothing's making me feel insulted as a reader. So then we go over to Megatron and Tarn having their meeting. And even a lot of this plays out in a way that makes a lot of sense. Tarn's identity is danced around a bit, because of course it is, but it's handled in a way I can live with because it actually starts to make it like his actual identity doesn't even really matter. Now, that being said if this does end up being like Senator Shockwave and who Tarn was before he assumed the title of Tarn is more or less common knowledge (something implied given his pre-DJD appearance in Skids' flashback only refers to him by rank and not name, though Skids didn't make any appearance of knowing anything about him) that's going to bother me just for being a repeated story device. It would be disappointing if the only way this can be handled is by recycling the hook of an earlier plot. But I also think it'll be disappointing no matter what because the matter of Tarn's previous identity has been played at for so long that it's lost any shock power it might have ever held because there's been enough time for pretty much every conceivable theory to be presented. But I think we're getting a little off track. While I was expecting some subversion of the concept of "Megatron vs Tarn" that the solicits promised for this issue, it really plays pretty straight and I'm not sure if that disappoints me or not. But I didn't really have a lot of time to think about it, because something else happened that eroded away every bit of good will that the previous issue and the good parts of this issue had worked to instill in me after my increasing slope of doubt from all the prior issues.
Obviously I can't actually say what happened because hey, that's a hell of a spoiler and I'm not about doing that. But I will say it's almost literally out of left field. There's no establishing it, no workable basis for how this happened in any direct, immediate sense. Some small amount of backstory is offered, but not in a way that serves the event at hand at all. A plot device just walks up half way through the issue, and we're just expected to accept it because it's there. No. I am not having that. This book has been and should be better than that. Presenting what it's presenting here needs more work to be earned. And let me not mislead you, the sparse background given makes complete sense in terms of a broader context. But there is a complete and distinct failure to provide a basis for this happening right here, right now. It's simply here because that's how the story was written and we have to just take it. It's particularly weak writing and it greatly disappoints me. Even giving more support to it next issue, for instance, won't fix this. It needs to be here, now. It needs to justify what's going on and validate its existence in the story at this moment. Unfortunately, this is something that I simply cannot get past, and it has thoroughly harmed the entire rest of the issue for me.
The art side feels like a bit of a mixed bag. The fight scene that the issue opens with is pretty crowded, which is not itself surprising or a bad thing as such. But maybe because of a combination of how it's drawn and how it's colored it does get a little difficult to figure out where one body ends and the next begins, especially with the sometimes odd builds of some of the Decepticons. And honestly, again, some visual overcrowding of the pages causing some panels to be smaller than they really should be for the amount of things in them. Maybe we need less dense scripts or something to help correct for this, but I did have some trouble following the action in places. Where things have more room to spread out, the results are largely better.
What I really enjoyed was how the coloring gradually shifted with each page as the sun came closer to setting, ending up casting a much more red-orange light on everything. It's a transition that you might not even notice until you're a few pages along and suddenly everything's rather more tinted, and then you can go back and see the progression of it. It's really fantastic color work. Likewise there's some nice moments of backlighting that are well realized. The small inset panel in one of the first pages lit entirely red by Kaon's furious energy discharge is also a nice effect. It's pretty much the standard excellent coloring job, at least when there's not such a concentration of characters with similar colors bunched together that it ends up difficult to distinguish between individual figures.
From the covers, the main cover is pretty good, and basically a literal depiction of a scene from inside the issue which I tend to think is a good thing. There's a fun incentive cover by Brendan Cahill and John-Paul Bove with Megatron, Ravage, Cyclonus and Whirl, which I want to say is a tribute to something else that I just can't think of at the moment. But even so, I like it conceptually just the same. There's also a two part retailer exclusive cover by Juan Carlos Ramos, that forms basically a miniposter that's a pretty nice overall image, though the character styling on it is not my favorite. The winner for this issue though has to be the subscription cover, by Hayato Sakamoto and MGR, featuring the DJD and Deathsaurus and his troops doing a kind of "hero charge" over a hill or ridge. It's a very dynamic piece and is a good opposite number to some of the big cast shots covers we've gotten from time to time. Plus it would make a nice poster. And now that I think on it, I hope Sakamoto wasn't selling prints of this at Botcon, because I'd be sad to find out that I had missed out on this. Oops. Anyway, it's a fairly good month for covers, since I wouldn't say any of them are bad or even unappealing. It's a really strong assortment no matter which ones you'd end up having access to!
Next month: Part 4! Or as I'm afraid it'll end up being, more wheel spinning to kill time before the climax. But by going with low expectations, surely I will be pleasantly surprised! ...right?
| | |
| --- | --- |
| Reviewer | ExVee |
| Date | April 26th 2016 |
| Score | (5 out of 10) |
| Reads | 4797 |
Back to Reviews Index