Death approaches, as certain as the setting sun. In these final moments before a hopeless battle begins, unexpected discoveries answer questions long held, and important choices are made that will change lives from here going forward - for as long as it lasts. The Dying of The Light Part 4: At Close of Day, written by James Roberts, art by Alex Milne and Hayato Sakamoto (pages 14-18 only), colors by Joana Lafuente.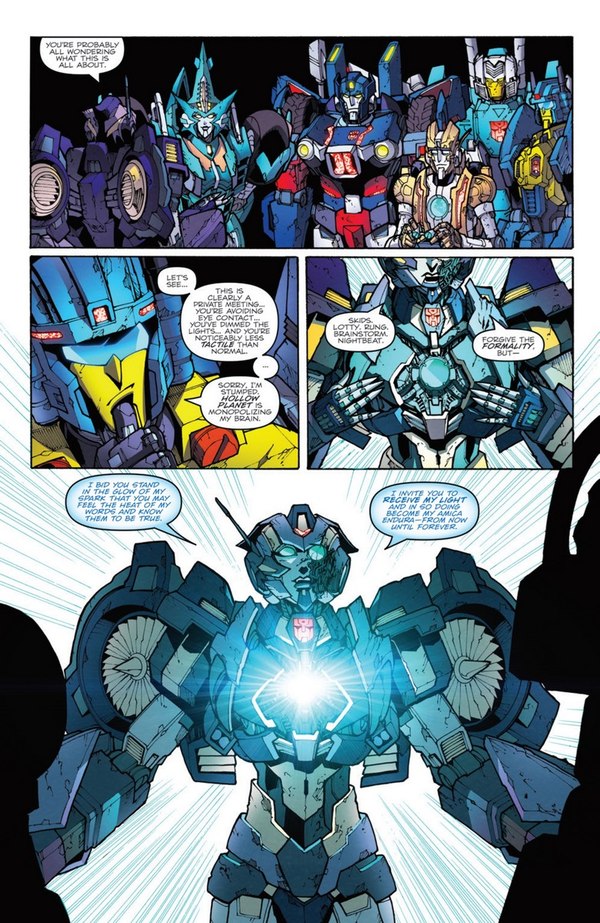 Look, the preview already spoils it, and it's pretty, so let's just go with it.
Okay, so since the preview already gives this away, I'll go ahead and talk about it in a bit of detail. Part of this issue is taken with Nautica declaring amica endurae relationships with a few of the others - effectively officially making them her best friends. There has been some low degree of attention paid this for a while showing her getting close with a few members of the crew, leading to speculation in the readership of who she might form a romantic bond with, and that has carried through in this storyline a little more plainly. While the given outcome is better than that, since I think the most invalidating act to be carried out against a female character is to define her by what other character she engages in a relationship with, I feel like shades of that are still present. Nautica has contributed little or nothing material to the current situation. Fictionally she's with the others because she's part of the "problem" group Getaway weeded out, but in a real sense she's here because she's a main cast member and need to be present, whether or not she has anything to actually do. For what it's worth, I feel the same about Swerve being along for this. But Swerve has not been reduced in his participation in this story to just how he chooses to define how he relates to other members of the group. Nautica's presence culminates in only that, and it feels like a distinct disservice to a character that was introduced some time back feeling a lot more interesting a promising. Treatment like this only serves to make me think that she's been put on a dead end and no effort is being put towards actually making something out of her.
As a counter point, the behavior here is realistic. Expecting to die, it's maybe kind of important to say things you've been holding back since you won't get to later anymore. So the use of this element in this story is valid, likewise the fact that this act could not support a story all on its own. It needs to be part of some other happening because as it is here, it's set up and done in just a short few pages. That's the thing, I don't really have an issue with the motivation or the fact that it's included here. That part's all fine. And if Nautica had gotten more attention and development other than this lately, I probably wouldn't be complaining at all. But she more or less went missing for about half a year, only to come back as a featured player only to do this. It's simply not sitting right with me no matter how otherwise correct this might be taken alone. And this is just the problem I can talk about in detail!
See, there's another problem I have with this issue, and boy is it a big one. See, we get a long standing question answered in this issue. It's something that honestly would carry a pretty substantial impact, especially given the way it's resolved. Unlike Nautica, this could very easily be spun out and made to carry its own entire issue very easily from the process of discovery, to the action, and the consequences it brings. It would be a really powerful thing for the characters in question if taken out, focused on and given a solid chance to be a thing. It's that big of a conceptual impact. But here? Nah, it's a couple pages and it's done. Not only has a huge piece of narrative potential wasted as practically a footnote to an almost entirely unrelated story, but the outcome ended up being majorly convoluted and even contradictory to things that we've been shown in the past. And like, I don't even care about this plot point. I never have, and it still makes me this irritated that it was just dropped in the middle of things like this. I can't comprehend why this ended up being the right time, right place to bring this out and put it to bed. Of course with the promise of character death next issue, maybe anyone who actually has any connection to this is going to be killed off and so it had to be taken care of now or never at all. But I can't even take that as an excuse. We wasted a lot of issue space in the 40's that could have just as easily been used to give this question the resolution required in a way that would actually make it feel like it mattered and not just to get it off the table. Or worse yet, leaving it feel like it was only thrown out in order to stretch things out and pad for time to put off the inexorable march to what I'm more and more sure now will turn out to be an anti-climax.
Hayato Sakamoto helps out by contributing a few pages to this issue. Apart from the look of the faces, he's blended in well with Milne's lines. It was in fact my second read through the issue when I noticed Sakamoto's credit on the cover, so I actually didn't even catch the change between artists on the first pass. I regret that I don't have very much in particular to say about art in this issue. I think the panel on the last page of the preview shows solid work between Alex and Joana, and the first panel on the first page is actually done really nicely too, with the stark contrast between shadow and the last bits of dusk executed very very nicely. But with most of the action being indoors this issue, there didn't seem a lot of space for special coloring tricks, so while all of it, lines and colors both are at their typical impressively high level of skill, very little manages to stand out from the crowd. Although! On that note I was happy to see this issue had fewer pages where it seemed like so much was crammed in that it got muddied and overcrowded looking, so that's a point I should raise in its favor.
In covers this month, the winner is the subscription cover by Hayato Sakamoto and colored by Josh Burcham, which depicts the current heavy hitters among the Decepticon forces. It's a very nicely composed piece, and I always have enjoyed Burcham's coloring style that gives just that little bit of texture to make the finish not seem so perfect - it makes it look more like old print material which is something that I really dig in my print material.
So, check back here next month to find out if this story finally gets somewhere, and see just how honest the solicits are being about there being a death toll - and if it's anyone who actually matters! Place bets now!
| | |
| --- | --- |
| Reviewer | ExVee |
| Date | May 24th 2016 |
| Score | (5 out of 10) |
| Reads | 4212 |
Back to Reviews Index