The mighty Superion is outnumbered and alone against the forces of Galvatron's combiners, compelled in to existence by the power of the Earth Enigma. The Autobots are unable to do anything to overcome the Enigma and can only stand by and watch deep beneath the sea. On the surface, the humans have Optimus and Soundwave cornered, and as far as Soundwave is concerned, fighting back is the only option. All Hail Optimus Part 5: "As Above... ...So Below" written by John Barber, art by Andrew Griffith, colors by Josh Burcham.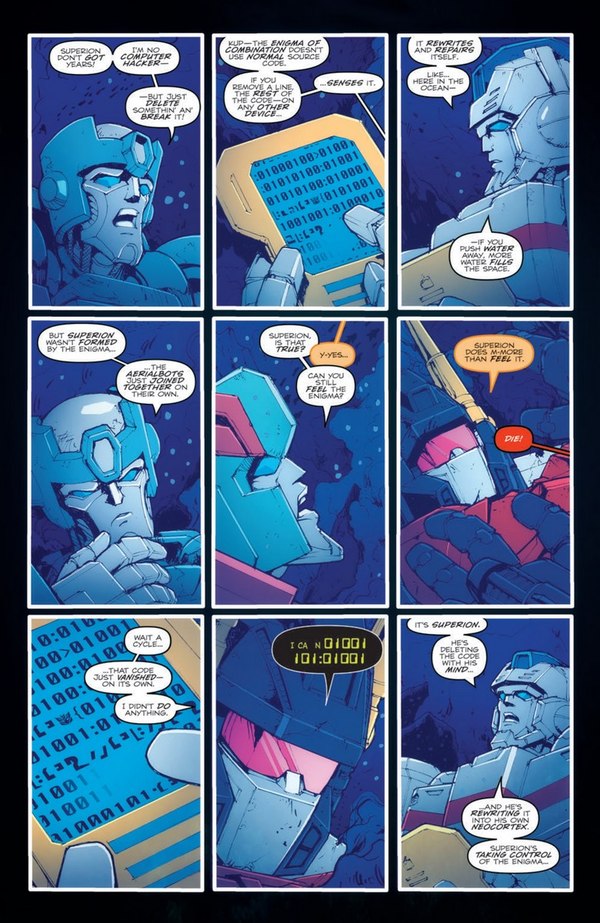 You know, I bet they're really glad now that Starscream coughed up the extra cash to get a Superion with a wifi card installed.
We're closing in on the end, and with the events of this issue things will have to be pretty different once everything's over with. But I can't talk about most of that, since it's very spoiler heavy! So let's go over some of the stuff I can talk about. Aileron is continuing her progression, functionally abandoning Optimus Prime to go and stand with Soundwave to fight the humans. Soundwave wants to defend himself, but Aileron is plain and simple out for revenge over the death of her best friend. She's been taking steps along the path ever since that happened, starting with approaching the White House to demand a surrender, and subsequently calling out humanity as their enemy. This is I think the first time she's been ready to stand and start killing humans just out of her anger. While there's more to it than being okay with killing humans, I just can't help but look at how she's being developed and thinking that Optimus Prime has basically gotten her started on the path to being a Decepticon. While it probably won't come to that specifically, you can certainly say Optimus has pretty well ruined her by allowing her to tag along on his private quest that he should have known would basically become a war. It's kind of interesting since she was one of the influencing factors in him taking the step to annex Earth for its protection. But I think it's not going to be long at all before she denounces him entirely. And you're not gonna hear me say she'd be wrong for doing so. But if any part of this exercise was for Optimus Prime to try to find meaning in his existence and show even just to himself that carrying the title of Prime wasn't an inherently bad, destructive thing... well, this isn't gonna help much, is it?
Another good bit we get has acknowledgement of Superion's unique status as a combiner, having not been initially formed by the Enigma. Whether it was necessary to save the Aerialbots and get them functioning again seems to be less important. The different nature is what leaves Superion as the only combiner not completely subject to Galvatron's control over the power of combination. I have no trouble believing this was part of a long game plan that was just waiting for the right chance to be put to use. Before Combiner Wars the event started we already had a reference to the Earth Enigma set up, in issue 38. While I was expecting a different implementation, it still shows the things that happened now almost a year and a half later were already being brewed. So while the progression of events between last month's issue and this one is still of a kind that I really dislike in fiction in general, I can give it a break just because I can so credibly see it as having been all long since pre-arranged to happen this way. In another time and place something like this would feel a great deal like a form of writing oneself in to a corner and inventing an escape mechanism out of nowhere. I hate writing like that. Even if this comes to a similar result and I wish it didn't, at least I don't feel like it's a scramble for a solution to keep things going more or less on a normal pattern after doing something big.
Artwise, it was fun to see Josh Burcham doing colors on this issue. The coloring shows a blend of his distinct style while trying to keep some consistency with the normal appearance of the book. So it's not as "old print" looking as his Sins of The Wreckers work, and not as sterile fluorescent light as his run on More Than Meets The Eye, but it's still recognizable to the point that I was on Twitter asking him for confirmation right after the three page preview went live. It's a great look, and especially comes in to its own with all the underwater panels. But it's so unfair putting Burcham on an issue, because now I want to see both Joshes keep doing coloring on this book because I love the things Burcham and Perez are bringing to it. Why you do this to me?!
Griffith's lines show the expected level of technical skill. Though that may be a bit of a detriment in the situation of the combiner fighting, where the detail is a little bit much and things jumble together a bit. It's a little tough to work out the action here and there. Tell you what though, that aspect aside I really dig the composition of some of the panels here. The large page-filling shots are pretty much uniformly really nicely laid out, and there are some real winners among the smaller panels too. And if not for having to force really huge, detailed characters in to small spaces on some pages, I don't even think I'd have the problem of trouble tracking all the action. And either way it's nice to see Griffith's version of the improvised combiners.
On covers... well, the credits page on the copy of the issue we received featured the wrong set of covers. The main one definitely looks to be more Griffith/Burcham collaboration, but I'll offer my apologies if I've guessed wrong on that one. It's a nice under the sea portrait of Superion, which does a good job of reflecting the themes of the issue. The subscription cover is a Casey Coller piece, which also is pretty indicative of events within the issue, though maybe not quite in the way you would think just going off this image exclusively. And the incentive cover is by Sara Pitre-Durocher, featuring nothing that happens in the issue! But if you wanted a picture of Windblade, Aileron, and the Torchbearers relaxing together - as much as Pyra Magna seems capable of relaxation, anyway - you're totally set with this cover! All told, a very consistently strong showing in this month's covers! Well done!
| | |
| --- | --- |
| Reviewer | ExVee |
| Date | June 14th 2016 |
| Score | (8 out of 10) |
| Reads | 3641 |
Back to Reviews Index