Someone is taking a very forceful look into the minds of Decepticons... and the most obvious suspect is
kinda
the ruler of Cybertron. But like everything with Starscream, it's not that simple. The third ongoing book is here!
"07:00:00"
is written by Mairghread Scott with art by Sara Pitre-Durocher and colors by Priscilla Tramontano.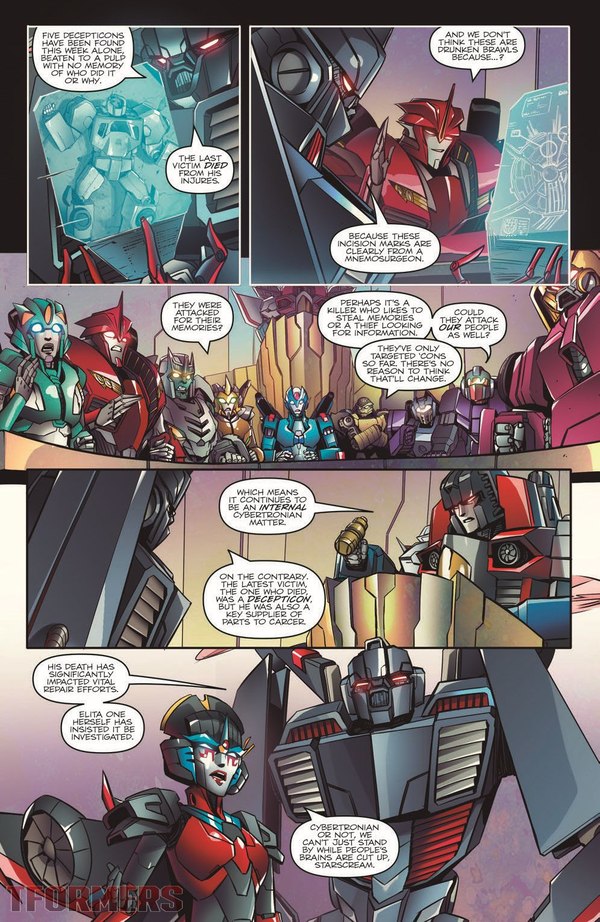 Look at all the varied looks of shock and dismay... and Starscream's expression carefully hidden by the framing. Nice!
Swindle Lives.
Or so the Decepticons say... and someone is attacking them and looking into their brains for it. It could be the Badgeless - Starscream's security force - who have been cracking down on Decepticons in recent months. But if so, an external investigation is needed, something that Starscream opposes. But with the most recent victim being one of Elita-1's suppliers in the restoration of the Titan-ship Carcer, that's enough to bring the Council of Worlds into the picture. In the Decepticon ghetto of New Iacon, the other four Combaticons are dealing with the loss of Swindle to varying degrees and just trying to get along, but an unknown informant is trying to convince them of what everyone else is already saying:
Swindle Lives.
And finding him will be the key to bringing down Starscream.
First things first: I looked it up, and I hadn't realized before that "Till" is in fact correct usage and spelling. I'd only been familiar with the alternate spelling "`Til." So hey, I learned something today! Good start for any comic.
Till All Are One
marks the return of Windblade writer Mairghread Scott, and we're picking back up with a cast of characters she's pretty comfortable with by now. TAAO was promised as a broadening of the scope of the comic since there's more going on with Cybertron than just Windblade - and there's definitely a feeling of less focus on her, even though she's still here and still a major part of things. We get more time with Ironhide in particular, who is in the thick of the unfolding plot. The interesting thing about that plot is that while it looks like a murder mystery at first blush, by the end of the issue we have a pretty good idea as to whodunit. The answer is appropriately complex, and there are multiple factors at work, and there are still plenty of things yet to be known - but the mystery of the murders themselves is downplayed, in a certain sense, in favor of the impact on the bigger picture. I like that.
And that's the best thing about this issue: this feels very much in the spirit of the early days of Ex-
Robots In Disguise,
the arc ExVee and I affectionately refer to as "Robot Politics." The scope of things has broadened with the addition of the Council of Worlds but the factions, the balancing act, and the managing and preservation of a fragile post-war peace is all here. Though, to be fair, the latter is more "the managing and preservation of the Starscream Administration" - but that's inevitable and appropriate when comparing Bumblebee and Starscream's management styles.
Ever since her debut last year on the
Combiner Hunters
one-shot, Sara Pitre-Durocher has been an artist whose work I've greatly looked forward to.
Till All Are One
is her first series as regular artist, and it's well deserved. There's some really well-staged panels in this issue, like the one I called out in the caption above, and the art is clean, sharp, and easy to follow. And she's great at faces, which is in my opinion the most important skill a Transformers artist can have. The faces here have a certain necessary softness; not in the sense of being indistinct, but in being fluid and emotive. There's some great expressions in this issue - Starscream's especially. It's the
right
level of detail, expressive without being too rigid, too human (in an anatomical sense),
or
too alien, all of which I've seen done by others.
Priscilla Tramontano is the colorist for TAAO, and Pr1ps and Sara work very well together. Her coloring style is extremely compatible with the faces, just to continue on my point from the previous paragraph, and her smooth shading looks great here as well.
Windblade
was a comic that frequently - and I think unfairly - drew criticism for how different it looked from
Robots In Disguise/The Transformers
and
More Than Meets The Eye
. But regardless of my own feelings about how
Windblade
was received, this is not a problem I foresee people having with
Till All Are One
. It has its own distinct style, but is definitely one that's a comfortable fit with the other two main Transformers comics.
On top of everything else, Sara Pitre-Durocher is a fantastic painter who has done the final colors on a variety of Hasbro package art - Victorion's included - and the main cover art shows her in top form. Her flair for lighting is very much on display here, and the hierarchy on the cover reflects what's going on inside the issue very well. Combaticons on the bottom, The Council of Worlds above them, Starscream on top (with Rattrap behind him in the shadows) - and Windblade and Ironhide trapped in the middle of it all.
But this being a Number One, we've got a
lot
of alternate covers here, and they're just about all great. Sara's Retailer Incentive cover, colored by Thomas Deer, shows Windblade hovering up by Metroplex's face and looking concerned. I like the sense of scale, and the coloring gives a nice subtle arc to Windblade's flight, which is neat. Priscilla Tramontano's subscription cover has a great image of Ironhide trying to figure out the connections between the victims and the Badgeless. It's a very film noir image, right down to the dimly lit room and the shadows of venetian blinds.
Then we've got just as many guest covers as we do guests by the regular creative team! Alex Milne provides two covers, both with colors by Josh Perez. The first, a second RI cover, is similar to the main cover in that it shows off the cast in a movie poster style. I'm not sure whether I like Ironhide and Chromia having a flex-off more, or the megalomaniacal glee of Starscream as he regards his kingdom, but it all makes for a fun image. The second cover - a TransMissions exclusive and probably the first ever run of a comic ever commissioned by a podcast - is an homage to Marvel's Transformers #18, with Windblade and Starscream subbing for Blaster and Straxus. This cover's in a much glossier, less painted-looking style as would befit an old Marvel cover. I also like IDW Prime in the corner in the G1 Prime corner box pose! Lastly, we've got a Montreal Comic Con exclusive cover by Livio Ramondelli that's another riff on a classic Marvel cover, this time the classic Bill Sinkiewicz cover for issue #1. Right down to the hilariously outsized Optimus Prime crushing Starscream in his grip, as Tiny Ironhide chases Tiny Waspinator across Prime's legs. Windblade and Chromia take the place of the two human faces from the original cover. This is an homage where Livio's style works particularly well, and his art style anything strengthen the likeness to Sinkiewicz's original cover.
I really liked this, and I'm looking forward to the next issue. So far,
Till All Are One
is picking up where
Windblade Volume 2
left off covering Cybertron, the core of the IDW Transformers universe, and doing so quite entertainingly. Despite less of a focus on Windblade, what the book is actually about remains unchanged: the machinations of the Starscream Administration and the desperate attempts of the rest of the universe to impose checks and balances on him. All done by a writer and artists who clearly love the character.
| | |
| --- | --- |
| Reviewer | RAC |
| Date | June 14th 2016 |
| Score | (9 out of 10) |
| Reads | 5313 |
Back to Reviews Index