On the Necrobot's planet, the battle is joined as the small force of Autobots meet the full numbers of the Decepticon army led by Tarn, Deathsaurus, and the newcomer Overlord. But what should be certain slaughter does not come - and what's more, the Autobots start to push back. How can this be possible?! The Dying of The Light Part 5: Rage, Rage, written by James Roberts, art by Alex Milne, colors by Joana Lafuente.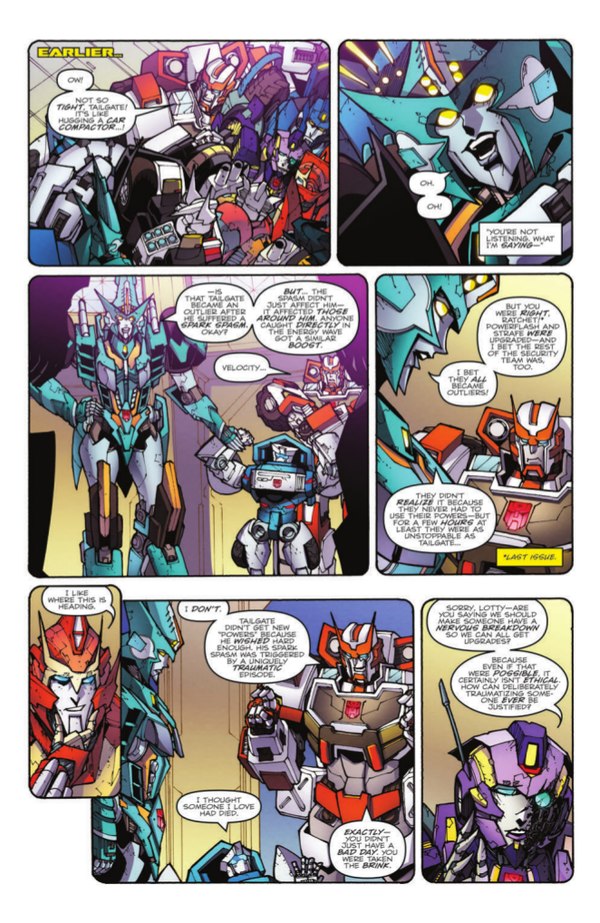 "And so the day was saved when everyone suffered a trauma so intense that it broke their final limit, and they at last ascended to become the most powerful warriors in the universe: the legendary Super Saiyan!"
You know, if I'm honest, I'm really ready for this story to be over. It has really overstayed its welcome with me and offered very little in tangible plot progression to make up for it. While the Dragonball Z reference in the image caption was inspired by a proposed solution in this issue, looking back I feel like there's been a lot of almost DBZ-style pacing going on. Our fifth issue in this setting, and only a few hours have elapsed in story, and to me much of that has simply felt like padding out to spend time. Namek has been on the verge of exploding for months, and I'd really like to just go ahead and get there.
I should have known (and maybe I did but forgot?) that Tailgate's magic super powers would end up becoming an all-too-convenient plot device. Because if Velocity's theory is right, and the principle carries forward, it seems like anybody can be made in to an outlier with a relatively simple action to induce it. That... No, I'm at my limit there. It was bad enough in my opinion that Tailgate despaired himself in to becoming a superhero at the sight of Cyclonus dying and that Cyclonus didn't even actually die in the process. But you know, as a one off thing maybe I can live with it. But I'm just not okay with it being a repeatable event that can be called on to solve an immediate problem. It goes well past convenient and perhaps in to contrived.
It's a little hard to even go in to much about this issue without becoming unacceptable spoilers, and that's a bit of a problem since there are notable things later in the issue that I just can't even reference right now. The solicitation blurb for this issue was not a lie, but the implication it might be seen to carry was also not entirely right either. There's a satisfying character moment or two, but they're quite brief and will not really end up carrying any weight past the panel they happened in, which I just find kind of disappointing, I suppose. So, I will go ahead and just confirm Tarn does NOT get unmasked this issue. And I'd say that because of some of what happens here, it has probably become largely pointless if he does get his identity revealed in the remainder of this storyline. I've of course felt for a while now that Tarn's original identity is not worth revealing from a narrative standpoint. There were a couple good chances left at that within the last year or so prior to Dying of The Light beginning, but neither was taken advantage of and I truly feel that we've turned the corner and have gone beyond it even mattering enough to do anymore. Again, I only even bring this up now because the only major motivating element from a story telling point of view is out of the picture as of this issue. I hope the same thing is felt on the writing and editorial side and the whole thing is left alone.
This issue is reasonably action heavy. Which is not necessarily to its benefit.Some panel crowding is in effect, which is not great in general, but of course makes the action harder to follow. And honestly I didn't feel like all of the fighting panels were composed as well as they might have been. Even just within the preview was a couple instances where I really couldn't tell what was supposed to be happening without really studying for a couple minutes. Take the second page in the preview - Because of how the large panel is laid out, everything is jumbled together, so besides not being able to immediately register the characters in the background barely visible around the huge foreground characters, even the action in the foreground is indistinct. It took me the longest time to figure out Drift was stabbing the bot behind him, and longer still to actually find the visual evidence of that; Beforehand, I was really confused since it looked like he was trying to take a casualty off the field. I didn't even notice until this afternoon that Ten was on the page at all.
And I hate having to deliver such a critical assessment of these pages, because later on there are some really nicely staged parts, as well as a full page image that I really love. But sadly most of the pages shown as the preview are not presenting the best art work that can be found in the issue. In some of these places, the colors are unfortunately not helping either. On the first page, for example, Ultra Magnus and Helex are rendered in such similar colors because it's getting to be night and dark, and the shot is colored as backlit because there's an explosion behind Magnus. But the result is that the two figures tend to blend together visually. Much like the linework, there is plenty farther in that makes up for any shortcomings in these first few pages, but it's not the best thing to try to sell the issue on.
Let's talk covers. The subscription cover by Nick Roche and Josh Burcham depicts Drift leaping to attack dragon mode Deathsaurus, and I so want to read this comic. No, not MTMTE #54. I want to read the comic where Drift travels around and fights huge robot dragons and stuff with this precise art style. Just this one image has sold me on the concept of a loose continuity adventure book built around Drift: The Wandering Warrior. The retailer incentive cover is another Windblade piece by Sara Pitre-Durocher, with Windblade visiting Swerve's and having a drink with her Camien friends, as well as Tailgate and Cyclonus. It's a really fun image, and while it has nothing at all to do with this issue, I enjoy it quite a lot as an individual art piece!
We're going to wrap up with a brief return of Toywatch! Notice in the first page how Swerve and Rewind are riding along with Magnus in gun turrets on his shoulders. While it may be something of a coincidence, it's hard not to look at that as being referential if not to the general design concept of Titans Return, then to the Transformers: Prime toy Optimus Maximus which had accommodation for Cyberverse Legion Class figures to ride along in a similar manner. Essentially, it's one of those toy gimmicks that feels like it'd be completely bizarre to see put in to practice in any serious fiction. But it ends up being kind of fun once we do see it. And I think that's a nice note to cap off the issue on. See you next month!
| | |
| --- | --- |
| Reviewer | ExVee |
| Date | June 21st 2016 |
| Score | (5 out of 10) |
| Reads | 4970 |
Back to Reviews Index