Tarantulas' plot is undone, at least for now. But the Wreckers still have to escape and get Prowl to safety as the entire world closes in on them!
Transformers: Sins of The Wreckers #5
is written and drawn by Nick Roche with colors by Josh Burcham.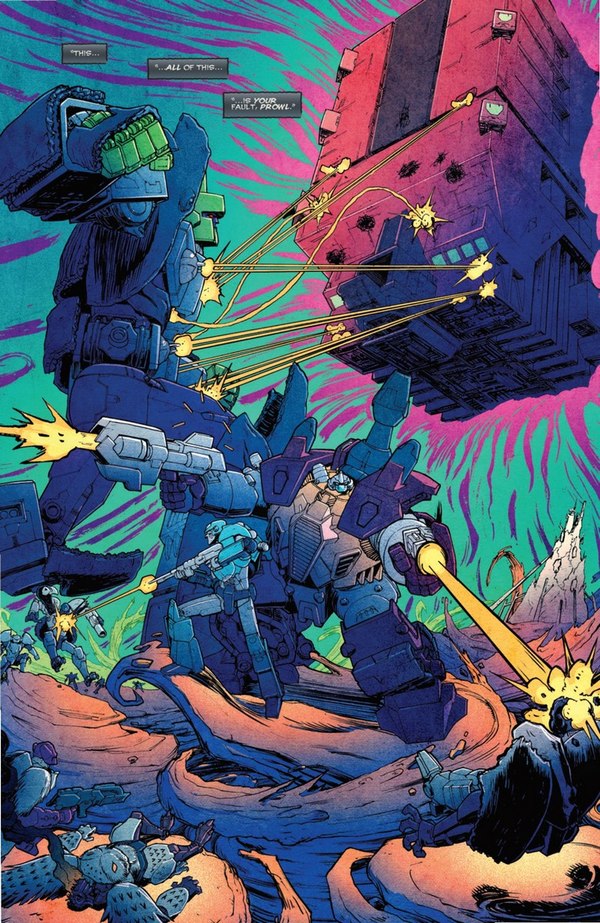 The IDW Transformers Universe summed up in one sentence.
In a way, I wish that
Sins of the Wreckers
had never really addressed the morality and motivation of revealing state secrets, because I feel as though its presentation on that subject was not fair to one side of the argument as I described before. On the other hand, its perspective on what war forces soldiers to do and how it affects them is far more sympathetic and reasonable. There's still a leaning towards giving those who consent to the commission of atrocities in the name of a "greater good" a tragic nobility that I feel is undeserved. But the central point - war ruins many of the people it does not outright kill - is a good one, and one that still needs made. And sadly, will probably
continue
to need to be made for as long as there are people.
What I do like though is the continuing characterization of Tarantulas, who despite being nuts knows how to needle Prowl. That needs done more often. Tarantulas has been the highlight of the book in a great many ways. The resolution of the plot is satisfying enough independent of any themes the comic is working with, and by the end of the book there are no major questions left to answer about the history of the Wreckers and its members. The one exception is a pair of decisions made at the end of the book by Impactor which seem rather contradictory. And sadly they're decisions which, taken together, are difficult not to see as happening solely to keep certain characters in play. If you've read the solicits for
Titans Return
or interviews with various IDW writers, it's not difficult to figure out who I'm speaking of here.
On the upside, Impactor's decisions also open the door to a possible ongoing series starring the Wreckers - and as hard as I've been on the plot and the themes of
Sins,
that's something I would like to see. I feel like a lot of what I'm not comfortable with in this series stems from trying to match the intensity and impact of
Last Stand of the Wreckers
- and that is a tall, tall order. In a regular ongoing comic, with that pressure lifted, I think we'd end up with something I'd personally be a lot happier with. Second albums are rough on artists, you know?
The art is still gorgeous, and watching giant robots fight an even more giant spider is fun in and of itself. You reach a point in reviewing a series where you've said everything you can say to speak to the talent of the people involved. Nick Roche is a brilliant artist and Josh Burcham a brilliant colorist, and together they skillfully create some memorable sequences and moments. My favorite is a marvel of negative space ("WHUMP"). But there's great little touches everywhere, like Springer casually using his namesake ability mid-conversation.
Three covers. Just as I've praised Roche before for his mastery of classical comics inking skills, he also has a serious talent for cover composition. This is a great one in particular, with all the Wreckers leaping into Tarantulas' web to save Prowl. The subscription cover is by E.J. Su, which is his first art for IDW in about six years! I always liked his style during the early "-ation" period of IDW, and it's nice to see him again here in a more painted style. Lastly, we've got a retailer incentive cover by Guido Guidi showing the ever popular Sniper Perceptor. Another comic where there's no wrong answers as to the cover.
The important thing to know about
Sins of the Wreckers
is that if you're expecting something with the impact of
Last Stand
, don't. That was a singular moment in Transformers comics and one that cannot be replicated. What we have here is a story that builds on that and examines some difficult questions about the characters and their histories, and the implications both in their world and ours. I think it succeeds more as a Wreckers story than it does as real-world commentary, but as always your mileage may vary. It definitely made for an interesting introduction of certain Beast Wars-era Transformers into IDW, and I suspect - and hope - we'll be seeing some of these characters again.
Finally, I want to extend a public note of appreciation to IDW. The other night Nick Roche posted the story behind his life and work around
Sins of the Wreckers
, and why there was at one point a significant delay. I feel that IDW's sticking by their artists in such difficult times, and giving him what he needed to retain sole writing and art credit on this, his first solo series, is something that should be commended, and deserves mention here. We should all be mindful of, and support, companies that are good to their people.
| | |
| --- | --- |
| Reviewer | RAC |
| Date | June 28th 2016 |
| Score | (7 out of 10) |
| Reads | 3834 |
Back to Reviews Index