A double-issue to tie it all up, and every wild idea left in the memory banks gets thrown at us.
Transformers vs. GI Joe #13
is written by Tom Scioli and John Barber with art, colors, and lettering by Scioli.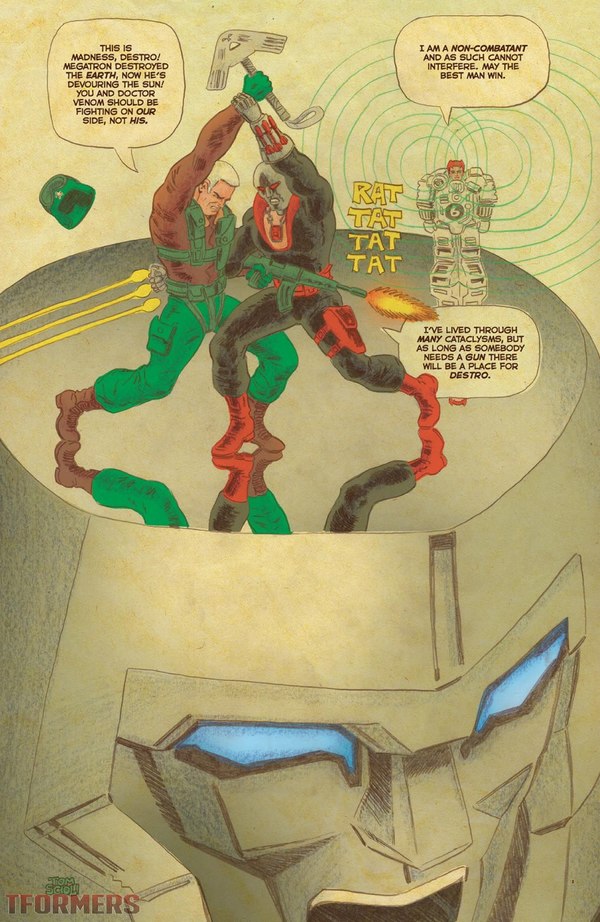 The reflection! The symmetry! The fact that it's all taking place ON TOP OF MEGATRON'S HEAD!
This is it: the final battle against Megatron. Can the Jotobot alliance defeat Decepticobra before the Emperor of Destruction eats the sun?
I feel like trying to write out a blow-by-blow synopsis of this issue, even only to cover the preview, is a waste of everyone's time. If any comic ever spoke entirely for itself it's this one, and it manages to tie together all the threads we've seen up to now, no matter how weird or obscure. Even the things you expected to happen don't happen as you'd suspected. It's a satisfying ending to the story, and makes excellent use of its double-length last issue.
...man. It's difficult enough to describe the indescribable, and doing so without
spoilers?
Not an easy job, but I'm still sad this is the last time I'm going to have to do it.
And to the very end, the art is still its wonderful unique self, and trying new things. Classic Marvel comics moments are brought in via collage and "sampling," as Scioli and Barber put it in the commentary - an art used in so many other media but rarely in comics. Like everything else here, it's used with a great deal of creativity: to highlight the timelessness of a struggle, to show the immortal menace of Megatron, to let the classic art do what it did so well before. We even get a few splashes of pure white shining through the yellowed-paper finish, and they are incredibly effective because of that. GI Joe creator Larry Hama himself is even referenced within in a way that evokes the real-world development of GI Joe: A Real American Hero. The partnership of Joe Colton - the name for the generic GI Joe action figure character of the `60s and `70s - and "Larry" created GI Joe as we know it today. And with artistic references to the movie incarnations of both Transformers and GI Joe, every corner of their fictional and real-world universes have been touched by this comic.
For the final issue we have three covers. The standard cover by Scioli references GI Joe #155, the final issue of the series, with Bumblebee and Optimus prime folding the American flag as was done on the original cover. Why no background? Well, where are they going to
do
that, given where the story left off in issue #12? Anything they could show would be a spoiler, after all. The subscription cover by Scioli is much more elaborate, with GI Joe and the Autobots on the front cover facing off against the Decepticons and Cobra on the back. The final cover is by IDW GI Joe artist Robert Atkins and is similar in theme to the Scioli subscription cover in theme but not execution, with each artist giving us an excellent image in their own styles.
I feel this series is good enough and important enough to deserve some special attention for its wrap-up, so let's break from the normal review format.
I had a conversation once where someone objected to the comparison of Jack Kirby and Will Eisner on an equal plane, because Eisner was ultimately the more influential. Eisner, they said, "reinvented the visual language of comics." Which is technically true. Eisner, a film and theater buff like equally influential manga artist Osamu Tezuka, created a style of telling stories in comics that was much-imitated - and taught, by Eisner and others. The Eisner "school," the dominant approach to comics storytelling, has created reams of memorable, excellent comic books and should be respected for that. But it's not the only school, and taking it for granted that all comics
have
to obey the rules Eisner laid down in
Comics and Sequential Art
and his other instructional works is a conceit that limits what comics can be. Kirby's
visuals
were certainly influential - but his "language," the wild, broad, mythic-in-scope storytelling he loved, was never as popular or effective in other hands as Eisner's more grounded, personal, dramatic approach. But Tom Scioli speaks Kirby as well as anyone I've ever seen.
Or rather, he speaks
Scioli,
a dialect all its own with roots in Kirbese. I feel that when I've written about this comic, the comparisons to Kirby threatened to overshadow Scioli himself sometimes. But this is not the Transformers/GI Joe comic Jack Kirby would've made. It's the comic only Tom Scioli could make or would make. But to see someone take a path so divergent from the rest of the comics industry while taking cues from one of the most-celebrated and perhaps least-completely appreciated artists of the 20th century, and to do so so
very
successfully, is a wonderful thing.
Comic books from major publishers are a commercial enterprise - just as everything about Transformers and GI Joe has always been. This is a comic that, in the simple statement of that fact,
should probably not exist at all.
The fact that this book does exist should be celebrated for a long time, as should Hasbro and IDW for letting it happen. An ongoing comic in no existing continuity, using an incredibly eccentric art style that plays with, flouts, bends, and breaks the rules of old-school and modern comics alike as it pleases. And yet, shows tremendous respect for what has come before. Not by enshrining it in the limiting stone of "canon" but by using it as a springboard to be even more creative, to make things that no toy maker and no comic writer or artist ever dreamed of or ever would likely have been allowed to do before.
Transformers vs. GI Joe
is proof that you can break all the "rules" of comics and still tell exciting, fun, weird stories starring licensed characters. And though it's thrown so much at us, I feel like there could easily be more. The fact that the end of this issue is so text-heavy in explaining some of the aftermath of the story particularly makes it feel like it could have gone further. Scioli himself said he hopes someone steps in to play with the universe as he left it - and even if this was always the extent of the stories he intended to tell, the TF v. Joe universe is brimming with infinite possibility and unknown sights, to its very final printed moment.
| | |
| --- | --- |
| Reviewer | RAC |
| Date | June 28th 2016 |
| Score | (10 out of 10) |
| Reads | 3793 |
Back to Reviews Index