There's been another murder in New Iacon - and as far as the public knows, the Badgeless are responsible. How can Starscream maintain order if nobody trusts the police? And are there even any other Cybertronians willing to go along with Starscream's definition of order? "Applicable Skills" is written by Mairghread Scott with art by Sara Pitre-Durocher and coloring by Prisiclla Tramontano.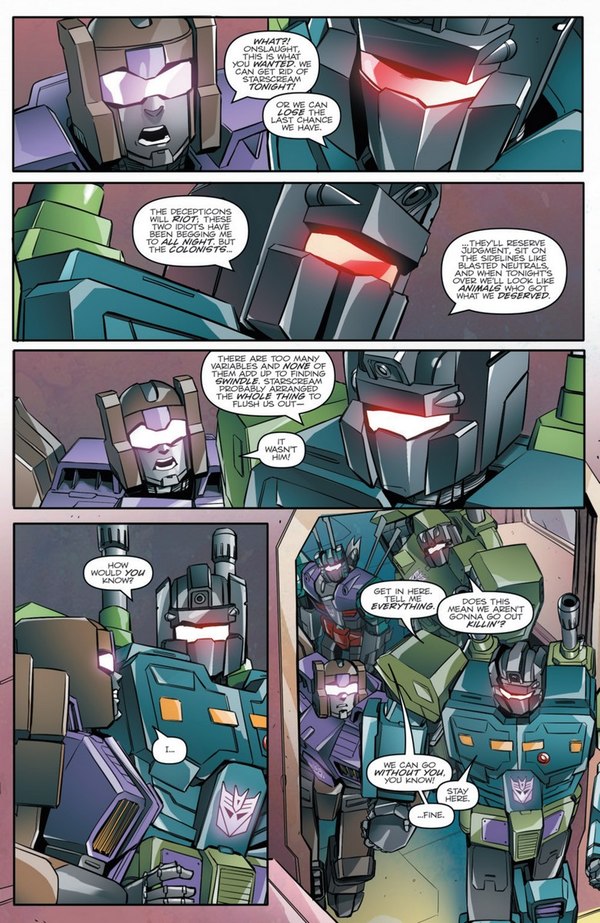 Robot Politics meets real-world issues. Plus, Onslaught demonstrates the art of raising an eyebrow with no brows. Or eyes!
The fallout from the apparent murder of a rowdy Decepticon by the Badgeless has brought the tensions within New Iacon to the boiling point. Not only Decepticons, but citizens of all of the Council's member planets are taking to the streets demanding answers or simply expressing their anger. Starscream has a plan to deal with the mob - it's just not a very good one.
Not only is TAAO still reminding me of early
Robots In Disguise
with its focus on Robot Politics, but it's also working in some real-world issues without being overt about it. It's not difficult to see echoes of Starscream's domestic policy and policing strategies in a lot of places in the world, often to similar degrees of effectiveness. And as always in Robot Politics, there's someone intent on exploiting the situation and the political climate - it's just not Starscream this time. Starscream is playing defense because all the other worlds are watching him and because one of the people involved makes him
extremely
nervous. For a person who's come out more or less on top of every hustle for the last few years in the comic, this is a nice bit of turnabout. For now, anyway - we'll see how it develops from here.
And then there's Ghost Bumblebee, who is increasingly interesting to have around. This issue, he makes the point for those who may not have followed RID that Starscream has inherited his political position from that book as the perpetually undermined and embattled leader of Cybertron. So, is this Bumblebee a real ghost, or is he just a hallucinaion, a manifestation of Starscream's conscience? I mean, assuming he has one. Going just by instinct and real-world forces, I'm inclined to think he's real. IDW's not going to keep Bumblebee dead forever. He's
Bumblebee.
But within the narrative it's entirely up for grabs. However that ends up playing out, it's a good plot device to get a character who will never trust anyone to open up a bit.
Sara Pitre-Durocher is still killing it here. She's talked online about working on the expressions of characters with visors, and the work she's put in shows. Sometimes the shape of the optics changes for the most exaggerated expressions, but she mainly works with shadows from helmets and manipulating camera angles, along with the lighting of the existing visor shape, to express mood. It works really well! Since the four living Combaticons are all thus-visored and are at the center of the story, it's a good thing to have gotten so right. Other than them, the two standouts in terms of characterization are Ironhide and Starscream. Maybe it's just because I'm listing the characters that get the most page-time, but I feel like these are the most expressive, lively characters in an already lively book. It's just enjoyable to watch everyone's reactions.
Because visors and the lighting of them plays such a large part of how the characters are received here, Priscilla Tramontano deserves much credit too for making sure all the optics gleam. Even if you're used to such eyes, how intimidating must it be for Starscream to look down and see that whole crowd of glowing eyes all focused on his office? Her coloring style has taken a slightly glossier turn this issue, I feel: the shading I enjoyed so much in issue #1 is still here but used a bit more sparingly. Which still works well, and the slicker feel of this issue doesn't hurt a thing. It's just a very slight adjustment of the style that I felt worth noting.
Once again, our main cover is a painted one by Sara. Windblade looms large over Metroplex, who in turn towers over a Cybertronian cityscape. If it signifies anything particular about the story, it's nothing we see in this issue, but it's a great image all the same. She also does the subscription cover, which features ROM the Spaceknight. ROM makes his IDW ongoing debut this month, and will tie into the upcoming
Revolution
shared-universe mega-crossover - probably on less friendly terms with the Transformers than shown here. Thomas Deer provides the colors, and does his usual great job. The last cover is a painted cover by
Carlos Valenzuela
, who shows us a tougher-looking, more action-oriented Windblade than we typically see. I like his brightly lit, somewhat abstracted look at Cybertron as well.
It may be a little premature to say that
Till All Are One
has become my favorite of the three ongoings, but I don't think it's premature to say that it's the equal of the other two. This is a fun comic and the opening storyline has grabbed me completely. I think it may be the best thing Mairghread Scott's yet written for IDW. We can't possibly get three issues in the space of 4-6 weeks, can we? (Probably not, but we can hope.)
| | |
| --- | --- |
| Reviewer | RAC |
| Date | July 5th 2016 |
| Score | (9 out of 10) |
| Reads | 3857 |
Back to Reviews Index