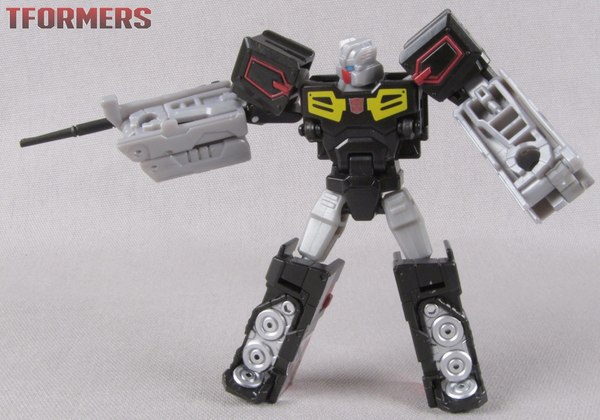 Click on any photo to go to the gallery!
Rewind is one of those guys we've been waiting to get again forever. We got the Fall of Cybertron one, but it wasn't terribly good. The Collector's club had one that turned into a tank, but besides not being available at retail, he also wasn't one of Blaster's Pokemon anymore.
But this one? Is a Pokemon AND a Tank. And good!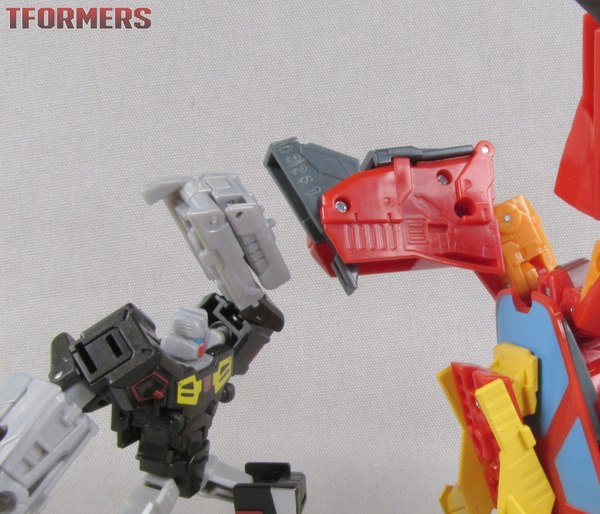 Following the current design trends, Rewind is mainly based on his G1 toy self. And that Rewind was something of a bruiser for his size! Very wide at the shoulders and narrow at the hips, with very thick arms.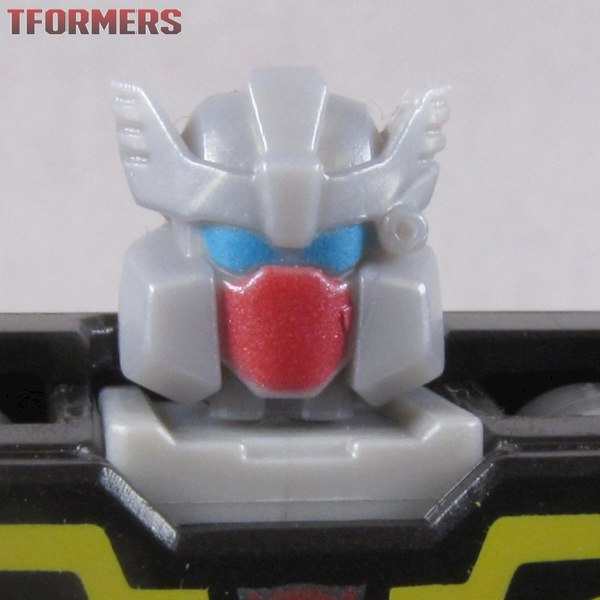 The one concession to newer versions of the character comes in the form of his head which has coloring and a tiny camera that serve as a nod to the fan favorite comic More Than Meets The Eye. It's a nice touch that this exact approach - comic above the neck, G1 toy below - is shared by Rewind's comic husband Chromedome, due out in Deluxe Wave 2.
Rewind has a 5mm socket on his forearm to emulate 50% of the weapon mounts on his G1 self. Since he comes with 50% of the guns, that makes sense.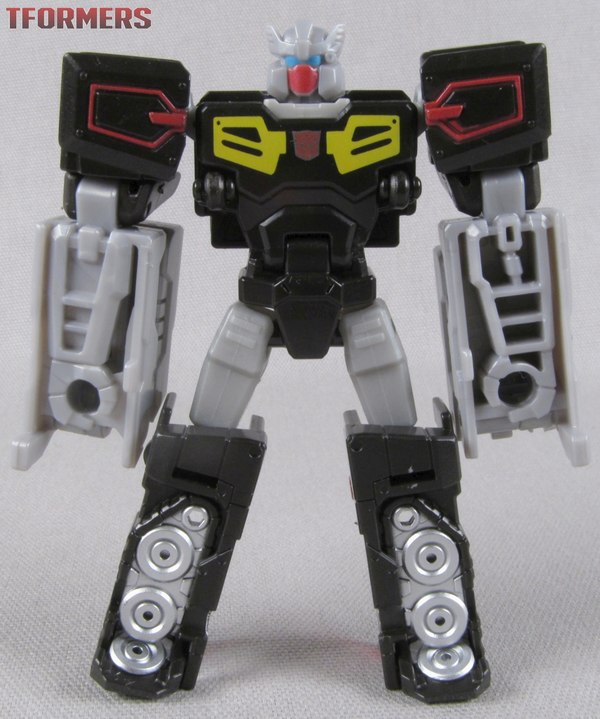 The other interesting choice is that, due to the shaping of the sides of his Phone Mode, one of his arms is hollow and one is not. The shapes are the same, but it still looks a little off. Maybe some black paint in the recesses of the right arm...
Rewind's head swivels, and the transformation joint can be used as a tilt for more range. Likewise the transformation joints can add some extra range to the ball joint in his shoulder. There are upper-arm swivels, always nice to have. The elbows get a little less than 90 degrees of flex. They're quite high on the arm, but Rewind's small size and proportions minimize the weirdness of that. The ball-joints in the hips have great range in all directions. The knees are also ball-jointed and work great. Besides flexing to a really tight angle, they allow some side-to-side adjustment to make the most of Rewind's slightly angled feet. In essence, Rewind has rocker ankles at the knee.
The first transformation is simple, but not unsatisfying. It's complex enough for its size to be fun. It can take some light fiddling to get the arms locked into place on top, but that's the only stumbling block.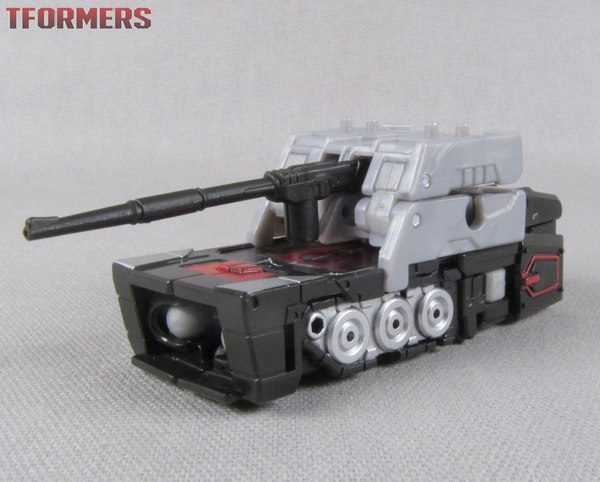 Rewind's first alternate mode is a tank, same as the Scout-class Collector's Club figure based on Reveal The Shield Rumble - another toy you probably don't own. It's a pretty simple and boxy tank, but it works.
You can also put a pair of Titan Masters on the roof, proving once again that Transformers don't quite get how armored vehicles are supposed to work.
The next transformation is as simple as it is
terrifying.
The two halves of Rewind's forearm unfold to become the sides of the phone, and they're shaped to make as solid-looking a set of sides as possible. This means that there's no choice but for one half of the arm to pop past the point on the hinge where the corners meet. That puts all the pressure directly on the hinge, and there's already a very, very large stress mark on mine. I think this stress is also why the lower part of the arm tends to droop.
It's a decent mode otherwise. It's pretty solid, and looks good. Well, the foil stickers are what they are.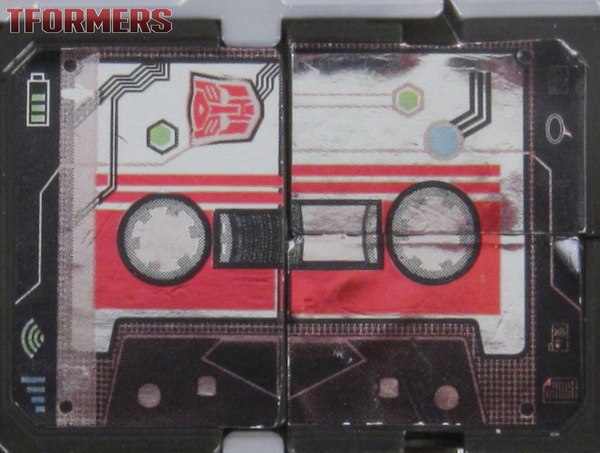 And what they are is not quite to scale with one another. Look at the cassette holes: they're not quite the same size. And of course they're going to have the same problem with wear the other cassettephones are already showing.

What I like most, though, is that there's a recess on one side of the phone to store Rewind's gun. That's a really nice touch.
The gun does everything it needs to just fine. It is rather small and thin, though - I'd be good and careful with it.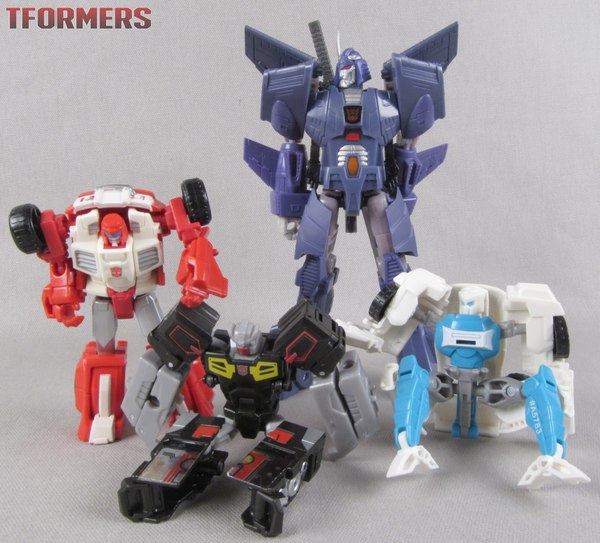 Overall, Rewind is the best thing in the first Legends wave. He looks great, and all his modes are well executed. But those forearm hinges concern me a lot. I'm glad I don't have Blaster yet, because that way there's no reason he ever needs to be a phone. Man, that's scary. Props to Hasbro for giving us as many Lost Light crewmembers as they have; there's only a handful of characters who haven't gotten remakes with some kind of nod to their IDW selves. Hope Chromedome hits stores soon...
| | |
| --- | --- |
| Reviewer | RAC |
| Date | July 19th 2016 |
| Score | (8 out of 10) |
| Reads | 5280 |
Back to Reviews Index