Click on any photo to go to the gallery!
Wheelie has gotten updates before, but this is the first one larger than the old Legends scale - which is now Legion, more or less - that was specifically designed to be Wheelie. And he's a pretty great little robot! As a car? Well...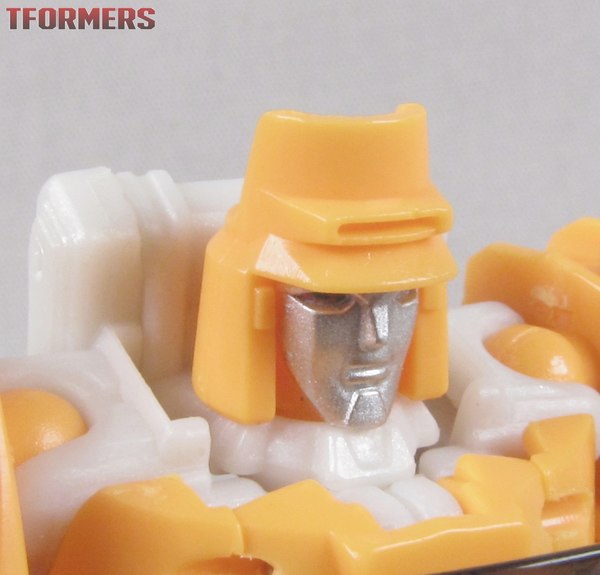 Outside of his excellent face sculpt, there's nothing about Wheelie that is an exact match for his G1 self. But he's still instantly recognizeable as Wheelie. It almost reminds me of the early Classics in that sense.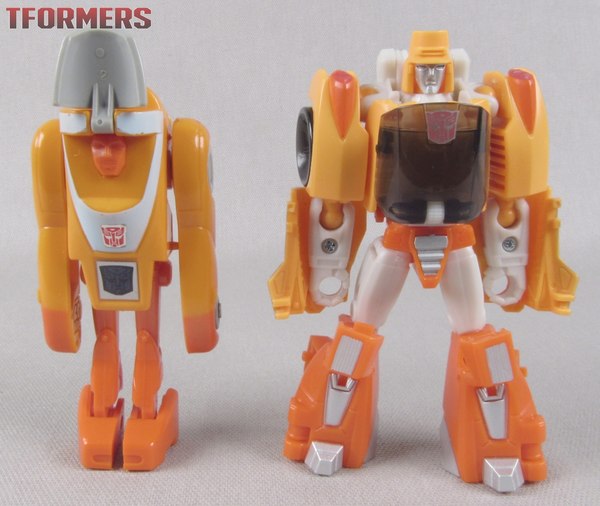 Where it fits into the Titans Return aesthetic is in how it eschews animation-accurate coloring in favor of coloring inspired by the G1 toy. We recently found out at SDCC that evoking toy designs over animation is a specific goal of Titans Return. In what's an increasingly rare move, Wheelie has enough paint. Mostly silver, but it complements and breaks up his two shades of orange and his light gray very well. The only absence I feel is the lack of gray on the visor part of his helmet. Other than that, his deco looks great.
Wheelie's head only swivels, which even if not for the design of the joint would be likely given its shape. His shoulders swivel well, and have decent lateral range due to shallow socketed ball joints set on the corners of his frame. Though being shallow they will sometimes pop loose. His elbows are ball-joints and both flex and swivel pretty well. Wheelie has a swivel waist, but you have to be careful it doesn't intersect the orange part of his chest. His hips are largely unrestricted. The knees are okay, but the shape of the lower legs does obstruct them past a certain point.
Transforming Wheelie is difficult. Doing so on camera is a nightmare. There are two main problem areas: the first is the nose of the car, which tabs together strongly, but if you put the slightest downward pressure on it when doing so... it pops apart. Secondly, the arms tab both into the center silver part on the waist, but also the legs. The tabs on the center part are too thick on mine, and the arms will push back off - a common but not universal problem. While you're working on that, you'll probably put downwards pressure on the nose of the car... and have a total mess. It's something you can learn to compensate for with time, but it's still tricky.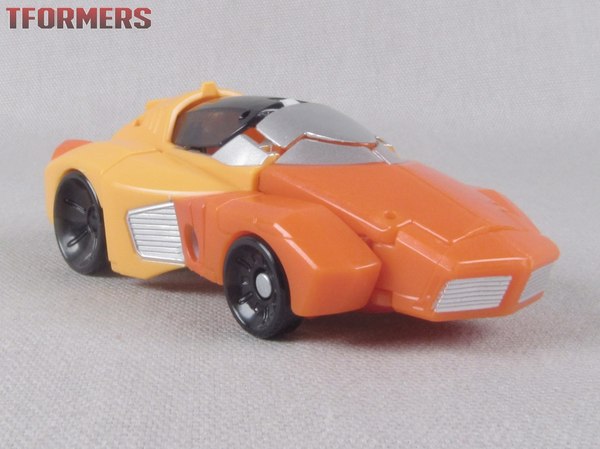 All of which is a shame, because if you could tab it together properly Wheelie's vehicle mode would be pretty fantastic. He's not all swoopy Floro Dery curves any more, but the shape still reads as Wheelie.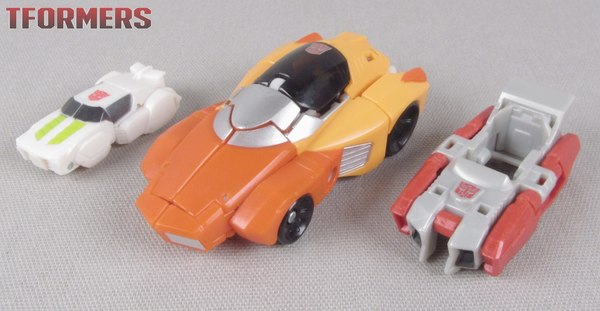 And once again, he shares an aesthetic with Minimus Ambus, and even Titan Master Loudmouth's little car. There's a unifying style to Cybertronian vehicles, and that's great.
The paint doesn't fare quite as well here. There's some of the typical mismatch between the orange plastic and orange paint here, and the silver section - standing in for the G1 toy's gray paint - is divided between five separate pieces. None of which will tab together properly. Sigh. But on the upside, the deco once again doesn't look sparse, and full credit for that. He even has tail lights!
Wheelie comes with no accessories, so grab your GDO Generations Wheelie's slingshot and arm the boy!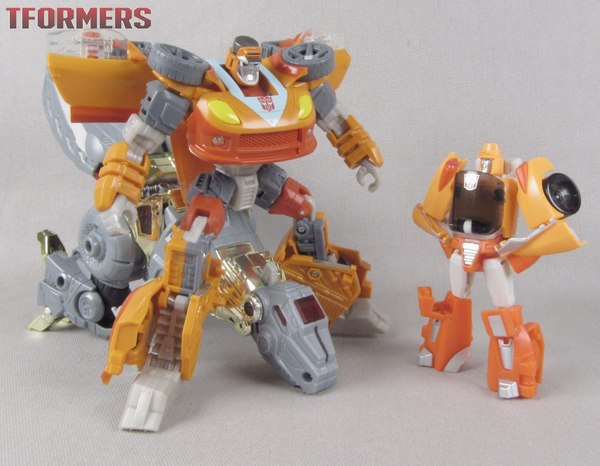 Wheelie is a few plastic tolerance issues off from being excellent all-around... which is to say, he's a Titans Return toy. You may want to hold out for Takara here; their Wheelie is more animation inspired, and typically their QC has been a bit better in my experience. But I really love the robot mode here and now that my reviewing duties are discharged I'm going to take a file or Xacto knife to those tabs and see if I can get the vehicle mode sorted. I hate that we have to fix our ever-more-expensive action figures as soon as we get them anymore... but this is where we are, and because of that I can't recommend Wheelie without reservation, as much as I'd like to. Just know: transforming him will drive you nuts.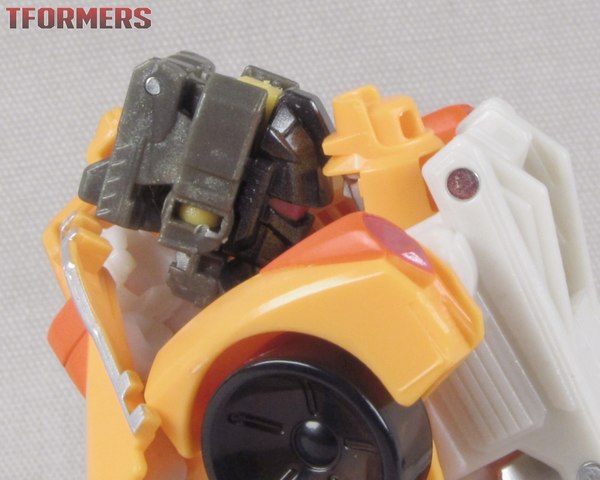 | | |
| --- | --- |
| Reviewer | RAC |
| Date | July 25th 2016 |
| Score | (7 out of 10) |
| Reads | 6843 |
Back to Reviews Index