Megatron finds salvation from an unexpected source, but it may be short lived. With the stranded crew able to do little besides watch from inside the fortress, Megatron stands alone against the Decepticon Justice Division, Overlord, and just beyond the immediate killzone, Deathsaurus's Decepticon army. But as Deathsaurus is stricken with a sudden attack of conscience, have the tables finally turned in favor of the exiled Lost Light crew?  Written by James Roberts, art by Alex Milne, colors by Joana Lafuente.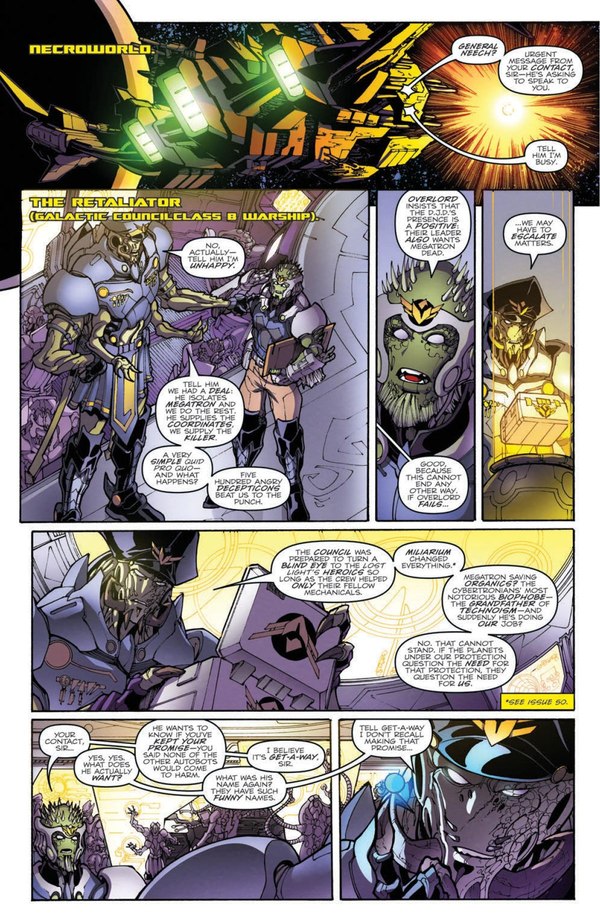 I have thoughts about this page, so read them below. Just remember that blue dot. It's important later.
So, The Dying of The Light is over with now, and I'll give the finale some credit, it actually did - and did away with - a fair few things. A few mysteries kind of aren't anymore. And my problem I run in to right now is that I have a good bit to say about the resolution of at least one of them, except that doing so would spoil the issue. So, uh, tough spot since a major element I want to talk about in the review is off the table. At least one of the other things that happens that I also can't specifically name for spoiler reasons is legitimately something I wanted done for a long while at this point. A plot device is finally off the table that I've stopped being impressed by well over a year ago already. I should really say outright: I think the issue is probably a net positive. It's still fairly close to just "break even", but its good is probably a little heavier than the bad for me, and right now I might live with that. So let's talk about what is in the preview, and see if I still feel the same after.
Finally, after half a year of this we get told that Getaway didn't make a deal with the DJD. He sold Megatron out to the Galactic Council. You know, the guys who are maybe not immediately openly hostile to Cybertronians, but would have no issues over killing any number of them to suit their purposes? Yeah, if this was supposed to in any capacity redeem what Getaway did, it failed fully. Especially with the immediately subsequent reveal that the Council were the ones who fixed up Overlord - that is, the one that got jettisonned off the Lost Light in issue 15 or so, not the quantum duplicate last seen having his neck sawed through - and then sent him to take out Megatron. The DJD was just an unfortunate coincidence. Which I'm not sure we have any justification for. The Necrobot sent out the literal distress signal seemingly only after the DJD arrived anyway, and without going back and checking over the whole story, I don't feel like we got an explanation for why they turned up here at all, let alone coinciding with Getaway's plot to have Megatron apprehended or destroyed. It's just not adding up, and that's a problem. I'm sure the goal is to begin establishing the Council as a more active antagonistic presence, but it's misplaced, given I'm guessing it'll be months from now before we have this picked up on. At which point it'd really need to be explained again anyway. It also doesn't serve anything to tell the audience now that Getaway is only 90% as much of a piece of garbage as we thought while the characters affected will still think for an indefinite period that he set the DJD and an army of hundreds of Decepticons on them.
And there's another thing too: If the Council wants Megatron dead, knows ahead of time where he'll be and has one of their moon-size ships standing by to deliver Overlord to go and punch him to death or whatever, why even bother? Surely one of those ships has adequate weaponry to annihilate a substantial chunk of planetary surface? AT LEAST? This is kind of the big problem, isn't it? The more you think about the Council's presence there, the more the logic shreds away. The commander has no hesitation in having the other Autobots wiped out if necessary to complete the objective, even if Getaway insisted on Megatron being the only casualty. They're right there apparently the entire time, and when they see a Decepticon army on scene, that should only give more cause to just raze the planet from orbit and not even bother trying to go for a precision strike. Plus while we can guess the Decepticons landed before the Council ship arrived, it seems like Ratchet and Drift probably should have noticed when they were approaching? Also the silly little matter of a ship that size would be readily visible from the ground. But nobody seems to be aware of them up there. Well, besides Overlord, obviously. I do feel like I'm getting nitpicky here, but I'm not even sure I realized how big of a hole this Galactic Council things looks like before I started writing. And it's just one page! THE FIRST PAGE.
Megatron's survival at least is backed up by a (much) earlier issue, and this issue works to talk through how using Trailbreaker's forcefield is being done, so I appreciate that. Deathsaurus is seemingly conveniently susceptible to having the Necrobot's conscience ray affect him, but go all the way back to issue 39 and Deathsaurus makes a clear point of caring for the well being of his troops - troops he's been allowing Tarn to order to their deaths for his personal vendetta. And Nickel has been showing doubt in Tarn at least for a decent chunk of this story. Those things add up, and are fine for stripping Tarn's support away. Overlord is the last piece, and he makes sense too.
Overlord's life goal, essentially, has been to best Megatron. The Megatron that made him, and fought him again and again and always came out on top. That was more or less Overlord's motivation since Last Stand. But with his prize now right in front of him, it's all wrong. Megatron has isolated himself in a forcefield, and he's curled up on the ground clinging to a broken fusion cannon. This Megatron isn't the person that drove Overlord, who ate away at him for so long. Overlord is a sadistic monster, so you might think it shouldn't matter, he can kill him just the same and be done with it. But Megatron is an intensely personal issue for Overlord. There's no satisfaction to be had in killing a Megatron who's lost his fight, lost his strength. It won't provide the closure he seeks. In fact, just seeing Megatron so broken and defeated like this might on some level satisfy what Overlord wanted anyway. Whether it did or not, with Overlord abandoning the attack, it leaves some questions. Like if he's going back to the Council now, and if so if they have some hold over him to keep him in line. If he's just ditching everything and taking off to his own devices, which I think is more likely, it's a potentially very frightening  prospect. The desire to defeat Megatron has been the thing focusing Overlord, giving him a direct purpose. He might very well be loose in the galaxy now with absolutely nothing to direct his actions. He's essentially an aimless berserker now that's effectively unstoppable. That could be a very problematic thing eventually!
On the art side... well, so much had to happen there probably wasn't much room for major stand out panels. Most of the pages are at least less crowded feeling than they've been the last few issues, which is good. Unfortunately some few crucial action panels just didn't turn out. The specifics are spoilers, but it took some scrutiny to pick out kind of important things happening in these panels, and even in one case just to interpret what was supposed to be going on at all. I'd say it's that there's just a little too much visual complication. It's not meant as a knock against Alex, because the technical level of his linework is as good as ever. If anything a very few specific places might just be over detailed, so the point starts getting lost. The coloring is solid, but again nothing really jumps out as extra special this issue. The only thing I might point to is the last couple of pages, where for Reasons the color palette reminds me of Josh Burcham's time on the book. It's probably not intentional, but it feels like a nice callback.
And so at this point we're away from the cast for ...well, quite a while in the present timeframe. The Titans Return tie in goes to a completely different setting, and then we get to wait out the Revolution event before the relaunch of the book happens and we figure out where we're landing, narratively. I want to say that I hate that it's ending and leaving off here for a still largely undefined length of time. But as I was thinking about this today, I realized that by and large, More Than Meets The Eye already ended for me, with the conclusion of Elegant Chaos. The book obviously had more stories to tell, but for as little as I found to my tastes in the subsequent 10 or so issues, Elegant Chaos really was the end point to the part of MTMTE that I loved. James Roberts has promised that the existing planned story will carry on after the relaunch as Transformers: Lost Light, but I really hope it doesn't. Or at least, that the form of this continuance is a different tone and feel from the overwhelming majority of the last year or more. I'm ready for a new kind of story to bring me back in. I'm ready to care about MTMTE again like I used to. Please, when the Revolution dust settles, let that be what I find.
| | |
| --- | --- |
| Reviewer | ExVee |
| Date | July 25th 2016 |
| Score | (6 out of 10) |
| Reads | 4882 |
Back to Reviews Index