Galvatron's plans on Earth have been ruined, but as he blasts off again in Astrotrain, Optimus Prime is unwilling to let him escape to become a threat again, sending Arcee and Cosmos in pursuit. On Cybertron, Starscream's worries grow when he recognizes the newly risen Titan as the same one that proclaimed him "chosen". All the while, the president of the United States prepares for the escalation of war against the Cybertronians. "All Hail Optimus, Part 6: No Fair Fights" written by John Barber, art by Andrew Griffith, colors by Josh Burcham.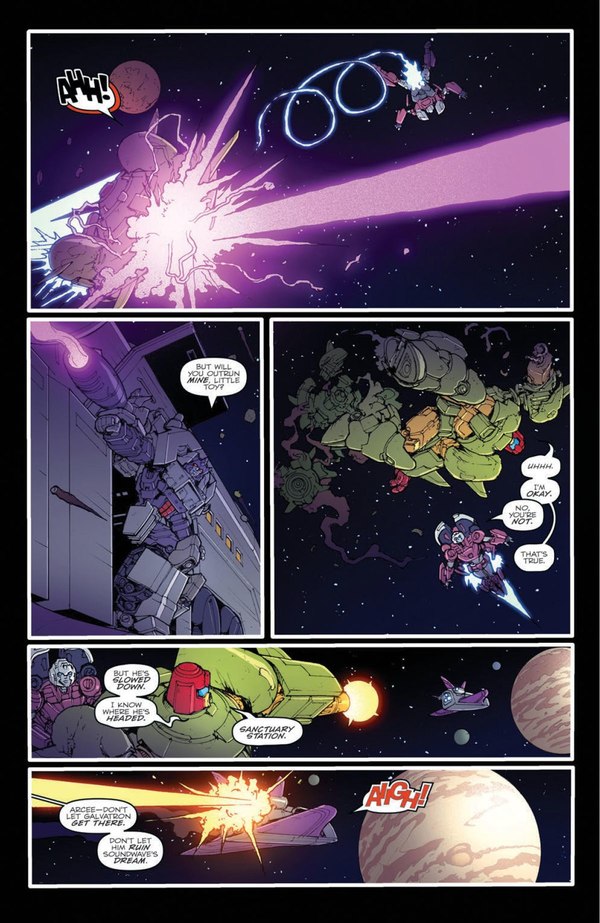 Cosmos deserves at least one turn at the action hero thing, honestly. And he didn't even die in the process!
This issue is a pretty prolonged fight sequence, with brief breaks or shift in setting mixed in. So the pacing of actual story in this kind of comes in bursts. We open with a little bit for Starscream who suddenly feels that his position is under greater threat since Optimus somehow raised the same Titan that appeared once before and declared Starscream chosen. It's a bit of a puzzle then how that Titan ended up buried on Earth since it was last seen exploding on the site of Crystal City on Cybertron. I imagine it'll probably be Revolution or even later before that question can be answered, though. Cosmos gets some deserved action, though on the premise of being a booster for Arcee as she's chasing Galvatron through the solar system. Nice bit of science calling out that they're going fast enough to have relativistic effects on their energy weapons. Though on the other hand it plays up a thing I kind of dislike in that Transformers evidently have no trouble reaching ridiculous speed like that. I can accept exceptional cases like Omega Supreme, or especially a Titan, something really big and powerful and made at least partly for serious space travel being able to do that kind of thing under their own power, but I don't really like Astrotrain and Cosmos being on that level. It starts to lead in to the idea of anyone who adapts a spacefaring alternate mode could do that, and is a short jump to 'why do they even need ships?' Granted, for expediency of the issue and its story, this is maybe a necessary evil, and putting the characters in actual shuttles or similar would remove the personal component of the fight between Arcee and Galvatron. This has been building for a while already, and needs a payoff. That's where I'm at on it, it all makes sense narratively, but I personally don't like the in-universe consequences of it.
Meanwhile, the president is focusing on exactly the right thing, the (even more) giant robot Optimus Prime pulled out of the ground. Because at this point there's not really any helping it anymore: he's won. While Optimus might not even leverage that to take the advantage in a conflict with the humans, any sort of diplomacy at this point from the Earth side will feel like it's at the point of an enormous gun. Nothing he says or does is ever going to be able to be seen or felt as being without a threat behind it. Humanity no longer has a bargaining position just out of fear of what the Titan could be made to do in response. Even mutually assured destruction isn't assured; no one would know if a nuclear strike or whatever special sci-fi advancement they've built past that point would even come close to doing the job. It's amazing in a way that the seeming culmination of this storyline is that Optimus is demanding peace with the biggest weapon any Transformer could draw. His position and credibility is pretty well shot. He wanted to bring Earth in the council of worlds, he wanted them to coexist peacefully and take their rightful place to protect their freedom and sovereignty against outside forces, ncludingincluding other Cybertronians. He's undermined the entire endeavor. And the worst part is, now that Cybertron has seen the Titan rise out of the ground, Optimus suddenly has all the support he needs at home. He's no longer a villain in this in the eyes of his people for annexing some backward planet without being granted any authority. The council is gonna back his claim now. Everybody is fine with this, except the people who live on Earth. I really wondered when the promotional run for this storyline started up how it would ultimately resolve. Optimus almost absently conquering Earth, and maybe not even really being aware he'd done it was not on my short list. And I don't think this is going away. It's kind of nuts.
I feel a bit bad that I didn't immediately realize Josh Burcham was doing colors for this issue, even though when I went back over the credits page and saw his name and looked again, it was so clear that it was his style. Certainly with the more saturated color range appropriate to the book, but the coloring style itself is distinctly his. I think the combination of Griffith and Burcham is a very strong one overall. The more flat coloring really suits the style of the linework and makes a really good looking final product. The final panel of the book, a back shot looking out a window to a sunset is beautifully composed and colored so nicely to affirm the mood of the moment. There's battle scenes in Juptier's atmosphere that come out looking amazing for the intricacy  of the cloud swirls and the subtle variations of color and brush texture used on them. And at the same time they stay downplayed and simple enough to keep the attention on the characters occupying the foreground. Top form by both artists this month!
There's only one cover I want to call out this month, which is the incentive cover by Carlos Valenzuela. I think it stands out to me because it reminds me of old G1 box art. There's a sort of rough finish to the coloring, like a half step between colored pencil look and a painted style. I probably describe it badly, but it's very striking and has that right retro aspect to it to be super appealing. The box art aspect comes too from a bit of how Optimus Prime is drawn. The proportions remind me of the way the old art would reflect the often wacky builds of G1 toys, and there's an especially strong sense of that in Optimus Prime's arm. I think it's a really great feeling to capture for a special cover, because it's only hints of that, it's not dominated by that sensibility. If I knew it was an intentional thing I'd be tempted to call it a fusion style. Either way, I'd be happy to see more art done in the same look!
Well, that's all for Optimus Prime Conquers Earth. Starting next month it's event time again, so let's all get ready for Titans Return...!
| | |
| --- | --- |
| Reviewer | ExVee |
| Date | July 25th 2016 |
| Score | (8 out of 10) |
| Reads | 3837 |
Back to Reviews Index