Sentinel Prime is back! ...and what's the one constant about Sentinel Prime across all universe?
He's a jerk.
"The Last Autobot" is a
Titans Return
one-shot written by Mairghread Scott, James Roberts, and John Barber with art by Livio Ramondelli.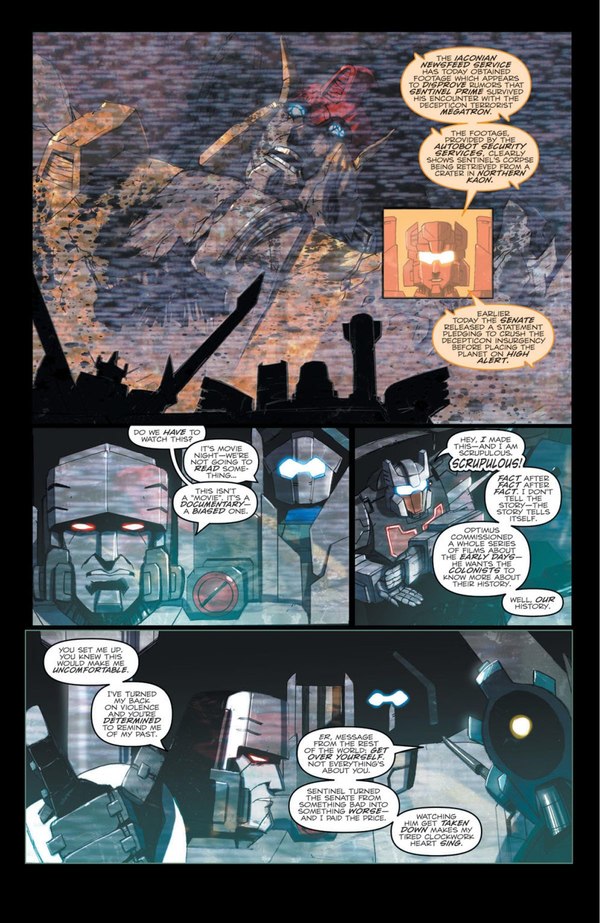 Sadly, this is as close to interaction as Whirl and Sentinel get this issue. I'd have liked to see that.
Sentinel Prime is returning to Cybertron, and he doesn't like anything or anyone about it. Meantime on the
Lost Light
, sometime before the events of "The Dying Of The Light," it's Movie Night, and Megatron is being subjected to a documentary about the early days of the Decepticon movement, and how he more or less did Cybertron a favor by disposing of Sentinel Prime (before going on to do all the awful things). Only there's a supposition being made that Megatron will not stand for: that the Decepticons were the ones to steal Sentinel's head from the Primal Basilica.
But if they didn't, who did?
The summary leaves off at the end of the
Lost Light
portion of Titans Return, because the next section deals with Optimus Prime's situation on Earth at the end of
The Transformers #55,
also out this week. So be sure not to read them out of order! Conversely however, if you haven't been keeping up with all three of the regular Transformers comics this is a good place to start. This feels like an exercise in showing new readers where the comics are now, and also reintroducing us to Sentinel Prime for those who have forgotten.
There's pretty clear demarcation between each of the three credited writers' work. They continue their regular beats: James Roberts handles the
Lost Light
's movie night, Mairghread Scott takes care of Cybertron, and John Barber handles Earth. Of the three, Barber's segment suffers a bit from bearing the burden of both the setup for Sentinel Prime and having to do the most heavy lifting to explain what is currently going on post-
All Hail Optimus
. Roberts' section is entertaining, as usually happens when Megatron confronts his past self. But my favorite is the Cybertron section by Mairghread Scott, who plays to her strengths by focusing on Starscream and Windblade's reactions to Sentinel's arrival. Scott writes all of her characters well - and Ironhide is also well represented here - but the interaction between these two was my favorite part of both Windblade series. (For the record: they haven't had as much time together in the more broadly-focused
Till All Are One,
but the interaction is still there and still great.)
Taken as a whole it doesn't feel like this one-shot makes a lot of story progression, but since it's having to serve as a jumping-on point for new readers, the longtime readers may not get as much out of it; the draw for us is in
how
the exposition is delivered, which is pleasant and in-character for everyone involved. We may feel, as frequent comic readers, that we have outgrown comics heavy with catchup exposition every issue, but
it was there for a reason.
In absence of every character mentally going over their life's story and how their powers work every issue, we sometimes get a comic like this in exchange.
Livio Ramondelli is the artist for this. I think his greatest strength is conveying mood. There are certain panels, like the very first in the book where Sentinel is sitting in a chair and brooding, that have a great atmosphere to them. There are some key visuals for this that come off very well. But I feel as though his style as always works against itself in ways: the textured transparencies used to convey lighting help to muddy the artwork and make the comic more difficult to read, at least on-screen. And while nobody can be expected to draw exactly on-model all of the time, watching Windblade's face change shape repeatedly on the same page is something else. And
then there's the page where he's clearly copy-pasted his roughs of Brainstorm's head and painted over them twice
.
Ramondelli provides two of our four covers. The main one shows Sentinel rising up out of the ground, flanked by Optimus Prime, Windblade, and a crowd of onlookers. It's not bad, and true to his
Titans Return
action figure, Sentinel is glowingly orange here. A contrast from the black outer armor he's wearing in the issue, and nice and eye-catching. Livio's second cover is a
Revolution
tie-in showing Optimus Prime and Windblade alongside Action Man, GI Joe's Snake Eyes, the Thunderhawk and Switchblade from MASK, a Micronaut, and ROM. Action Man is rendered fascinatingly vaguely compared to the rest of the team, but it's a pretty nice image in terms of selling Revolution. Priscilla Tramontano's cover is the best, showing us an armored Sentinel (and thus giving us a clear image of what the armor actually
looks
like) eyeing a Titan in the distance. It's clean and sharp and well-colored, fantastic work as always. Lastly, retailer Acme Comics gets a cute, cartoony wraparound cover by artist Chris Giarrusso. It's a fun variant, and if I lived near Acme I'd definitely try for a copy.
I enjoyed this, overall, but it is very slight. It advances the story by inches - I could sum it up in a single sentence if I wasn't concerned with spoilers - but it has some decent character moments. And again, this functions better as a catch-up or introduction book for people who
don't
read every book every month. And those do need to be done on a regular basis!
| | |
| --- | --- |
| Reviewer | RAC |
| Date | July 25th 2016 |
| Score | (7 out of 10) |
| Reads | 3800 |
Back to Reviews Index